This 'Pump Rules' Artifact Is In A Museum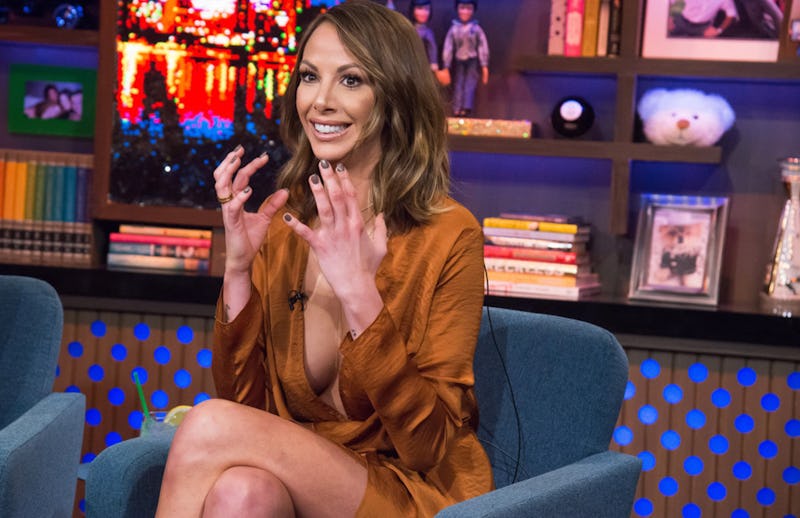 Charles Sykes/Bravo
Hope you're in the mood to admi-SUR an artifact from the best reality television show of our time, because an article of clothing that appeared on Vanderpump Rules is now on display at a museum. A twist: It is not Jax Taylor's iconic chunky knit sweater. Book a trip to Hollywood Blvd., Pump fiends, because the infamous green dress Kristen Doute wore on Vanderpump Rules Season 3 is now part of the Museum of Broken Relationships in Los Angeles. The eye-catching garment that the ex-SURver put on before she casually picked up some mail at ex-boyfriend Tom Sandoval's apartment is in the museum that was featured on Nick Viall's season of The Bachelor. Just as it should be.
This information came to light on Wednesday when Doute tweeted a recent Elite Daily roundup of items currently in the Museum of Broken Relationships, adding, "who remembers number 3 from #PumpRules season 3?" Uh, is a deep fried goat cheese ball a must-order any and every time a Pump Rules fan goes to SUR? (Obviously.)
Though Doute's name is not listed next to the dress, the museum's blurb does drop a lot of hints regarding the identity of its previous owner:
"I've had my share of break-ups, some happened in front of a national audience, some didn't. This is the dress I wore when I went back to the apartment I shared with my ex to get some last items after we broke up. It was a sh*tty situation but you gotta look hot if you know you'll see your ex."
That plastic grocery bag of mail waiting on her former dining room table was bone-chilling, that green dress was life-changing, and Doute continues to be one of the greats.
Here is the frock in all of its plunging neckline, A-line, bright emerald glory:
And now, it is in a museum like the historic relic that it is. Do you hear that, chunky knit sweater? Yes, you, the cardigan Taylor removed with the force of a thousand miniature horses while bounding through a Las Vegas parking lot in Season 1. The thing that didn't seem possible before is now happening: It looks like another item is coming for your Number One Garment on Pump Rules title. Yes, you may be in a frame, but the green dress is in a museum.
The snowy white cardigan represents a watershed moment in Pump Rules history, so it's probably only a matter of time before follows in the green dress's footsteps. To paraphrase Dr. Indiana Jones, Taylor's chunky knit sweater belongs in a museum, too.