Jax Taylor's Chunky Knit Sweater Has Been Framed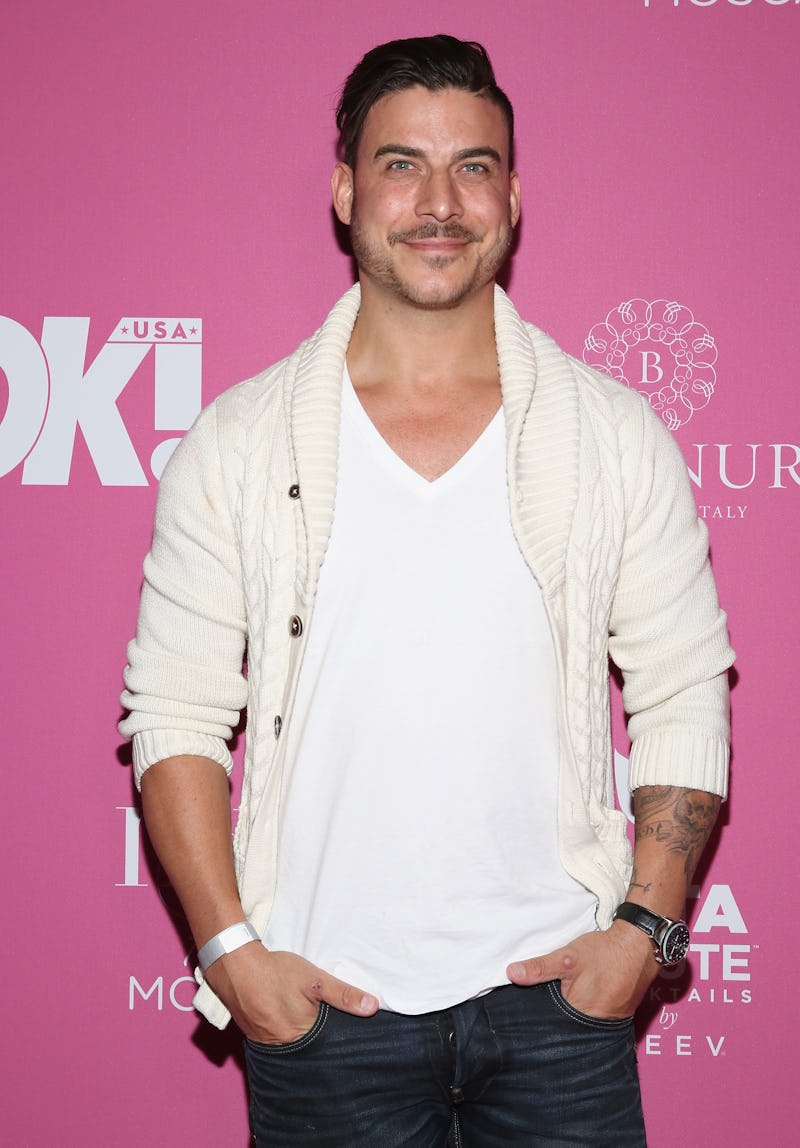 Robin Marchant/Getty Images Entertainment/Getty Images
What do Kristen Doute's green cable box retrieval dress, the SUR handkerchief uniform, Tom Schwartz's pool party muumuu, and Scheana Marie's crop top wedding gown have in common? Though they are some of the most iconic and gorgeous looks Vanderpump Rules has to offer, they will never hold a candle to a SUR-tain cardigan. On the first season of Pump Rules, Jax Taylor wore a chunky knit sweater. Excuse me, he wore the chunky knit sweater. And now, all these years later, that article of clothing is finally being treated like the important relic that it is: Jax Taylor's chunky knit sweater has been framed. On Thursday, Taylor tweeted, "Thank you to my amazing manager for having the original chunky knit sweater framed! This is so cool!" The Pumper also included a photo of the artifact for posterity.
No one has ever worn a chunky knit sweater like Taylor, and no one ever will wear a chunky knit sweater like Taylor. When Taylor slips into a white cardigan, the garment simultaneously looks cozy and intimidating. Like an adorable brown bear cub that you really want to hug even though you know it could maul your face. Taylor's cardigan game is so strong, he scored a sweater and shoe partnership with XCALIBUR. (OK, technically it was his shoe game that landed him the deal, but whatever. Sweaters were involved.) The partnership did not last forever, but hey, it happened.
Back in June of 2012, Stassi "It's My F*cking Birthday" Schroeder asked all of her co-stars to join her in Sin City for a weekend of birthday shenanigans and dry desert heat. Well, she asked almost all of her co-stars: among those who didn't receive an invitation to the birthday trip was Schroeder's ex-boyfriend Taylor.
But if anyone thought a little thing like a non-vitation would not stop Taylor from taking part in the festivities, they were the opposite of correct. First, Taylor sent flowers to Schroeder's hotel room. And then, he climbed into a Vegas-bound car. And for his final act, he showed up to Schroeder's birthday dinner in the chunky knit sweater that would go on to live in infamy.
Milliseconds after he stormed into the restaurant, the celebration turned into a kerfuffle. Taylor, Schroeder, the Toms Sandoval and Schwartz, and Schroeder's then-boyfriend, Frank Herlihy, got into it. Drinks were tossed, hair was tugged, and words were screamed. Naturally, the group took things out to the parking lot. Sandoval removed his shirt, Herlihy removed his shirt, and Taylor removed his shirt. A scrap ensued.
Oh, I'm sorry. Let me try this again: Taylor didn't remove his shirt. Taylor tore off his chunky knit sweater in a fit of rage and barreled across the lot.
And the world...
... was never...
... the same.
Why wasn't Taylor wearing anything underneath his cardigan? Why was Taylor wearing a cardigan in Vegas in June? Wasn't Taylor worried about the asphalt dirtying the crisp white knit? Is this the greatest television program of our time?
I do not know the answers to Qs one, two, or three, but I do know the answer to Q number four: Pump Rules is without a doubt the greatest television program of our time.
Congratulations, chunky knit sweater. Can't wait for your inevitable induction into the Smithsonian.