People Are Spreading This Fake Video Of Kylie's "Baby Bump" & It's So Messed Up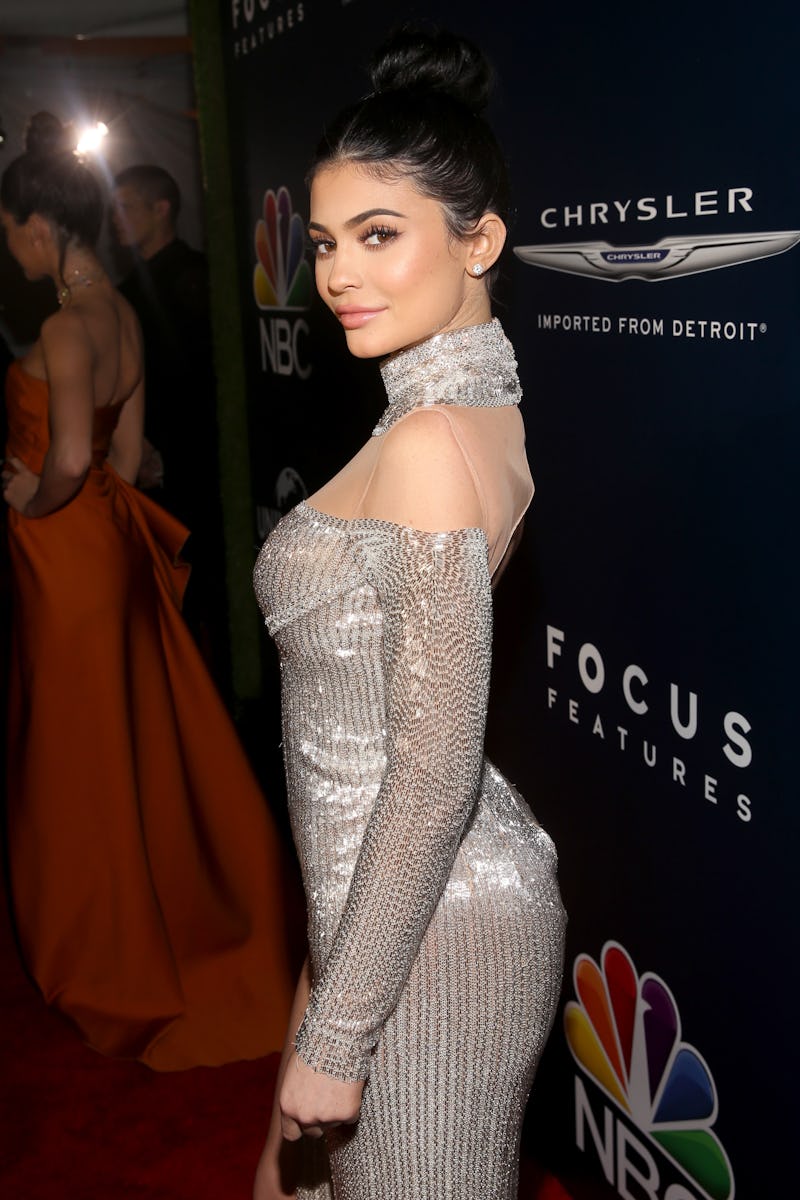 Jesse Grant/Getty Images Entertainment/Getty Images
Ever since the reports of Kylie Jenner's pregnancy started circulating, fans have wanted to see evidence that the rumors are true. Now, there's a Kylie Jenner "pregnancy" video making the rounds on social media as the desire for an actual confirmation is stronger than it ever was before. Is the youngest Jenner pregnant with Travis Scott's baby or not?!
Well, when it comes to the video that's circulating, it doesn't help at all. The video shows Jenner and her sister Kendall Jenner dancing up a storm. And it's not fake exactly. he video is real, and yes, it is them. But here's the thing, though: The video is actually from a Golden Globes party that the sisters attended 11 months ago, as TMZ points out. Just check out their dresses. Unless Jenner and Kendall happen to repeat outfits in unison, this is definitely some old footage that has nothing to do with the reported pregnancy, even though people claim that it's proof of Jenner having a baby bump. It seems like it's probably just strange lighting on a very shiny dress.
As proof, these are some photos of the youngest KarJenners from the night of the Golden Globes party. Peep the outfits, hair, and makeup as time stamp evidence.
Now check out the video in question. It's clearly the same night.
There were plenty of people on Twitter who thought (and hoped) that this video was the real deal.
This could have been the evidence that people ave been hoping for, but it's clearly not. It comes on the heels of the rampant speculation that Jenner would finally confirm a pregnancy on Christmas Day. The Kardashian/Jenner family had been posting photos of their annual Christmas card every single day leading up to the holiday. At first, fans thought they were going to reveal Jenner and Khloé Kardashian's pregnancies at the end, but when Khloé appeared in the card bump-free, everyone was confused. And then she made her own pregnancy announcement via Instagram.
On the 24th day of Kardashian and Jenner card photos, the family members put up a photo with all the women and their kids that included everyone, but Jenner. It seemed like a sure thing that Jenner would appear on Day 25 of the card, but that didn't happen. The family shared another photo with all the ladies and their children, without Jenner. A lot of people complained on Twitter and Instagram over the disappointment.
Instead, Jenner and Kris Jenner posted a photo from a magazine cover featuring Jenner on Christmas Day. That's great and all, but where is the post that everyone has been looking for? When is Jenner going to confirm or deny the reports?
There was also hope that photos of Jenner would surface from Kris' annual Christmas Eve party that would confirm she's pregnant. But while photos of Jenner at the party were shared by Khloé on her Snapchat, no pregnancy was revealed. Plus, in an earlier Snapchat video, Khloé said to Jenner, "People think you weren't there last night." Kylie confirmed, "I was," and Khloé said, "She's a secret, little bunny." Yes, she is.
When will there be a defined baby bump photo, a confirmation via an Instagram announcement, a Snapchat photo of prenatal vitamins, or something else that confirms or denies the pregnancy reports? At this point, there are lot of people looking for evidence to prove Jenner's pregnancy, and there are going to be plenty of rumors and conspiracy theories. Just be on the look out for fake news until Jenner chimes in herself.