Pics Of Kylie At The Kardashian Christmas Party For Anyone Suspicious Of Her Whereabouts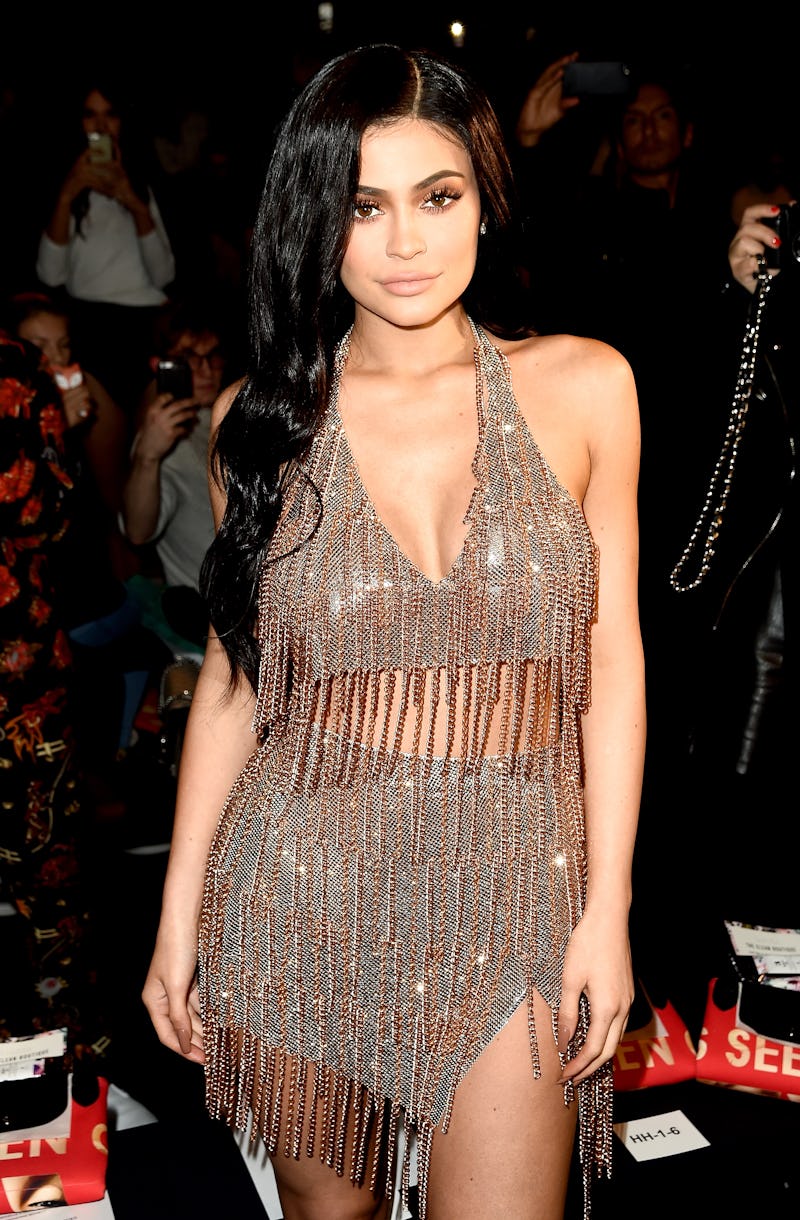 Nicholas Hunt/Getty Images Entertainment/Getty Images
To quash any rumors that suggested otherwise, beloved reality superstar turned makeup mogul Kylie Jenner gave verbal confirmation (via Snapchat video by big sis Khloé Kardashian on Christmas morning) that she was, in fact, present during mom Kris Jenner's annual Christmas Eve bash. Not much evidence existed to the contrary, so fans (mostly) took her word for it. But these new photos are proof that Kylie really did attend Kris' Christmas Eve party.
The glitzy black-and-white photo set — which the elder "K" posted to her Snapchat story Tuesday evening, Dec. 27 — includes two images of Kylie and Khloé, posing side-by-side in what appears to be the photo booth from this year's iteration of Kris' famed holiday shindig. The sister-sister snapshots flashed intermittently amid a montage of photo booth photos, which featured a handful of Kardashian faces, namely Kris and Kendall.
Notable Kardashian family friends appeared as well, including Khloé's BFF Malika Haqq and her twin sister, Khadijah. Kris' mother, MJ Houghton, was also in attendance, and she even posed for a sweet picture alongside her daughter, aka the hostess with the mostest. (Seriously, if the Oxford English Dictionary could assign a photo series to the word "lavish," it would probably be these snaps from Kris Jenner's Christmas Eve party.)
The Kylie-Khloé images expressly don the pre-Christmas soiree's cute, catchy tagline: "Better Not Pout." Beneath the bold-faced phrase, the slightly smaller text reads, "Kardashian-Jenner Christmas Eve 2017." Because, of course, a Kris Jenner-helmed holiday bash just isn't complete without a branded logo.
Luckily, that's just the sort of concrete reassurance skeptical Kylie enthusiasts needed. Because, although a series of snapshots taken during Kris' party peppered social media Sunday evening, Kylie was nowhere to be found, which many thought was because she is hiding the fact that she is reportedly pregnant. Her absence seemed like a red flag to fans, who assumed that Kylie's lack of photo-ops meant she must have dipped out on the event entirely to avoid any pictures that would give anything away. Pretty sound logic, considering she was reigning queen of Snapchat not too long ago. Plus, Kylie never appeared in any component of the Kardashian's 25-piece Christmas card, which the family rolled out — advent calendar-style — over the course of December.
Khloé's Christmas morning Snapchat video managed to quell the budding inquiries about Kylie's whereabouts. Khloé posted an expressly Christmas-themed Snapchat series (festive PJs and all) on the morning of Dec. 25, one of which directly addressed Kylie's presumed absence from Kris' iconic annual bash.
"Merry Christmas! People think you weren't there last night," Khloé says in the video. Kylie, standing beside her, confirms matter-of-factly: "I was." Khloé wraps up the video by referring to her younger sib as a "secret little bunny" —appropriate for a number of reasons, including the bunny filter. Rob Kardashian also made a cameo in Khloé's snap series, confirming that — despite his similar absence from his siblings' social media posts Christmas Eve — he too attended the party.
Whether Khloé's "secret bunny" comment was intended to hint at Kylie's rumored pregnancy is still up in the air. And, if her own maybe-pregnancy-reveal (before she actually revealed her pregnancy) was any indication, Khloé is something of a master at the art of the extremely casual tip-off. Regardless, one thing is for sure: Kylie's low-key public presence (or, as low-key as a Kardashian-Jenner's public presence could possibly be) is nothing new.
The 20-year-old star has been laying noticeably low for the past several months, since TMZ first reported that she was expecting her first child with boyfriend Travis Scott back in September. Fans were hoping that the final installment of the Kardashian-Jenner Christmas photoshoot spectacular might reveal Kylie's pregnancy once and for all. But it seems that just wasn't in the cards this holiday season.