A Woman Accused Missouri's Governor Of An Unwanted Sexual Encounter & Her Claims Are Awful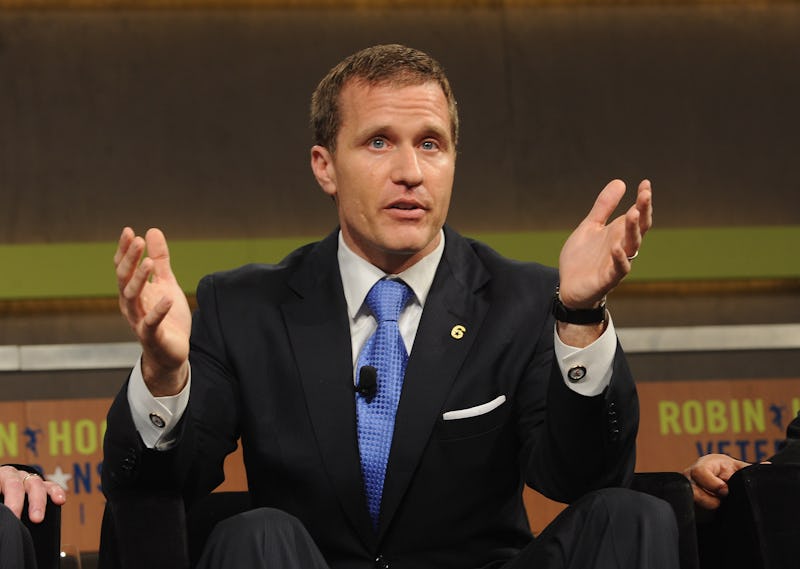 Craig Barritt/Getty Images Entertainment/Getty Images
According to a report released by the Missouri House of Representatives on Wednesday, the state's Republican governor Eric Greitens was allegedly involved in an unwanted sexual encounter with his hairdresser, and subsequently threatened to release a partially nude photo of her if she went public with the story. The governor has admitted to having an affair with the woman, but insists it was consensual, and has characterized the accusations as part of a "political witch hunt."
After more than a month of investigation by a House committee, the report ― which alleges sexual misconduct by Greitens in 2015, prior to his election to the governor's office ― was finally released on Wednesday. All seven Missouri state lawmakers tasked with investigating the allegations determined that Greitens' accuser, who has not been publicly named, is credible. Bustle has reached out to Greitens' office for comment.
The allegations contained in the report are extremely specific and disturbing. The woman claims that Greitens slapped, groped, and coerced her into performing oral sex on him while she was crying. The woman also told the committee that the first-term governor took a compromising photograph of her, and threatened that he'd expose it to the world if she ever spoke out.
Greitens was indicted on felony invasion of privacy charges in February, relating to the same incident, which is what spurred the House investigation into the allegations.
In the report, the woman ― identified as "Witness 1" ― described being blindfolded and bound by Greitens in the basement of his home, ostensibly as part of a "workout" he wanted to show her. She told the committee that he'd kissed her while blindfolded and tied up, which she did not want, then ripped off her shirt and pulled down her pants without consent, at which point he took the alleged photo which she says he threatened her with.
"Don't even mention my name to anybody at all, because if you do, I'm going to take these pictures, and I'm going to put them everywhere I can," the woman testified that Greitens said. "They are going to be everywhere, and then everyone will know what a little whore you are."
After the blindfolding, the woman claims Greitens exposed his penis while she was crying and attempting to leave. Ultimately, the woman told the committee that she didn't believe she had consented to performing oral sex on Greitens, although she had gone through with it because she felt her physical safety was at stake. Here's how the report describes it:
As to whether she consented to oral sex at that point, Witness 1 testified, "It's a hard question because I did it – it felt like consent, but, no, I didn't want to do it." She further explained, "Coerced, maybe. I felt as though that would allow me to leave. That's what he wanted – I felt that's what he wanted…." Witness 1 then agreed with the statement that she "didn't feel necessarily able to leave without performing oral sex." She further testified, "Looking back, yes" she believed that saying no when she was bound and blind-folded extended to not consenting to further contact, but, "In the moment, I was so emotional" and that one of the emotions was "definitely" fear for her "physical self."
Some of the state's lawmakers in both parties have already called on Greitens to resign. For instance, as The Kansas City Star reports, Republican state representative Jean Evans decried the allegations of "violence against women," and said she was "overwhelmed with sadness" for the state of Missouri.
As mentioned, Greitens has denied the allegations, maintaining that he and the woman had a consensual affair. He has also refused to resign from the governorship, insisting he intends to stay in office, and has said that he expects more allegations about him ― false allegations, he says ― to emerge in the days to come.