A Court Upheld This Woman's 8-Year Prison Sentence After She Voted With A Green Card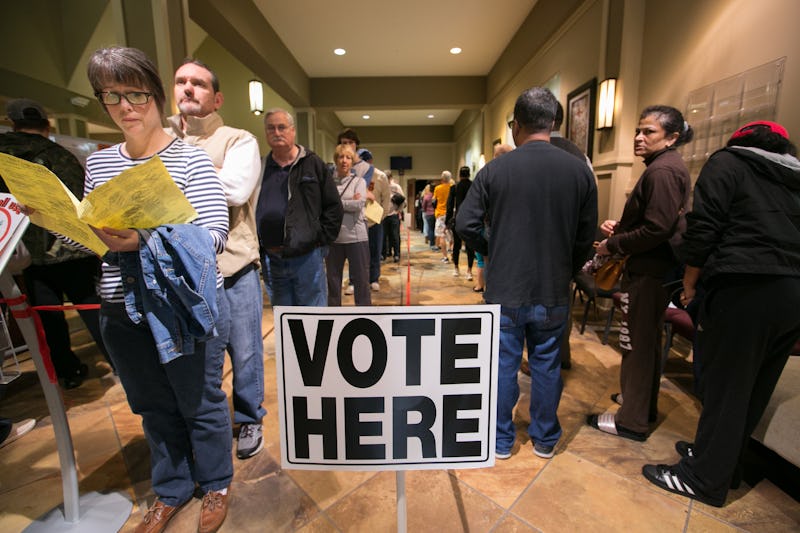 Jessica McGowan/Getty Images News/Getty Images
On Wednesday, an appeals court upheld a voter fraud conviction against a Texas woman who voted with a green card. Rosa Maria Ortega was originally convicted in 2017, despite the fact that she claimed she had no idea her green card didn't provide her voting rights. Now, Ortega, a mother of four, has been sentenced to jail time of eight years, as well as likely deportation.
According to NBC News, Ortega voted five times from 2004-2014, and served as a poll worker; she even voted for the attorney general who is now prosecuting her, a man named Ken Paxton.
Ortega's attorney told the Washington Post in 2017, "She's got this [green] card that says 'resident' on it, so she doesn't mark that she's not a citizen. She had no ulterior motive beyond what she thought, mistakenly, was her civic duty."
In a statement in 2017, when Ortega was first convicted, Paxton said, "This case shows how serious Texas is about keeping its elections secure, and the outcome sends a message that violators of the state's election law will be prosecuted to the fullest." He added, "Safeguarding the integrity of our elections is essential to preserving our democracy."
In the case, prosecutors argued that Ortega had marked that she was a "resident alien" on a driver's license form, and that she incorrectly checked the U.S. citizen box on her voting ballots, thus negating her argument that she didn't know better.
In response, Ortega's lawyer has argued that her punishment is exceedingly harsh, and that it's meant to satisfy people who are "swept up in the Trump hysteria where he is trying to find an explanation for why he lost the popular vote."
Ortega's lawyer further asserted that Ortega, a registered Republican, had only two options to choose from on her voter application: "citizen" or "noncitizen." He said, "It's a single vote that she's casting. The fact that she got eight years is off the rails."
Trump has long championed the unsubstantiated notion of widespread voter fraud in the United States, and has even argued that he lost the popular vote to Hillary Clinton as a direct result of 3 million to 5 million "illegal ballots." And Ortega's case, along with her extremely harsh sentencing parameters, isn't the only one that seems to be a reflection of the administration's apparent war against any and all cases of voter fraud: In March, another woman was convicted of voter fraud.
Crystal Mason, 43, was on probation for a tax fraud conviction when she voted in the 2016 election; she has since claimed that no one ever told her she wasn't allowed to vote. She was sentenced to three to five years in jail.
News organizations have not been able to reach Ortega or her family members for comment. However, the Star-Telegram reports that Ortega is a Mexican-born citizen who came to the United States as a baby, and that she received a green card as a child. She remains a citizen of Mexico.