Abbi Jacobson's New Netflix Series Combines Your Love For Disney Princesses & 'The Simpsons'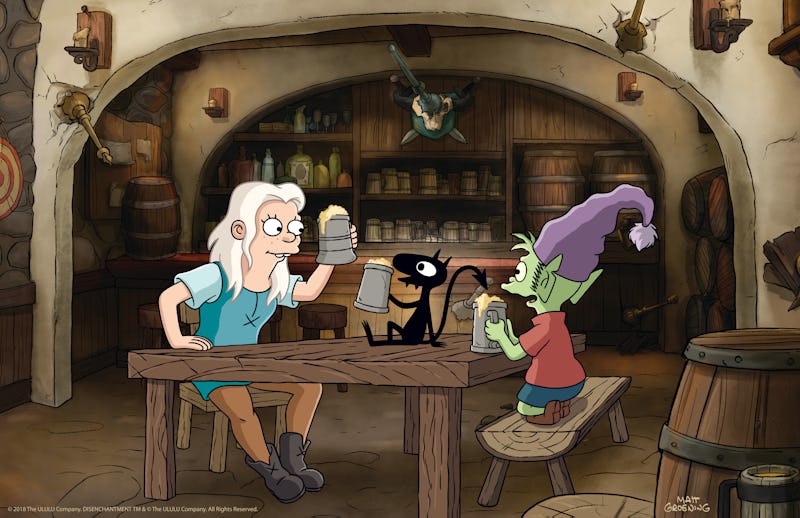 Netflix
Growing up on a steady diet of Disney princesses can give you some pretty unattainable ideas of beauty, perfection, and love. And yet, catchy tunes aside, those childhood classics are the very films that every little girl and boy watch despite the outdated themes and messages they send. That's why Abbi Jacobson jumped at the chance to voice Princess Bean in Disenchantment, aka Matt Groening's new animated series coming to Netflix on August 17, because she's here to destroy all your preconceived notions of what it means to actually be a princess.
Netflix's new series comes from the mind of cult-favorites The Simpsons and Futurama creator. However, differentiating itself from its predecessors, Disenchantment is centered on a female main character — Bean. Set in the crumbling medieval kingdom of Dreamland, Disenchantment follows the misadventures of hard-drinking, young Princess Bean along with her innocent, naive, and optimistic elf companion Elfo (voiced by Nat Faxon) and her personal demon Luci (voiced by Eric Andre). Bustle got a first look at Bean, Elfo, and Luci in all their enchanting glory, above, ahead of the Friday premiere, and you've got to admit, they look like the perfect bunch of friends to grab a drink with, right?
Throughout the series, the oddball trio will encounter ogres, sprites, harpies, imps, trolls, walruses and lots of human fools as Bean forges her own path that doesn't involve getting married to someone she doesn't even know just for the sake of saving her kingdom's financial situation. For a character growing up in the medieval times, Bean definitely has a progressive, feminist way of thinking that is sure to inspire a new generation of princess-loving kids everywhere.
For Broad City's Jacobson, Bean's strong modern attitude was the icing on the cake for what she calls her "dream job." Having grown up watching The Simpsons, she idolized Groening and could hardly believe it when she landed the lead role on Disenchantment. "I actually auditioned for it, which I don't do that often," she reveals to Bustle. "I recorded a voice memo on my phone and then I forgot about it like I usually do, because I don't usually get it and then I got it, bizarrely. That was pretty surreal because it's Matt!"
As a lifelong fan of The Simpsons, Jacobson always loved Lisa Simpson the most. "Maybe it was because I was a young girl, but she was the most headstrong person and the voice of wisdom in that world," she says. That's why the character of Bean is such a thrill for her to bring to life on Disenchantment, though she admits it's "bizarre" to think about young kids looking up to her as a role model like she did with Lisa. Bean is a strong, badass woman, and isn't the kind of "perfect" princess most viewers are used to seeing, so don't expect this to be your average animated princess.
"Bean is a princess, but she's a very anti-typical princess in that all her flaws are shown," Jacobson says. "I was really excited about that because I feel like there is so much content about princesses and young girls and boys and adults are all obsessed with them. Think of the Royal Family, people are obsessed with them."
Disenchantment takes all the common assumptions about royalty and subverts them into something entirely new. "Everyone has this obsession with perfection; the dresses, the proper etiquette, everything feels like it's supposed to be perfect with princesses," Jacobson says. "Bean and this whole world of Dreamland is so not that. It's messy. She drinks, she curses, she is sleeping around. Her whole thing is figuring out who she is and getting into trouble. I love showing that a princess can be all those things, too."
While Disenchantment is offering up something new on-screen with Bean, it's also accomplishing a first behind-the-scenes as well, as it's the first animated series from Groening with a female main character. The Simpsons and Futurama both had strong female characters, but the central characters were always male. Jacobson is proud to help make Groening's animation empire more inclusive and equal for women.
"My main thing that I do, my other job, is Broad City so it's not new for me to be focusing on the fact that women are also full characters, full people and showing all their strengths and weaknesses at the same time," she says. "So that wasn't new for me in my work, but it is a rarity in the world of animation. That was exciting for me to be showing that this protagonist, who happens to be a woman, is also flawed and weak and strong and has nuances and can change her mind and do everything that women do and also be a princess. I didn't come into it thinking it was something new because that's what I try to put into everything I already do, but it is a big deal in this world of animation and that's awesome."
And Jacobson's time spent creating and acting on Broad City actually helped prepare her for Disenchantment more than she first realized. "I didn't think that an animated show would allow time for improv, but we were able to improvise a lot," she says. "And it actually ended up staying in [Disenchantment]. When I was recording, I was like, 'There is no way they're going to put this in.' When I watched it later, I was so shocked that certain lines made it in,'" she shares. "Broad City really prepared me for being in the room and not just doing what is written on the page, but also trying to make it my own and adding to it."
While Jacobson hopes viewers are entertained by the first season of Disenchantment, she also wants the experience to be meaningful in ways you might not expect. "We're presenting this fantastical world that also has a lot of commentary on the world that we're currently living in," she says. "It's not heavy-handed in that way, but I think that it will allow you to escape and hopefully laugh and be angry at our current climate in a lot of ways — which I think is the goal and what we need right now."
But what she is most excited for viewers to see from her on Disenchantment is how she imbued a lot of herself into Princess Bean just by using her voice. "Every project I do now, I'm trying to show a different side to myself and explore the different ways in which I can tell stories," Jacobson says. "This one, [executive producers] Matt and Josh [Weinstein] really allowed me to bring more of myself to Bean than I expected. Viewers will be able to see me in her," only a "little more excitable" and — well, animated.