Adam Driver Assures His Fans He Is Super Laid Back In 'SNL' Monologue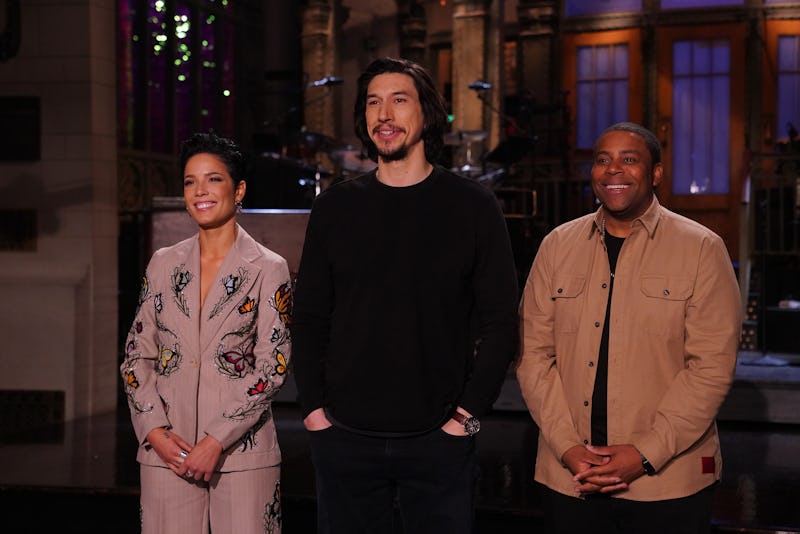 NBC/NBCUniversal/Getty Images
Adam Driver may play some intense characters on film, but he assured viewers during his Jan. 25 Saturday Night Live hosting gig that he's actually super chill. In Adam Driver's 2020 SNL monologue, the Marriage Story star explained that he hates red carpets because his smile looks like "a kidnapped person trying to send a message with [his] eyes." He proceeded to give the camera one of these smiles and later blessed audiences with a second, progressively weirder grin. Obviously, Twitter was all over it.
"People assume I'm just like the characters I play — really serious, quiet, intimidating guy," Driver said during his monologue. "But I'm not an intense guy! I'm actually very chill." He proceeded to stride casually around stage, leaving a ridiculous amount of dead air in between sentences. However, what his monologue made clear was that Driver is not, in fact, laid-back.
The Star Wars actor began telling the studio audience about his life — that he was in the Marines, that he's married, etc. But these fun facts were interspersed with uptight comments. At one point, Driver looked up at the stage set behind him. "Oh that's cool, it's like a subway! Is that supposed to be Grand Central?" he commented, excitedly, before deadpanning, "I can't take the train — I get mobbed."
Toward the end of his monologue, Driver walked toward the camera, giving a series of weird little smiles like he was getting recorded for his friend's Instagram Story and not onstage hosting SNL. "This man is a 2-time Academy Award Nominee," @SlavicShadowNR reminded Twitter.
Indeed, Driver's come-hither look can only be described as middle-schoolers-looking-across-the-classroom-at-each-other-when-their-teacher-says-to-grab-a-partner. His smile was transcendent, terrifying...erotic? The people in the studio audience certainly thought so, screaming progressively louder the closer Driver's face came to the camera lens.
But while Driver may not be the nonchalant guy he purported to be in his monologue, fans wouldn't have him and his creepy little smiles any other way.