Adam Rippon Will Boycott Trump's Olympic Celebration To "Do Something Positive" Instead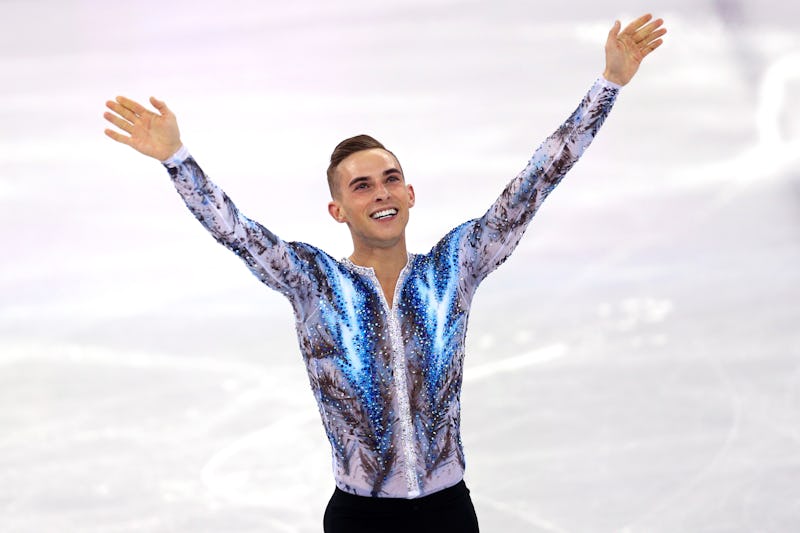 Maddie Meyer/Getty Images Sport/Getty Images
When the American Olympic figure skating team took home the bronze on Sunday night in PyeongChang, openly gay Adam Rippon's feud with the White House became official. Medal winners are typically invited to meet the president, but Rippon will boycott the White House Olympic event to "do something positive" instead, he said.
The first-time Olympian has been in a standoff with the administration since January when he told BBC News interviewers that he would decline any forthcoming invitation from the White House, noting that his mom would "kick [his] ass" if he talked to people the way the president does.
Athletes are given a really special platform. It's our duty, as athletes, to be role models. I won't go to the White House.
Now that the reception in Washington is actually on the table, Rippon is considering alternative programming that would benefit the LGBTQ community.
"I have no desire to go to the White House. But I would like to do something to help my community," he told the Daily Mail on Sunday after his win. "I have kind of spoken out a lot, and I'd like to do something positive and not just stay at home."
Before his win, Rippon drew headlines for declining to meet with Vice President Mike Pence at the Games. In January, upon learning that Pence would lead the U.S. delegation to the opening ceremony, Rippon responded to USA Today:
You mean Mike Pence, the same Mike Pence that funded gay conversion therapy? I'm not buying it.
Then it was reported that the vice president's office had requested a meeting with Rippon, who declined.
"Adam respectfully declined and said he would consider speaking with the VP after the Games," the figure skater's agent, David Baden, told The Washington Post.
But Pence's office denies that, saying they merely offered to meet, but had not "requested" a meeting. Pence's communications director, Jared Agen, told the Post:
The USA Today report is false and should be corrected. As all these facts show, there was only one phone call from our office and it was not as portrayed by the USA Today report. As we've said before, the vice president is supporting all the U.S. athletes in the Olympics and is hoping they all win medal.
Rippon, however, expressed to USA Today that he was open to meeting with the VP after he competed.
If I had the chance to meet him afterwards, after I'm finished competing, there might be a possibility to have an open conversation. He seems more mild-mannered than Donald Trump. … But I don't think the current administration represents the values that I was taught growing up. Mike Pence doesn't stand for anything that I really believe in.
That hasn't happened, and Pence is already back in the United States.
Rippon has been open about his sexuality publicly since 2015. He's the first openly gay man to qualify for the U.S. team in a Winter Games. Snowboarder Gus Kenworthy qualified just after Rippon and is also in PyeongChang. Rippon has said that coming out made it easier for him to be himself on and off the ice.
He explained to The Washington Post his thoughts on being the first out gay man to compete for Team USA.
First and foremost, I'm an athlete. And I'm an Olympian. I'm not a gay Olympian. I'm just an Olympian that's also gay. I don't mind reading that — like, "gay Olympian Adam Rippon." It's fine. I hope that, in a way, it makes it easier for other young kids who are gay. If they go to the Olympics, they can just be called Olympians.
Rippon may want to be just an Olympian, but he's also making a stand for his community.