Adam Rippon Wore A Leather Harness To The Oscars & Twitter Is Here For It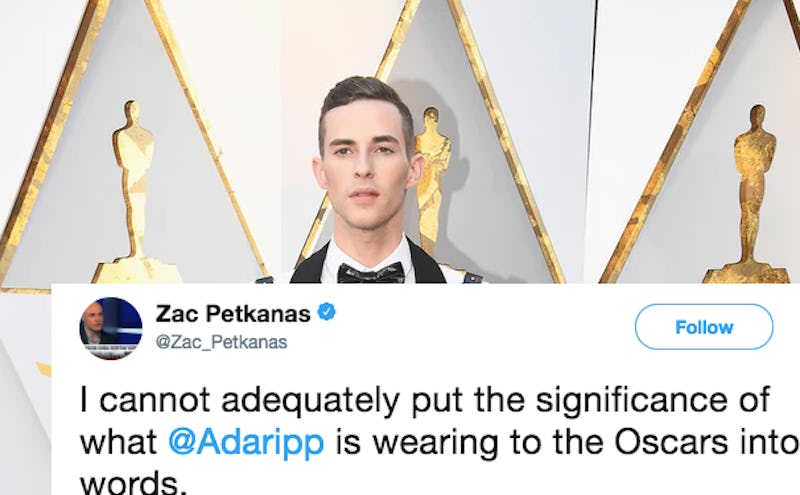 Frazer Harrison/Getty Images Entertainment/Getty Images; ZacPetkanas/Twitter
The Academy Awards is a big deal for anyone to attend. Deciding what to wear to such an event is a important for the nominees, of course, but it's also a big deal for everyone else attending. American figure skater and Olympic athlete Adam Rippon wore a leather harness to the March 4 Academy Awards and Twitter is about it. Rippon made a name for himself at the 2018 Olympic Winter Games for not only his amazing athletics, but also for his outspokenness about his sexuality. As a member of the U.S. figure skating team, Rippon won a bronze medal at this year's Winter Games, which made him the first openly gay American male athlete to medal in the Olympics.
Rippon was vocal throughout the Olympics of wanting to celebrate who he was openly and honestly, while still keeping the focus on his skating. Rippon is also pretty much a genius on social media, sending out messages not only about queer representation in sports, but also just generally hilarious quips about pretty much everything. Needless to say, people love Rippon, so it's no surprise that he's attending this year's Academy Awards. And given Rippon's commitment to being 100 percent himself in every setting, he wore a leather hardness and cold-shoulder suit on the red carpet.
Twitter was so into this look, too.
User Zac Petkanas wrote, "I cannot adequately put the significance of what @Adaripp is wearing to the Oscars into words. His refusal to code-switch and play the harmless gay eunuch — and that he's still embraced in the mainstream — is something to behold. She is the queen we've been waiting for."
This outfit is not only totally, 100 percent Rippon's style, but people like Petkanas are pointing out the larger, more important message his outfit choice is sending to people.
Another Twitter user, Chris Rovzar, was also a fan of the head-to-toe look writing, "Adam Rippon is wearing a Jeremy Scott harness to the Oscars. Somewhere in heaven, Oscar Wilde, Harvey Milk, James Baldwin, and Michelangelo just shared a margarita."
The leather harness, an accessory that is often associated with gay culture, was designed by Scott and according to people like Rovzar and Petkanas, Rippon's wearing of the harness is a way of emphasizing that the Olympic athlete refuses to be anyone other than himself — regardless of what outdated, ridiculous societal standards exist.
Twitter cannot stop loving it.
Everyone was excited about the outfit choice.
"Adam Rippon wearing a harness to the #Oscars is the future we deserve," Twitter User yosomichael wrote.
As you can tell, everyone is about Rippon's entire look and honestly, can you even blame them? A fresh, new look on the red carpet is always appreciated, especially when it's from someone with such an important voice.
Twitter user David Mack wrote, "adam rippon wearing a harness on the oscars red carpet is a MOOD," and he couldn't be more right.
Using the red carpet to make a statement is certainly nothing new, but in true Rippon fashion, the figure skater is taking the exposure of being on the red carpet to be blatantly, unapologetically himself. This in and of itself is important. Rippon's presence and outspokenness during the Olympics showed people that being themselves (no matter what their sexuality) is important.
Rippon paired the harness with a leather bow tie (amazing), a blazer with shoulder cut-outs (a bold, unique look), some jewelry, and a pair of loafers.
The whole head-to-toe look is completely fierce, and it's an important statement that emphasizes what Rippon is all about — being 100 percent yourself and showing that world that that is more than OK.