Adam Scott Is Going To Be In Jordan Peele's 'Twilight Zone' Reboot In Major Role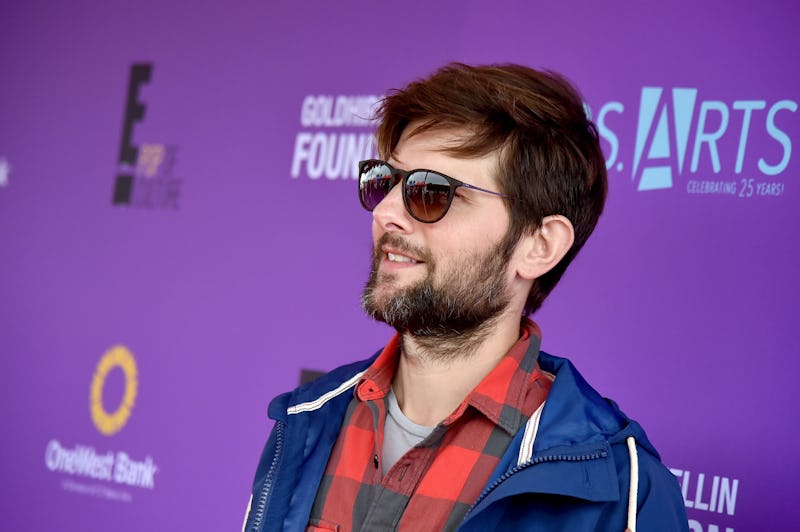 Mike Windle/Getty Images Entertainment/Getty Images
The Twilight Zone reboot coming to CBS All Access in 2019 is a beacon of hope on the nostalgia-soaked pop culture horizon. And somehow, it just got better. Jordan Peele's Twilight Zone reboot casted Adam Scott in a role in what for sure sounds like an iconic episode.
On October 26, The Hollywood Reporter announced that Peele's Twilight Zone recruited Scott (Parks and Recreation, Step Brothers, Party Down) for a part in "Nightmare at 30,000 Feet." That's all the information fans have about it for now. Seriously, the Twilight Zone team hasn't announced any other details about the episode — not even the actor's role in it. It's likely okay to assume that it's a new take on the famous "Nightmare at 20,000 Feet" episode.
If you can't place that one by name, here's what you need to know: The original episode aired in 1963, and starred William Shatner as a man witnessing something bizarre on the wing of his airplane that no one else can see. Does that sound familiar? It might be because, as THR points out, it was one of the episodes recreated for the doomed Twilight Zone movie decades later, and the subject of an early "Treehouse of Horror" special for The Simpsons. It was also reenacted by Kristen Wiig's character in Bridesmaids, with a funnier (but no less chilling) result.
Could it really be that Scott's taking on the role made iconic by literal sci-fi icon Shatner? What would Ben Wyatt say about that!
Vulture pointed out that it's not just Scott on board (pun intended) for the updated series. Actor Sanaa Lathan has agreed to enter this new dimension as well:
"[Lathan] will star in the episode 'Rewind,' an episode from the early 2000s revival of the series that focuses on a gambler who thinks they can beat the house with the help of a mysterious tape recorder."
Just knowing Scott and Lathan have been cast should prove exciting news for fans of The Twilight Zone and Peele alike. CBS has tried to keep details of the reboot tightly under wraps, but they've managed to trickle out here and there. So far, fans do know that Peele will host and narrate the series he's helming — taking on the Rod Serling role from the original run — but that's really about it. It's set to debut on CBS All Access, which is CBS' streaming-only service, at some point in 2019.
Trying to get any new information about the revival can often feel like a Twilight Zone episode in and of itself.
It's the perfect time to bring back The Twilight Zone, a show that combined science-fiction and meditations on morality in one spooky half-hour. Yes, lots of existing (and beloved) properties are being updated or revived or rebooted, but The Twilight Zone is something special. It's intelligent and thought-provoking, and at its heart — full of love. Peele, certifiably brilliant — and skilled at blending comedy and horror — is the ideal artist to revamp this show for the modern era. It shouldn't be as grim as Black Mirror or as uneven as the more recent Twilight Zone revivals. The odds are in Peele's favor, here. And hiring Scott for an homage to "Nightmare at 20,000 Feet"? Pass the streaming credentials, please.