Adele Has Talked About Marriage A Fair Amount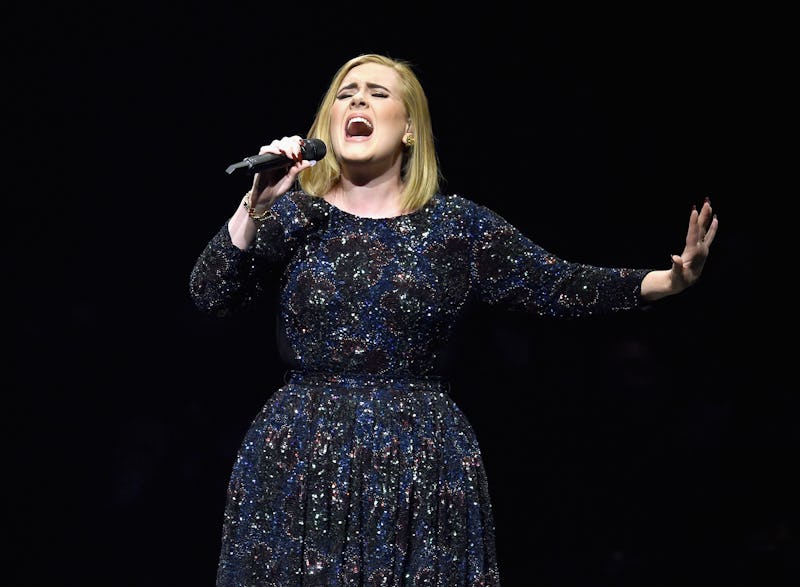 Kevin Winter/Getty Images Entertainment/Getty Images
With rumors flying that Adele and longtime boyfriend Simon Konecki secretly tied the knot (both have been spotted wearing gold bands on their ring fingers; when reached by Bustle, Adele's rep had no comment), it's time to revisit Adele's thoughts on marriage. Now, she and Konecki have been together for five years, and have a 4-year-old son, Angelo, together. Both have publicly gushed about the other, but the "Hello" singer has also been vocal about her feelings on marriage — feelings that, perhaps, have changed over time.
In November 2015, she told Rolling Stone:
"I have said a million times I'm not married and everyone still says we are," the singer said at the time. "But, yeah, we're still together. We haven't broken up. We've never broken up. We've been together. We just haven't felt the need to get married. We've got a kid together. I feel like that's a big enough commitment."
However, she seemed to change her tune slightly in July 2016, telling the crowd at the Minnesota show: "I might as well be married. But I'm not. I would tell you if I did."
In the December 2016 issue of Vanity Fair, however, Adele reiterated her stance that having a child with Konecki is the biggest commitment of all.
"She adds that she and Simon are not married, and she doesn't need it," the Vanity Fair writer reported of Adele's words. "She thinks having a child together is the bigger commitment."
So while the gold bands may still remain a mystery given most of Adele's thoughts on marriage, it's clear beyond anything that Adele and Konecki are blissfully happy (and committed) in their relationship — legally wed or not.
"He's not threatened by any stage of my life that I'm going for, and that's an amazing thing. It's the most serious relationship I've ever been in; we've got a child together and we live together," she told VF about her beau, who is 14 years her senior.
"Simon is already who he is, and I'm still becoming who I'm going to be. He's confident," Adele said. "He's perfect."
It doesn't get any better than that, folks.