Beyoncé Is Now A Creative Partner For Adidas So Clear Out Your Closet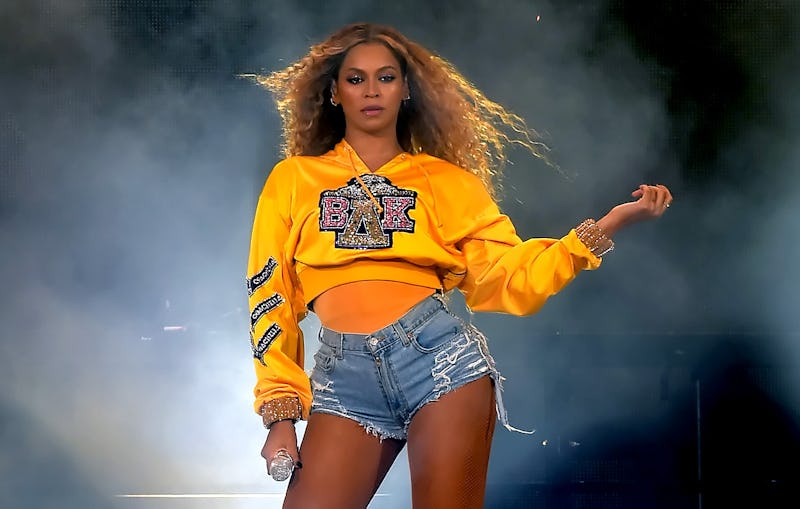 Kevin Winter/Getty Images Entertainment/Getty Images
Beyoncé is about to step up her game when it comes to athleisure. Adidas and Beyoncé announced a new partnership, which means it's time to clear out your closet. There is going to be a line of Beyoncé-approved sneakers soon, and you will want in on it.
In this new partnership, Beyoncé will become a creative partner for the brand, and will develop new signature footwear and apparel, according to a press release. Beyoncé will also relaunch Ivy Park with Adidas.
According to the press release, this new collaboration came about because of the core beliefs that both parties share: women in leadership, empowerment, and collaboration.
"Adidas has had tremendous success in pushing creative boundaries," Beyoncé shared in the release. "We share a philosophy that puts creativity, growth and social responsibility at the forefront of business. I look forward to re-launching and expanding Ivy Park on a truly global scale with a proven, dynamic leader."
In 2016, Beyoncé launched Ivy Park with the help of Arcadia Group, which owns Topshop. The artist cut ties with Topshop in Nov. 2018, when Parkwood, Beyoncé's company, acquired 100% of the Ivy Park brand from Arcadia Group. Though Beyoncé explained in a statement that there had been talks of severing ties for nearly a year, the announcement was made right after the Sir Philip Green #MeToo scandal broke. Green owns Arcadia Group, and allegations against Green included sexual harassment, bullying, and racist abuse.
"This partnership respects Beyoncé's ownership of her company which continues her journey as one of the first black women to be the sole owner of an athleisure brand," Adidas explained in the press release.
This partnership will be multi-layered, where Beyoncé will create everything from performance to lifestyle products. Knowing Beyoncé and her sharp eye for boundary-pushing fashion, interesting collections are sure to be produced.
"Neither ascribes to the typical stereotypes of athletes and what athleisure clothing and footwear should be, and instead, will bring to life a shared vision of inclusion that will forever alter the opportunities and landscape for all," Adidas shared in the release.
With the announcement of this partnership, Beyoncé is joining the family with Kanye and Pusha-T, who also have deals with Adidas.
This news is also similar to how Rihanna became a creative partner with Puma, creating her Fenty x Puma line. The collaboration debuted in 2016, and has had wild success in its short three years.
For example, in 2016, Rihanna won Shoe of the Year at the Footwear News Achievement Awards. She was the first female sneaker designer to ever win the award. Her collections went on to be showcased in New York Fashion Week, and has won approval and coverage from Vogue. A year later, the Fenty x Puma line was nominated at the British Fashion Council's The Fashion Awards, placing Puma in the same category as Off-White and Supreme.
Athletic brands can reach new heights when they partner with artists that have strong vision. While there is no news yet what the new Adidas x Beyoncé collaboration will have in store, one can only assume it will be groundbreaking.