Adwoa Aboah's Badass New Feminist Podcast Offers A Vital Dose Of Realness & I Stan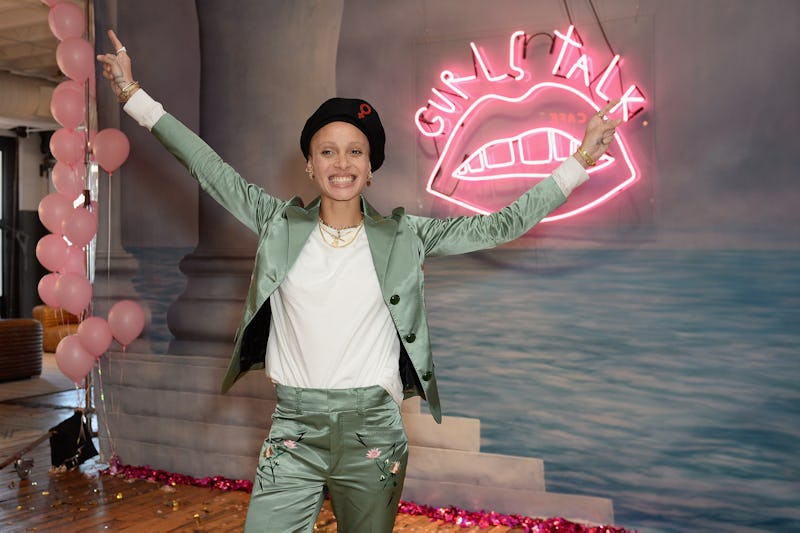 Andrew Toth/Getty Images Entertainment/Getty Images
Ever since launching her candid online platform Gurls Talk in 2015, model Adwoa Aboah has continued to speak out about her own struggles and encourage other young women to do the same. Now, she is taking on a new media format. Adwoa Aboah's Gurls Talk podcast will see the 26-year-old speak to a different woman each week who is killing it in her own unique way.
The podcast — which has been created in partnership with Nike — launched on November 23. Aboah's first guest was the supremely talented singer and songwriter Jorja Smith. The pair sat down for 40 minutes to discuss life as black women, why they both love to box but can't stand yoga, and how to navigate the complicated world of social media without damaging your self-esteem.
Her second, and most recent, guest turned out to be boxing champion Ramla Ali. Originally from Somalia, Ali came to the UK to flee her country's civil unrest. She soon took up boxing classes but kept her passion hidden from her family for quite some time. Now, she has represented both her own country and England in various championships and encourages other young Muslim women to achieve their goals.
Both conversations are truly inspiring and don't hold back from talking about the real issues that affect every young woman's life. The next podcast appearances haven't yet been confirmed, but you can guarantee that they're going to be just as engaging.
Although Aboah is most known for pushing for greater diversity in the fashion industry, she has gone through plenty of personal struggles which have helped morph her into a true activist. She has been open about her problems with drugs and has also spoken about her suicide attempt in 2015, as Elle reports.
It was in that year that she started Gurls Talk. "I told other girls they could open up to me, so I'm not leaving. The moment I opened my mouth, I took on that responsibility," she once told the BBC.
Originally simply an Instagram account, Gurls Talk has since progressed to a fully-fledged website where women can freely discuss the problems they face and where they can give useful advice to others in similar situations. Aboah also often holds events where young women from across the country can come together and bond.
As well as continuing with her podcast, her future plans include bringing the Gurls Talk ethos into schools. "There's still a lot of work to be done within the school system — we want to take these conversations into the academic curriculums," she told the Evening Standard. "We do our social events, but schools [are] where we really want to get our message."
She thanks social media for giving her "a platform" but is also more than open about the detrimental impact of apps like Instagram. "There is that part of my job where I have to post glamorous photos. Am I adding to the message of how people think about themselves, and beauty, and the lack of confidence in young girls?" she further commented to the Evening Standard.
With that sense of self-awareness, Aboah is set to go extremely far. If you want to inject some of that into your own life, you can catch a new episode of the Gurls Talk Podcast every week on iTunes.
If you or someone you know is experiencing suicidal thoughts, call the Samaritans on 116 123 or email jo@samaritans.org. You can also reach out to Switchboard, the LGBT+ helpline, from 10 a.m. to 10 p.m. on 0300 330 0630.