Afropunk Is Proof That A Summer Music Festival Can Be Free Of Cultural Appropriation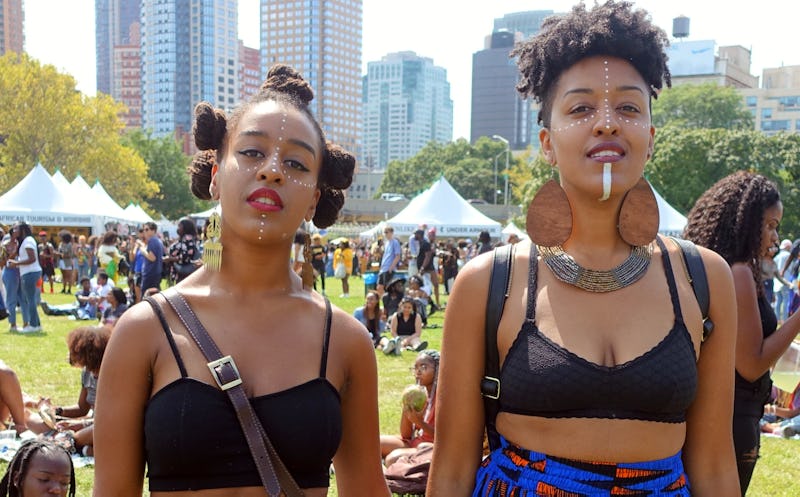 Eddie Cepeda
Finding a sense of individuality within festival fashion can be a difficult task. But on the weekend of August 26, thousands of people at the Afropunk Festival in Brooklyn pulled it off flawlessly by drawing inspiration from their own culture — arguably making it the sole summer musical festival free of cultural appropriation.
Cultural appropriation has plagued festivals from the very beginning. Bindi, Dashiki, corn rows, war paint, and the most egregious — headdresses — make yearly appearances at most of the world's festivals. It's become such a problem that some festivals even take measures to stop it, banning headdresses altogether. Rather than drawing from offensive stereotypes, at Afropunk, it's about elevating black heritage. "It's great to be able to come here and see all this melanin electricity," festival attendee Melissa Sellers tells Bustle. "I can come here and create my own fashion." Which is exactly what many of the at the festival did.
For many, preparations for the weekend included a meticulous execution of their DIY looks, which were often planned weeks in advance. "Everything I have on is thrifted," Taneka Parker tells Bustle. Conscious consumption is key for many at the festival, but so is the need to be distinctive. "It's a way to help the environment, but also a way not to look like everyone else," she explains while flaunting her thrifted fit.
At Afropunk, fashion is political. The looks are created by people of color for people of color. Not only is it empowering black youth to bask in the glow of their own identity, it's beginning to inspire — and often overshadow — runways around the world. This is fashion with a purpose — meant to further shatter the long-standing notion that black identity is not mainstream. It's also a place to premier politically charged statements such as Women's March founder Linda Sarsour's Freedom Fighters shirt line, which debuted at the Mad Free pop-up this weekend.
Afropunk began as a documentary highlighting black musicians who were etching out a place in the predominantly white space of punk rock. On the strength of the documentary, a message board developed where people of color who felt left out of punk gathered to build a community. The brand evolved into a music festival, with branches extending to London, Atlanta, Paris and even Johannesburg. As Afropunk grew, so did the definition of the word "Afropunk" itself. Festival goer Debbie Desire tells Bustle, "It's a celebration of black culture. Here, we aren't in a mold of what 'black' is supposed to look like."
The looks range from punk-influenced, to fantasy-inducing manifestations combining some current trends (Supreme spottings were surprisingly few and far between), with an appreciation for black heritage. By becoming the prime example for unique fashion without the uncomfortable element of appropriation, Afropunk is teaching other festival-goers to look beyond overpriced knockoffs of DIY fashion and try a little harder to be more yourself, instead of being someone else.