Linkin Park Fans Get The Band's Albums Back On The Charts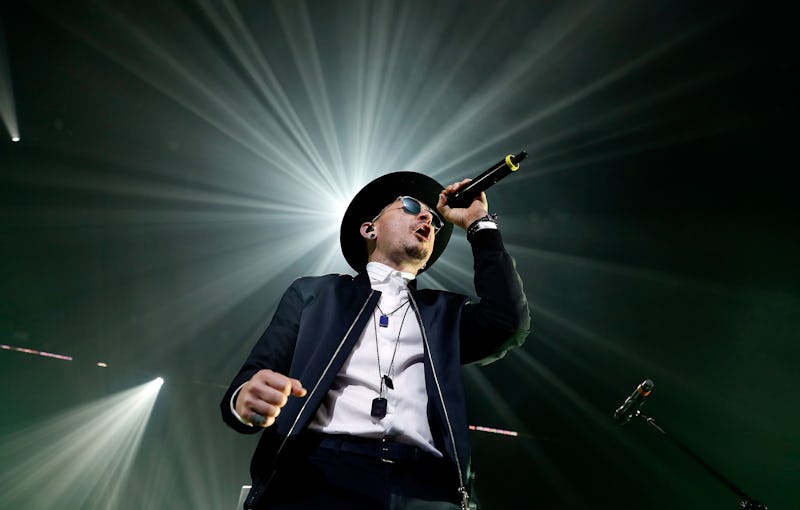 Isaac Brekken/Getty Images Entertainment/Getty Images
After the outpouring of fan tributes to late singer Chester Bennington following his death by suicide last week, it should come as no surprise that Linkin Park has returned to the Billboard charts. The band's music was beloved by millennials, and for many of us Linkin Park helped define our teenage years. For millions of fans, Bennington's vocals and the lyrics he sang got us through especially hard times as we grew up. It's safe to say that pretty much every teenager in the 2000s had at least heard of Linkin Park and their hit songs.
And the band has the record sales to prove it. Linkin Park has sold an estimated 26 million albums and over 31 million singles worldwide, according to Nielsen Music. Their second album Meteora (released in 2003) sold over 800,000 copies in its first week alone. Linkin Park has continued to release music with their most recent album, One More Light, charting at number one on the Billboard 200 chart when it came out this past May. The band has also won numerous Grammy and American Music Awards, among other accolades and achievements.
According to Billboard, One More Light, re-entered Billboard's U.S. Top 200 album charts at the No. 17 spot this week. Their debut album, Hybrid Theory, also charted at No. 27.
Meteora came in at No. 41 on the Billboard list, while Minutes to Midnight (released in 2007) was at No. 115. Amazon's weekly list of best-selling albums was also released on Monday, July 24, and One More Light topped the list, with Hybrid Theory coming in the fifth spot.
Total U.S. Linkin Park music sales rose 5,332 percent following Bennington's death, according to Nielsen Music. Additionally, the band was the world's most popular artist on Spotify this past weekend with 14.77 million chart-eligible Spotify plays on Saturday, July 22, alone.
With all of the attention surrounding Bennington's tragic passing and all of the outreach and support from fans, Linkin Park's music will undoubtedly live on.