After Junot Díaz Was Accused Of Sexual Misconduct, I Turned To Latina Authors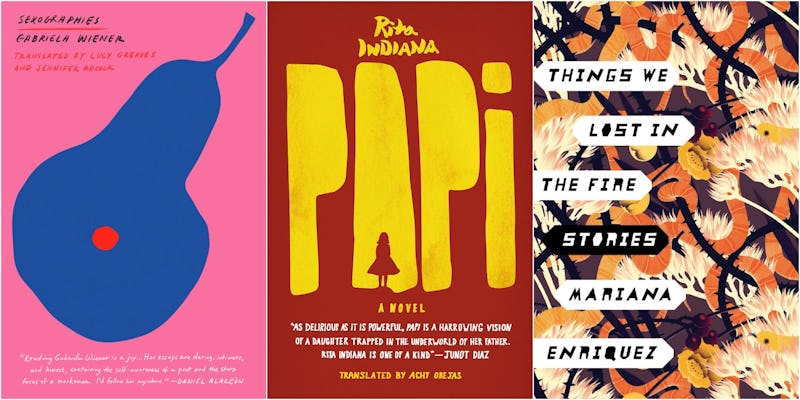 I first discovered Junot Díaz while working at the Book Fair of Bogotá, nearly five years ago. I raced through The Brief Wondrous Life of Oscar Wao and immediately picked up This is How You Lose Her. I fell in love, and I gave the book to friends who, like me, discovered a mirror they had been missing.
For the first time, I saw the language I used — Spanglish — on the written page without italics. I saw characters that were brown, but also nerds, science-fiction readers, and bachata dancers. In the haze of having found a narrative that felt more familiar than anything I had read before, I missed the violence inflicted upon the women in these books. I had been given so little cultural representation in books, that I fell very hard for the inch given to me. Only later — when Junot Díaz was accused of sexual assault and harassment by several female authors — did I begin to come to terms with this.
I first public accusation of sexual assault came from What We Lose author Zinzi Clemmons, who alleged that Díaz forcibly cornered and kissed her while she was a grad student. Other women accused Díaz of emotionally, physically and professionally abusive behavior. (Díaz has denied the allegations.) While speaking about these accusations with a community of Latinx writers in the United States, I was made aware of the story of author Alisa Valdes, who had previously written about her tumultuous relationship with Junot Díaz. I read countless essays, letters, and Twitter threads about Díaz and the allegations against him. I had loved his books, but I believed the women. I could no longer support his work. Furthermore, for the first time, I also began to notice the way his work upheld sexist ideologies. Alicita Rodriguez examines this in her poem "How To Know You´re a Woman in a Junot Díaz Novel," in which she argues that women are exoticized, sexualized, and victimized to satiate the frail egos of Díaz's male characters.
I had loved his books, but I could no longer support his work. Furthermore, for the first time, I also began to notice the way his work upheld sexist ideologies.
After Díaz was accused of sexual harassment, I decided that I no longer wanted to hold him up as the best the Latinx community has to offer — and in an effort to make up for lost time, I decided to dedicate myself to reading only non-male Latinx authors. Here are a few I have discovered.
Rita Indiana is a Dominican author and singer-songwriter. Her book Papi (unfortunately, blurbed by Junot Díaz) is about a young girl who crafts fantastic stories about her father while she waits for him to come back to Santo Domingo. Indiana has an eye for the language of people. She knows how the Caribbean sounds, and it is a delicious experience to immerse oneself in the worlds she creates. Reading Rita Indiana was also one of the first times I read about queer Latinx characters. Queerness is a subject seldom approached in the books I read while growing up.
Papi by Rita Indiana, translated by Achy Obejas, $13.50, Amazon
While looking for nonfiction books, a friend recommended that I read Gabriela Weiner, a Peruvian journalist. Her book Sexographies is a collection of essays about people who live in the periphery of sexual identities and tastes. In the book, she describes her experiences attending orgies with her partner, she interviews and shamelessly flirts with one of the most recognized male porn stars in Spain, and she speaks to countless people about all the different ways they experience pleasure. It broadened my perspective on polyamory, and expanded my understanding of what defines a healthy relationship.
Sexographies by Gabriela Wiener, $12.18, Amazon
I also discovered Mariana Enríquez, who writes about angry, upset, vengeful, and calculating women without making them the butt of the joke. She is an Argentinian writer, and her short stories in Things We Lost in the Fire haunt me to this day. The women in her book are wild ("almost feral," she writes) who tolerate no nonsense from the men around them. The violence perpetrated toward women in Latin America is present in every page, even if it's not named, and the women of her book are not willing to let it roll over them.
Things We Lost In The Fire by Mariana Enriquez, $16.32, Amazon
As a person who grew up in Latin America but spent many years in the United States, I often do not see myself reflected in much of the traditional Latinx literature of the U.S. But books like The Veins of the Ocean by Patricia Engel and The Lucky Ones by Julianne Pachico told stories of women from Colombia who, like me, straddled two cultures. I was able to see in these pages the persistent kind of discomfort that comes from being an immigrant. No language ever fits right, no set of rules sits right, no amount of phone calls will ever satisfy the relatives away from you.
There are so many other books I could name, but the thing I need you to remember is this: There are so many authors who are writing about the nuances of the infinitely complex and beautiful experience of being Latinx. Junot Díaz isn't the best we can do. Not even close.
For more Latinx Heritage Month content on Bustle, click here.