'AHS: Apocalypse' Actor Cody Fern Says Michael Langdon Is More Complex Than You Think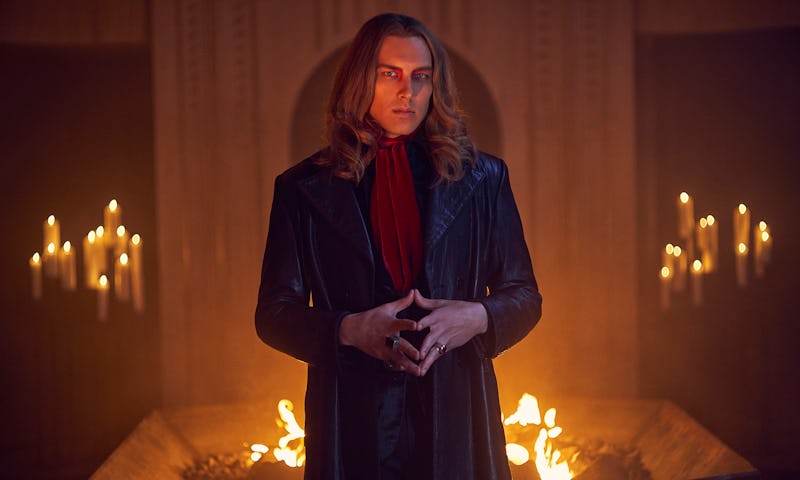 FX Networks
With five episodes down, AHS: Apocalypse audiences are getting well-acquainted with Michael Langdon, the charismatic Anti-Christ responsible for this season's whole "end of the world" situation in the first place. Well, judging by AHS: Apocalypse actor Cody Fern's comments on Michael Langdon, it sounds like the same could not be said of Langdon's real-life counterpart until just a few days before stepping into his character. As if such a complex, emotionally layered (or whatever the Anti-Christ version of emotionally layered looks like) character wasn't difficult enough to play all on its own, even with ample preparation time.
But during a recent conversation with E! News, Fern, who plays Langdon on the show, revealed that he was kept pretty much entirely in the dark about the specifics of his AHS character for months after first learning that he'd landed the role. He told the outlet,
"I found out that'd I'd be playing a character in American Horror Story back in October, but I didn't know who it was going to be until days before filming."
For those who've been following the current AHS season, Fern's comments on his and Langdon's enduring lack of acquaintanceship prior to filming probably comes as something of a surprise. Beyond the character's aggressive penchant for metaphysical doom — which, on its own, sounds like a challenging, and duly bizarre, test of method acting — Langdon also happens to be a slick-talking fashionista with a seriously convoluted backstory. Was he raised by a robot? What happened to Constance? How did the blonde-haired boy from Murder House eventually grow up to become the stern-faced, demonic guy we're just now getting to know in Apocalypse?
(Just for the record, it looks like the Constance question might be answered when Jessica Lange returns to AHS in the season's forthcoming episode.)
Speaking of Langdon's affinity for dramatic outfits, though, it sounds like that was one of the few tidbits of characterization that Fern did have access to from the beginning. During his conversation with E! News, Fern explained that, while he was made aware of Langdon's aesthetic preferences much earlier on than he did the character's personality traits. "I just knew he would have long, Dorian Gray-esque hair and would love capes," he told E!, adding, "That's all I knew." In fact, as he went on to tell the outlet, Langdon's luscious wig — and the lengthy conversations that were apparently had about said wig on the AHS: Apocalypse set — was "the first thing [he] knew about the character."
Still, wig or no wig, knowing what we know of Langdon now, it's almost impossible to imagine how Fern was able to familiarize himself with the mysterious, cape-wearing villain in just a couple of days before immediately proceeding to bring him to life. But, alas, those who've witnessed the actor's chilling performance as Langdon on AHS know that, somehow, Fern was able to do it. So, uh, how in the world did he make it happen, then?
After parsing through his comments to E!, it sounds like his success in effectively becoming Langdon onscreen basically boils down to the usual recipe: Boatloads of passion, and a whole lot of enthusiasm, too. Speaking about what it's like actually playing Langdon in AHS: Apocalypse, Fern said,
"I love Michael I have never had more fun in my life playing a character than I've had playing Michael Langdon. He's so delicious. He's so layered and complicated. He's got such a strong sense of purpose."
Of course, as he mentioned later on in his recent conversation with E!, Fern understands that Langdon certainly does not come without his fair share of shortcomings. Fans of the series definitely know this too, since Langdon has spent the majority of Apocalypse manipulating his way through the remains of the human population as a means of expediting his own twisted version of natural selection. No, seriously. Remember when he literally took over Mead's mind and forced her to shoot Ms. Venable?
That said, it sounds like Fern embracing the character for exactly what he is. "I will say that I don't worry about making Langdon likable, because his concern is not being likable," Fern said, adding that, "if people hate Michael Langdon, that's a good thing." As tends to be the case with many TV villains, audiences might very well hate Langdon on some level, but that doesn't always make it easier to look away come Wednesday evenings. This seems especially true when the villain is portrayed by someone with Fern's acting chops and looks like he's been plucked straight from the pages of your favorite Gothic novel.