Alcohol-Related ER Visits Are Way Up — Even Though People Are Drinking Less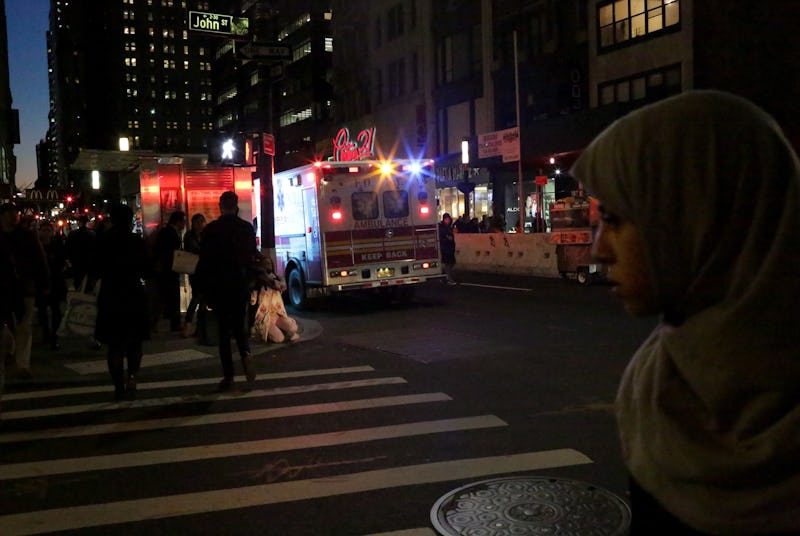 Yana Paskova/Getty Images News/Getty Images
The amount of alcohol consumed by Americans has risen only marginally since 2006, but according to a study published this month in the journal Alcoholism: Clinical and Experimental Research, the number of alcohol-related visits to the emergency room more than doubled from 2006 to 2014, and researchers can't figure out why.
The team of five researchers looked through data on nearly 1,000 hospitals in 33 states and Washington, D.C., and found that alcohol consumption-related ER visits rose from over 3 million in 2006 to just under 5 million in 2014 — an increase of 61.6 percent. The team further found that visits to the ER related to chronic alcohol consumption, or drinking that causes chronic illness, increased 75.7 percent. Acute related cases, involving things like alcohol poisoning, increased 51.5 percent. And it turns out that women experienced a higher increase in alcohol consumption-related ER visits than men.
Aaron M. White, a neuroscientist who works at the National Institute on Alcohol Abuse and Alcoholism and co-author on the study, told NPR that the study's results are both alarming and mysterious, because "the same nine-year period showed a mere 2 percent increase in per capita alcohol consumption overall, and an 8 percent increase in the number of emergency room visits for any reason."
"The lowest hanging fruit in terms of hypotheses is that there must be an increase in risky drinking in some people," White told NPR.
His hypothesis matches data from other studies, like a 2013 study by researchers from the Harvard Middle School of Public Health, Stanford University's Department of Medicine, and the London School of Hygiene and Tropical Medicine. The study indicated that while the number of people drinking had declined, people who did drink were more likely to binge-drink. That accounts for the fact that the amount of alcohol purchased by Americans increased, but fewer people are actually drinking it.
"Even though [an increase in risky drinking] is not showing up in increases in overall per capita consumption, it's enough to drive the increase in alcohol-related emergency department visits," White added.
White also commented on the gender gap of alcohol-related visit increases, which he said grwe larger when researchers looked at just chronic use of alcohol. According to NPR, women are also catching up to men statistically when it comes to alcohol-related issues — which means more women are binge drinking and drunk driving.
And that's what researchers are ultimately concerned with: The number of people we lose each year to alcohol-related deaths. White and his colleagues concluded that "[increased] utilization of evidence-based interventions is needed" to drive down the number of people who are suffering alcohol-related crises that result in — in the best case — an ER visit, and — in the worst — death.
A Centers for Disease Control and Prevention study that looked at data between 2006 and 2010, overlapping the years from which White and his colleagues collected data, showed that on average, 88,129 people died in the U.S. because of excess drinking. White told NPR that he and his fellow researchers estimate those deaths represent "10 percent of all deaths among working-age adults."
Another factor that could be increasing the number of alcohol-related ER visits is that people forget that alcohol is an actual drug, White told NPR. Like other drugs, it "can lead to medical emergencies by itself or provoke other conditions," and "[even] people who drink in moderation should talk about their alcohol use with physicians and other health care workers to avoid any dangerous interactions with medications."
As for utilizing evidence-based interventions, NPR pointed out a 2016 review of past studies that pointed out "brief, nonjudgmental conversations about the path they're on" with health care workers can change drinkers' behavior, "at least for a few months."
The fact that we don't quite understand why so many people are coming to the ER for alcohol-related reasons may be scary, but there is some good news: Studies have shown that education-related intervention with teens and young adults is successful, and that monitoring alcohol trends in youths can help physicians be more effective at treating alcohol-related visits. One thing is clear: We need a society-wide focus on supportive intervention to keep those numbers from rising even more in the future.