Aldi's Iconic Wine Advent Calendar Will FINALLY Sell In The U.S. This Year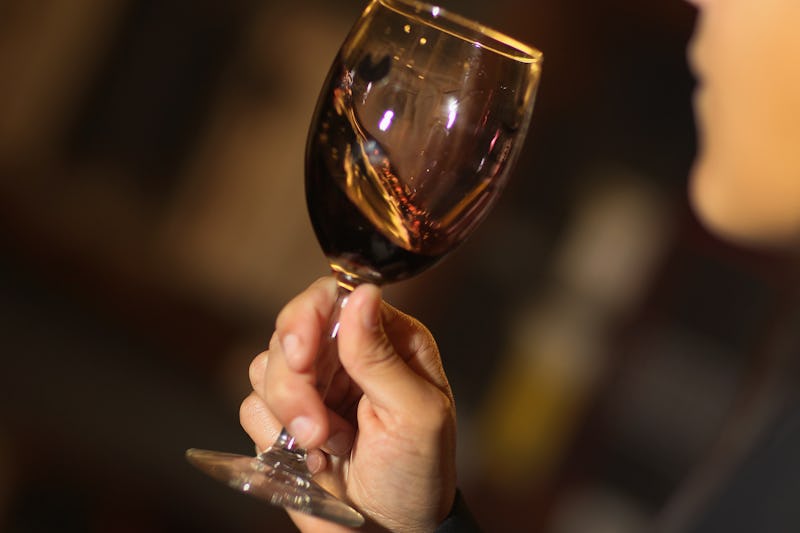 Joe Raedle/Getty Images News/Getty Images
I will freely admit that I have trouble thinking about the winter holidays when it's, y'know, not even fall yet — but this tidbit is too good to pass up, so I'm willing to roll with it: The 2018 Aldi wine and cheese advent calendars have just been announced, and based on the sneak peeks a variety of food-focused publications have been launching out onto the internet this week, they're not something you're going to want to miss. What's truly notable about this year's offerings is their availability: The Aldi wine advent calendar will be available in the United States this year, which should make an awful lot of people very happy indeed.
I, uh… may or may not be one of those people.
Just sayin'.
Anyway!
This isn't the first time an advent calendar from Aldi has hit the scene; in 2017, the wine advent calendar sent wine lovers everywhere into a tizzy of joy and delight. There was just one problem: The calendar was only available in the UK. Sure, folks based in other countries had a variety of other similar options available — Vinebox's 12 Nights Of Wine, for example, has been a hit since 2016, while the Whiskey Advent Calendar has offered a smoky, peat-y twist on the boozy advent calendar idea for the past few years — but, well… this is Aldi we're talking about here. Aldi: That great supermarket wine staple, home of award-winning yet incredibly affordable tipples. Aldi's reputation for being a fantastic place to get wine is practically mythic in proportions — so the fact that the store's wine advent calendars were only available in one spot was a disappointment, to say the least.
As such, it's no surprise that everyone is flipping out about the 2018 release: This year, those of us in the United States will get to partake in the fun. According to Food and Wine, the 2018 Aldi wine advent calendar will bestow upon its users 24 mini bottles of wine — one for each day from Dec. 1 through Dec. 24 — in varieties ranging from red and white to bubbly. Pinot Grigio, Sauvignon Blanc, Merlot, Shiraz, Malbec, and a few blends are apparently on the table. The calendar will be available from Nov. 7 onward and will sell for $70.
The rest of the details about the calendar are being kept under wraps (isn't that the point of an advent calendar, after all? For each day's gift to be a surprise?), but we might be able to draw some conclusions — or at least make a few educated guesses — based on what was included in last year's calendar. According to Tasting Table, the 2017 calendar had the equivalent of about six full bottles of wine in it — a standard bottle holding around 750 ml of wine — so the total volume of wine in the calendar was about 4,500 ml. That means that each mini bottle (there were 24 of them that year, just as there are this year) contained about 187.5 ml of wine. With a standard pour being about 150 ml, that means that each mini bottle had a little over a glass in it.
Assuming all of this holds true for 2018, we can probably predict that this year's calendar contains 24 mini bottles of around 187.5 ml each, granting you either an extremely generous pour or two modest pours per day, with the total amount of wine doled out by the calendar being around six standard bottles' worth. Not too shabby.
What's slightly more up in the air is exactly where all the wines will come from. In 2017, the regular wines in the calendar were all from France, while the sparkling wines came from Spain and Italy, reported The Sun; labels that made appearances included JP Chenet and Calvet. Given that the calendar was available exclusively in a European country that year, all that makes sense — France, Spain, and Italy are all a lot closer and easier to stock for a UK-based item than, say, California wines would be. Since the 2018 calendar is available in the United States, however, it's possible that the pedigree of the wine inside might be slightly different. We don't know yet for sure either way, though, so… do with all that what you will.
Oh, but hey, guess what? There's also a second calendar available for 2018 — and it's a perfect accompaniment to the wine calendar, to boot: Aldi also has a cheese advent calendar now, too. New for this year, it holds 24 imported mini cheeses, according to The Kitchn, with options ranging from cheddar to Gouda. And, uh… I need it. I mean, ideally, I'd have both the wine calendar and the cheese one, so I could have a nice glass of wine with a tasty bite of cheese each day during the month of December — but, I mean, hey, if wine isn't your thing, or if you're not willing to spend $70 on an advent calendar, perhaps the cheese option will be more appealing to you: It's a mere $13, making it both tasty and affordable.
By the way, there's no saying that you have to use these calendars to count down the days until Christmas; while the calendars' décor is a bit more geared towards Christmas than any other winter holiday (since, y'know, advent is a Christmas thing), you can of course feel free to start your calendar up whenever you feel like it. Go ahead. Buck the trend. Celebrate whatever you want, whenever want.
Aldi's advent calendars will both be available starting Nov. 7. They're sure to sell out quickly, so you might want to set a reminder for yourself to nab one as soon as they hit stores. Cheers!