You Can Do An Escape Room In A Winery & Yes, You Get To Drink While You Solve It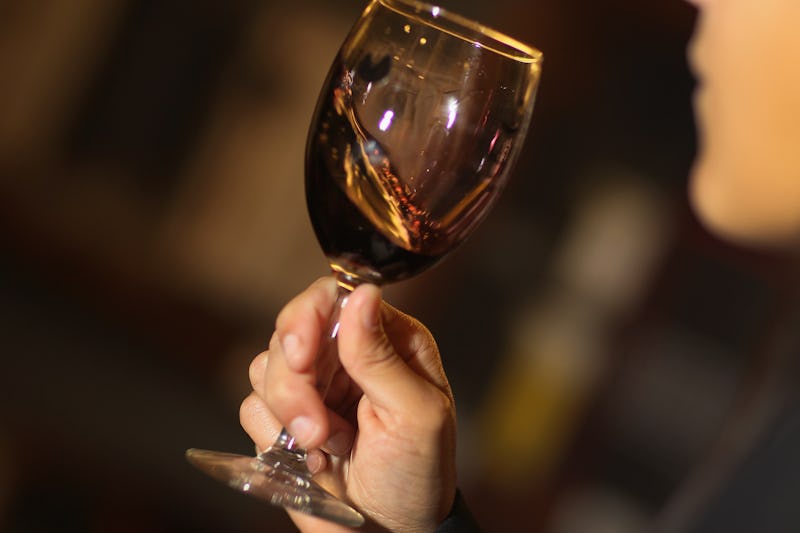 Joe Raedle/Getty Images News/Getty Images
So, hey, here's something fun to try the next time you're in Northern California: Sonoma winery Chateau St. Jean now includes an escape room among its many wine tasting options. You heard me: There's an escape room in a winery. And, I mean… well, let's put it this way: When I play escape rooms, I play them to win — but I would actually be OK not making it out of this one. Living out the rest of my days trapped in a Northern California winery actually sounds like a pretty great time to me.
(Kidding. I'm kidding. Or at least… I'm mostly kidding.)
Chateau St. Jean was founded in 1973 with the intention of bringing a true European-style fine wine estate to the Sonoma Valley. The chateau itself, which is now listed in the National Trust for Historic Preservation, dates back to the 1920s; the gardens are designed in the Mediterranean style; and the wine? Under winemaker and general manager Margo Van Staaveren, the wine has continued to be as delicious as always. The winery's flagship offering, the Cinq Cépages, isn't cheap — the 2014 vintage set you back a whopping $205 per bottle — but it sounds like one heck of a red: Made primarily with Cabernet Sauvignon along with some Cabernet Franc, Merlot, Malbec, and Petit Verdot grapes, it includes notes of plush red and dark fruits, baking chocolate, roasted coffee, Earl Grey tea, and spice. Pour me a glass; that's my kind of wine.
What's more, it's honestly something of a miracle that Chateau St. Jean is still standing right now. It was among the many, many Northern California wineries that were affected by the 2017 California wildfire season — which has since been determined to have been one of the worst wildfire seasons the state of California has ever seen. 9,133 fires burned nearly one and a half million acres, destroyed or damaged over 10,000 structures, and killed 43 people. The structural damage and loss of life from this one season was greater than it had been in the previous nine to 10 years combined, according to the Sacramento Bee.
Indeed, early reports on the Sonoma fires, which burned throughout October, suggested that Chateau St. Jean had actually burned totally to the ground. Happily, these reports turned out to be false; although other wineries weren't so lucky, Chateau St. Jean was able to reopen the weekend of Nov. 11. As Jackie Burrell at the Mercury News put it in November of 2017, the misunderstanding was perhaps understandable: "The chateau, vineyards and tasting rooms were so completely surrounded by flames, it seemed inconceivable that the winery had not burned to the ground." But, continued Burrell, "Incredibly, Chateau St. Jean survived."
But the entire Sonoma Valley area has struggled in the aftermath; the tourism industry is one of the largest employers in the county, but since the fires, visitor numbers have tapered off quite a bit. Since the start of 2018, however, there's been a push to bring visitors back to the area — and Chateau St. Jean's boozy escape room is part of that push.
Titled "Unlock the Chateau: A Wine Country Escape Room," the 60-minute experience challenges groups of six to 12 people to "solve a variety of puzzles and riddles by using clues and hints to unlock the secret of the Chateau," as the winery's "Tastings" pages describes it. Although it's common for escape rooms to be themed — I've played rooms that have involved everything from solving an art theft to escaping from a kingdom populated entirely by cats before they kill you — I'm not sure if there's a theme for this one beyond "wine"; understandably, details about the mystery itself are scarce. (It wouldn't do to give too much away, would it?) However, it seems to say that it makes the most of its setting. Notes Delish, "In addition to classic brainteasers like crosswords, there are clues hiding within love letters, maps, old photos, and wine barrels."
Tickets are $60 a pop, which is expensive by escape room standards; standard rooms at many businesses usually don't cost much more than around $30 per person. However, that $60 includes not only the escape room, but drinks as well: According to Trendhunter, each escapee is given a glass of sparkling wine at the beginning of the experience, a second pour when they unlock the second room, and a full flight when you finish up. Advises Sarah Weinberg at Delish, "Word to the wise: Sip your wine slowly. The riddles do require some thinking." Also, know that you can only book this one as a group of six or more; what's more, it's only available Friday through Monday. Plan carefully.
Escape rooms not to your liking? Fear not; Chateau St. Jean has plenty of other, slightly more standard wine tasting options available, too. Prices range from $15 for typical tasting of four wines held in the winery's visitor's center to $50 for a "Private Tailored Wine Experience"; the costs drop a bit if you're a member of Chateau St. Jean's wine club, too. For more info, head on over to the winery's website. Cheers!