These Throwback Videos Of Alex & Maia Shibutani Are Straight Up Too Cute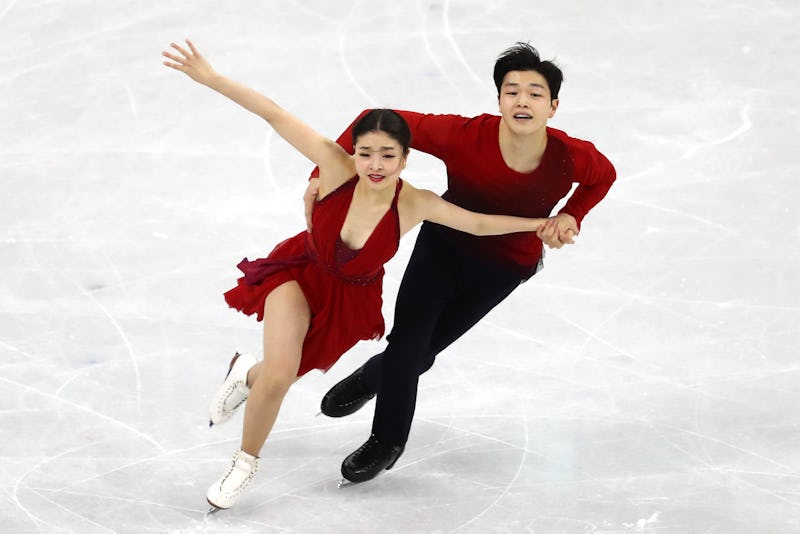 Dean Mouhtaropoulos/Getty Images Sport/Getty Images
These are two figure skaters you need to pay attention to. Alex and Maia Shibutani are siblings, who are not only amazing ice skaters who helped Team USA win a bronze medal during the 2018 Winter Olympics figure skating team event, but they have the best relationship as brother and sister. If you know nothing about either of the ShibSibs (greatest nickname ever), then you're going to want to acquaint yourselves. Seriously, they are the best.
Alex is 26 and Maia is 23 and they've been skating together for 14 years, so since they were little kids. Through their love of ice skating, they've formed an immensely strong bond, friendship, and partnership. They also have a huge amount of trust in each other, as figure skating pairs have to in order to succeed.
In February, Maia told USA Today about working with her brother, "I think that the will to succeed and always believing in ourselves has been a huge part of our success. Through the sport you really learn how to push yourself but then also persevere through challenging situations." She continued, "We feel really lucky that we have experienced it together as a team because every day Alex and I are motivated to make each other stronger which makes our team the very best it can be."
When they skate together, you can tell how well they get along and how much they enjoy making their passion a reality alongside one another. Alex and Maia really are best friends — it's not just for show. "On a day-to-day basis, we're each other's best friends and we spend a lot of time together, sort of out of necessity [given] how much our training demands and how much we're pushing each ourselves," Alex told Cosmopolitan in January. Maia added, "And we're really lucky we have a teammate who truly understands everything you're going through, because you're reaching for the same goal."
But they are "different people", Alex assured Cosmo. "I think because we are such a strong team and so in sync on the ice, there's the perception that we're literally always the same in life and that we have the same interests. We are different people! We are!" He later added, "We have some [different] interests outside of skating, which is great. It's nice to be able to pursue other things. Skating is our priority; being the best ice dance team we can be is really important to us, yes, but we have different personalities!"
That said, their relationship is something they cherish. In December 2017, Alex gave advice on how to get along with a sibling when you spend a lot of time with them. The piece he wrote for Team USA's official website gave some great and hilarious tips, including one titled "Be THANKFUL". He wrote, "Seriously though, if you're lucky enough to have a sibling, that's family. Family is so important and you have the opportunity to be each other's best friend and biggest supporter. Just like Maia and me."
The truly have the best relationship as brother and sister. Here's even more proof.
They Have Their Own YouTube Channel
How cute are they? You need to subscribe to their channel, stat.
They Share Videos Like This
Come. On.
They Know Each Other So Well
And have fun at each other's expense.
They Post Stuff Like This
So sweet.
They Have The Cutest Pups
Their dogs, Lily and Po, also have their own Instagram.
This Says It All
Stop. It.
Oh, And This
The cuteness is too much to handle.
They Skate Like This
Uh-mazing.
Who else is thankful to have the ShibSibs in their life? It's even more fantastic that their fans get to watch them skate at the 2018 Winter Olympics.