Alexandra Daddario Just Shut Down Zac Efron Dating Rumors Once & For All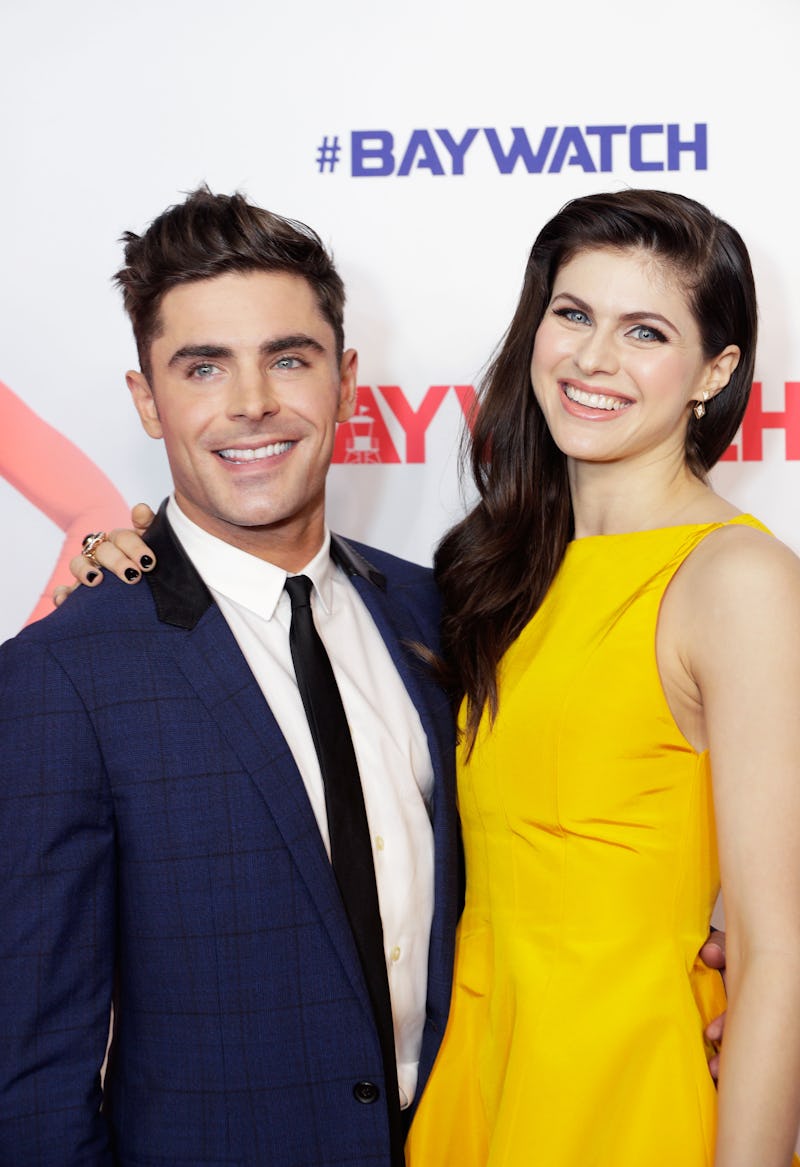 Brook Mitchell/Getty Images Entertainment/Getty Images
Ever since Zac Efron and Alexandra Daddario made the silver screen sizzle as love interests in Baywatch last summer, wishful fans have hoped their reel life romance continued in real life. Sorry to be the bearer of bad news, but Alexandra Daddario shut down rumors that she's dating Zac Efron once again at a New York City event on Thursday, May 31, according to People.
"We're very good friends," the actress, who played Summer in the flick, told the magazine of the dating rumors that have run rampant for more than a year now. "Zac and I've worked together, and we're very good friends."
Daddario's statement echos her answer to E! News on the red carpet at the 2017 Billboard Music Awards almost exactly a year ago. "We work together closely; he's my love interest in the film. I understand why people would go crazy over something like that, but Zac and I are very good friends."
But then in a move that served only to tease fans that "Matt and Summer" could also be dating offscreen, she added, "We would have very blue-eyed children, wouldn't we?" (Um, I think we can all agree on that.)
The same month, Efron also played coy about their relationship status during a joint interview on Australian talk show The Project. Referencing an earlier moment in the interview where the actor admitted to craving fried pickles while lying in bed (and his costar said she also craves the snack late-night), one of the hosts boldly asked if they share anything else in the bedroom. "Nothing but a shared... love of pickles," Efron said, teasing, "So far." Watch a video of the exchange below.
There has been a lot to fuel the dating rumors since their movie premiered last May. In honor of his blue-eyed pal's 32nd birthday, Efron posted a sweet tribute on Instagram March 16: "Happy birthday to one of the the most real, down to [Earth emoji], stunning, intelligent, creative, loving, and most rare Pokémon ever created #alexdaddario." And let's not forget to mention the cute photo he included of the birthday girl sitting on his lap.
Once the rumors were reignited by Efron's gushy post as well as a sighting of the duo shopping together at a pet store in Los Angeles weeks later, People confirmed via an unnamed source that there was some truth to the whispers. According to the insider, they weren't "officially dating," but have been together "on and off since their time working together on [Baywatch] last year."
Instagram once again became the platform for more fan speculation. In April, Daddario shared an adorable shot of herself and her dog, and Efron commented, "Two hot b*tches," according to People. Elle also has receipts, since posting screenshots as proof that Efron, who split from model Sami Miro in 2016 after two years of dating, has "liked" several of the actors other posts. But, is an Instagram "like" just a like or does it mean something more?
For her part, the actor, perhaps best known for appearing in the Percy Jackson film series hasn't exactly made a secret that she knows what everyone else in the free world knows: Efron is very handsome. And having to admire his chiseled abs was all in a day's work.
"Early on, I had to do a scene where I had to flirt with him and touch his waist," the actor told Entertainment Tonight last April. "It was sort of like a — I wasn't prepared. It was like an animalistic shock went through me. I don't know. He's, like, not human. He's like something Michelangelo carved. I've never seen a man that looks like him. It's incredible."
Although Daddario has once again denied that she and Efron are in a relationship, the pair obviously formed a close bond onset. And not for nothing, they would make a really, really good-looking couple — you know, if they ever became one.