Alexis Ohanian's Video With Serena Williams' Fans Will Definitely Melt Your Heart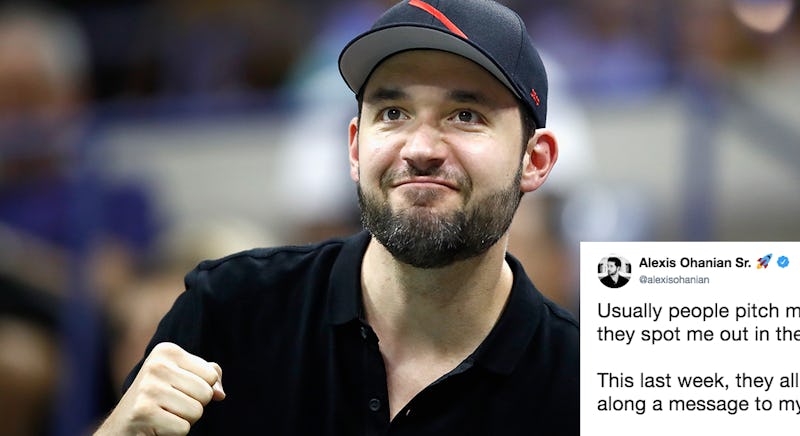 Julian Finney/Getty Images Sport/Getty Images; alexisohanian/Twitter; Bustle/screenshot
There once was a time where the cofounder of Reddit was stopped on the street by people that wanted to pitch him their ideas for a tech start-up. But as Alexis Ohanian's video with Serena Williams' fans proves, he's entered his next stage of fame: Just being married to a modern tennis icon. On August 30, Ohanian posted a video to his Twitter and Instagram accounts where he chronicled a run-in with some of his wife's fans on the streets of New York City.
"Usually people pitch me their startup when they spot me out in the wild," he wrote in the caption and the tweet. "This last week, they all want me to pass along a message to my wife," Ohanian added, "Can't say I hate it". The brief video then shows the supportive husband, author, and tech investor encouraging a car full of Williams fans to record a message for her. (At the time, Williams was gearing up to play her elder sister Venus at the U.S. Open on the next day, August 31. Serena won the match.)
"We love you, Serena!" screamed the women, excitedly. "Yes! Black girl magic!" It's difficult to say who comes off as more excited in the video: The fans that recognized Ohanian, or Ohanian himself, beaming with pride into the camera. "I'll let her know!" he told the fans, while grinning, before turning into the camera to shrug "I just got out of a meeting, look at that!" Just another day in the life of Alexis Ohanian.
It's literally a perfect video. Please feel encouraged to watch it one million times:
This is just one in a long line of examples of Ohanian's public worship of Williams. It's inspirational, and heartwarming, and according to the comments section on any of his posts, actual life #goals. Williams' fanbase has quickly adopted Ohanian, welcoming him into the fold of people absolutely bananas for Williams. In every post, people ask him if he has brothers or clones that people could marry, while praising him for his never-ending support.
And it's not just stan culture; it's certainly not an exaggeration. Ohanian seems to truly, madly, deeply loves and champions Williams at every turn. He writes effusive praise for her in his social media captions, shares every one of her wins and emphasizes her journeys — medical, motherhood, tennis, and more. It's admittedly a relief that Ohanian not just knows, but celebrates how unique and talented Williams is to the world. That dedication has made Williams' fans wholeheartedly embrace Ohanian. It's as if he's proved his worthiness of the queen of tennis.
The commenters have a point: A super-rich dude in tech who is not only capable of humility, but confident enough to know and appreciate that his wife is legendary? It's not only rare, but borderline unheard of. Fortunately, the joy that discussing Williams' accomplishments brings Alexis Ohanian is evident and completely infectious.
Since Serena Williams is an icon, and a legend, and a hero to so many — the next generation of tennis players inspired by her are currently playing at the U.S. Open! — any man lucky enough to marry her had to be prepared for a second type of life in the public eye.