Netflix's Newest Family Sitcom Is Basically 'Run's House' With A Laugh Track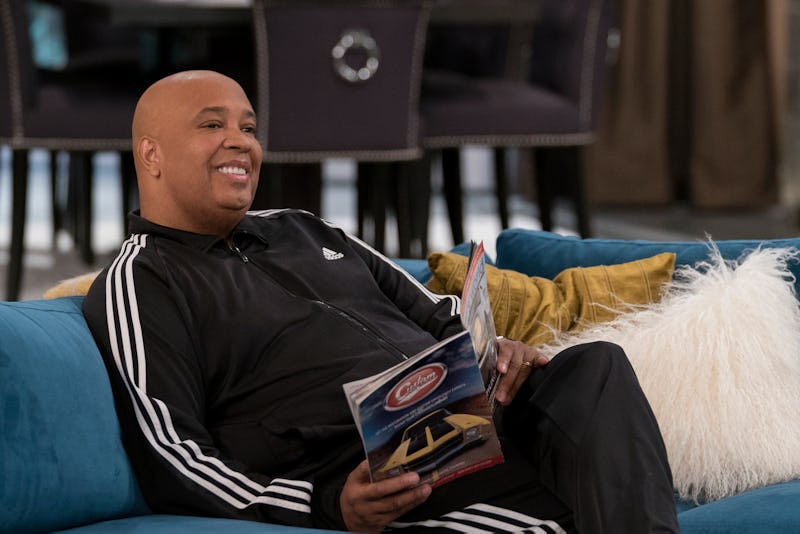 Saeed Adyani/Netflix
Yet another TV family is about to hit Netflix on Aug. 10, this one with an real-life twist. As it turns out, All About The Washingtons is based on the real lives of Joseph Simmons, a.k.a. hip-hop legend Rev Run, and his wife, Justine Simmons. So it isn't just the streaming services latest venture into traditional sitcom territory — it also acts as a family autobiography of sorts.
A Netflix's press release says Joseph and Justin Simmons both star as "fictionalized versions of themselves," exploring what happens when protagonist Joey decides to quit the music business and settle down into the familiarity of family life. It's definitely not far off from Simmons' real life — after spending years as a founding member of the group Run-DMC, he gained even more of a pop culture spotlight in recent years when he debuted his reality show, Run's House, which ran for six seasons on MTV.
Now, he's giving people a front row seat to his life again, but this time, it's more of a scripted narrative than Run's House even remotely aimed to be. In an interview with Sacramento's local ABC affiliate, Simmons said the idea for the show came to him after witnessing his wife pitching ambitious business ideas to a friend of his as a charity event. He said that sums up what the show tries to illustrate — a man trying to lay low after a life of craziness, and the people around him still buzzing with as much activity as ever.
"That's the basis of my life," he said in the same interview. "I'm trying to retire, and just do charity, and Run-DMC ... I'm trying to just put a stop to everything ... and retire. She's busy pitching ideas like she's going to be a billionaire. And that became the basis of our show."
The costars who play his family seem to echo that there's a familial vibe onset, further rooting the show in reality. "What you see on camera is exactly what you see in real life, because they're so funny, they're so loud so crazy, so amazing and I'm glad to call them my parents," Leah Rose Randall, who plays one of the couple's onscreen daughters, told Meaww.com.
Some of the younger cast members knew Simmons from his former ventures in TV more than his music, but were still plenty aware of the journey that brought him to where he is in All About The Washingtons. "My whole family watched Run's House when I was a kid, so… my generation, yeah, I knew who he was," actor Kiana Ledé, who plays another onscreen daughter, said in the same piece. "My generation knows him from Run's House. It's the first thing we think of."
Simmons definitely has a history in show business that's long and storied enough to lend plenty of content to a sitcom, especially one he's creating and starring in with his real-life spouse. Nobody knows what their journey has been like better than the two of them, so All About The Washingtons could be primed to offer a unique look at domestic life after fame.