Check Out All Of Julianne Hough's 2017 Miss USA Outfits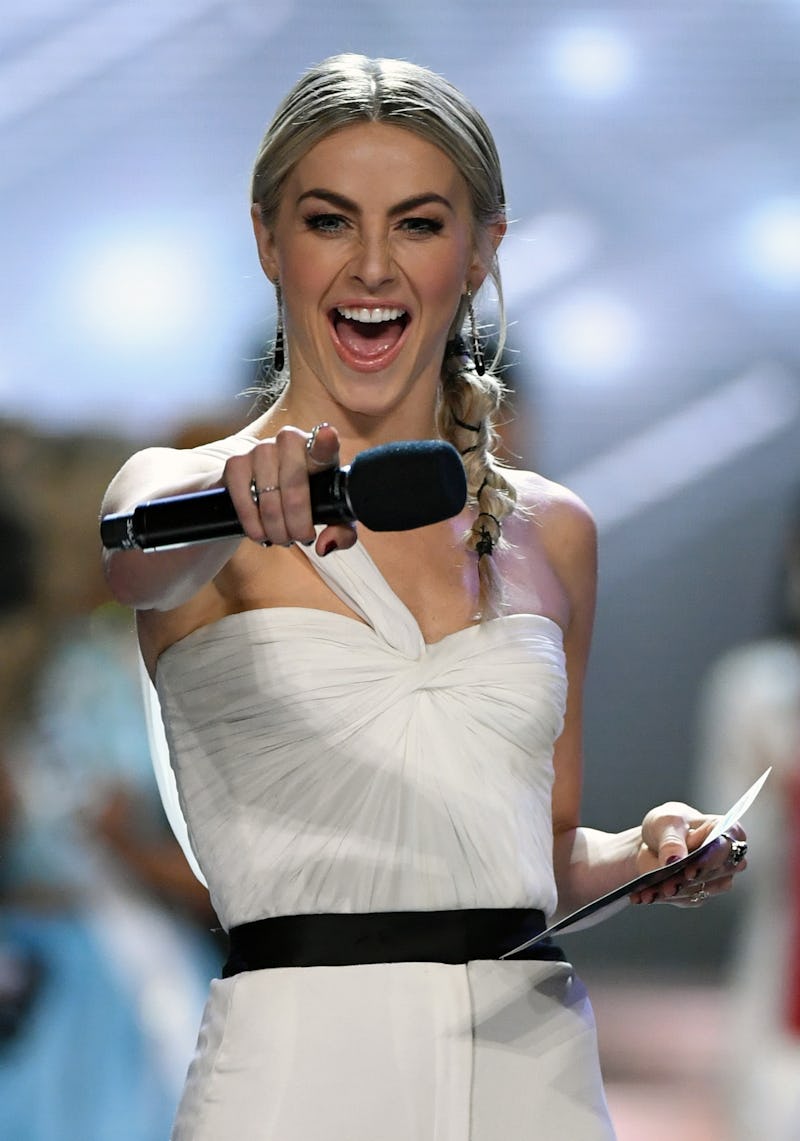 Ethan Miller/Getty Images Entertainment/Getty Images
In 2017, Julianne Hough returned to her role as the host (and executive producer) of the Miss USA pageant. While you might think that viewers are most interested in the contestants, their swimsuits, their speeches, and their princess-y gowns, of course we all still love to see the attending celebrities and their ensembles. Julianne Hough's 2017 Miss USA outfits — plural, since she changed clothes multiple times throughout the telecast — slayed, naturally.
The multi-hyphenate, who sings, dances, acts, hosts, and now produces, showcased her classic and pretty style with a variety of ensembles in 2017.
Remember, for the 2016 edition of this event, Hough chose a sparkly silver gown with a major slit and a halter neckline, which spotlighted her shoulders. Hough went through multiple costume changes last year and she wore five outfits, including a blue jumpsuit. She returned to the jumpsuit silhouette in 2017, as her first televised outfit was a white pantsuit with wide legs and a belt.
Hough didn't steal the spotlight from the contestants, but why should they have all the fun with outfit changes, right? The host certainly put her personal style out there for all her fans and for all the viewers to see and enjoy.
Here is the rundown of all of Hough's 2017 Miss USA outfits.
1. The Pantsuit
Hough's white pantsuit boasted a full leg and a one-shoulder strap. It was also belted, so it had a lot of elements. But it was classy AF. She wore blonde locks in a messy side braid with a severe center part. Overall, it was a strong showing.
2. The LBD
Hough's second outfit was the essential LBD, which was strapless and had a short hem and a train. So, it was sort of a mullet dress. She wore her locks in a ballerina bun and paired them with bright red lips. It was another classic presentation with Hough's personal touch.
3. Maroon Sequins
An hour in, Hough swapped out the LBD for her third outfit — a long-sleeved, floor-sweeping sequined gown in maroon. The dress didn't show much skin at all, save for the keyhole slit in the bodice, which was modest. The dress was liquid-like and she looked poured into it. It was sexy in a subtle way.
4. Metallic Majesty
Hough also wore a strapless metallic gown, which had an ombre cast and cutouts on the sides. It looked black in some lighting and silver in others. Her blonde locks fell in loose waves around her face.
Top marks for Ms Hough!