Sarah Jessica Parker's Golden Globes Looks, Ranked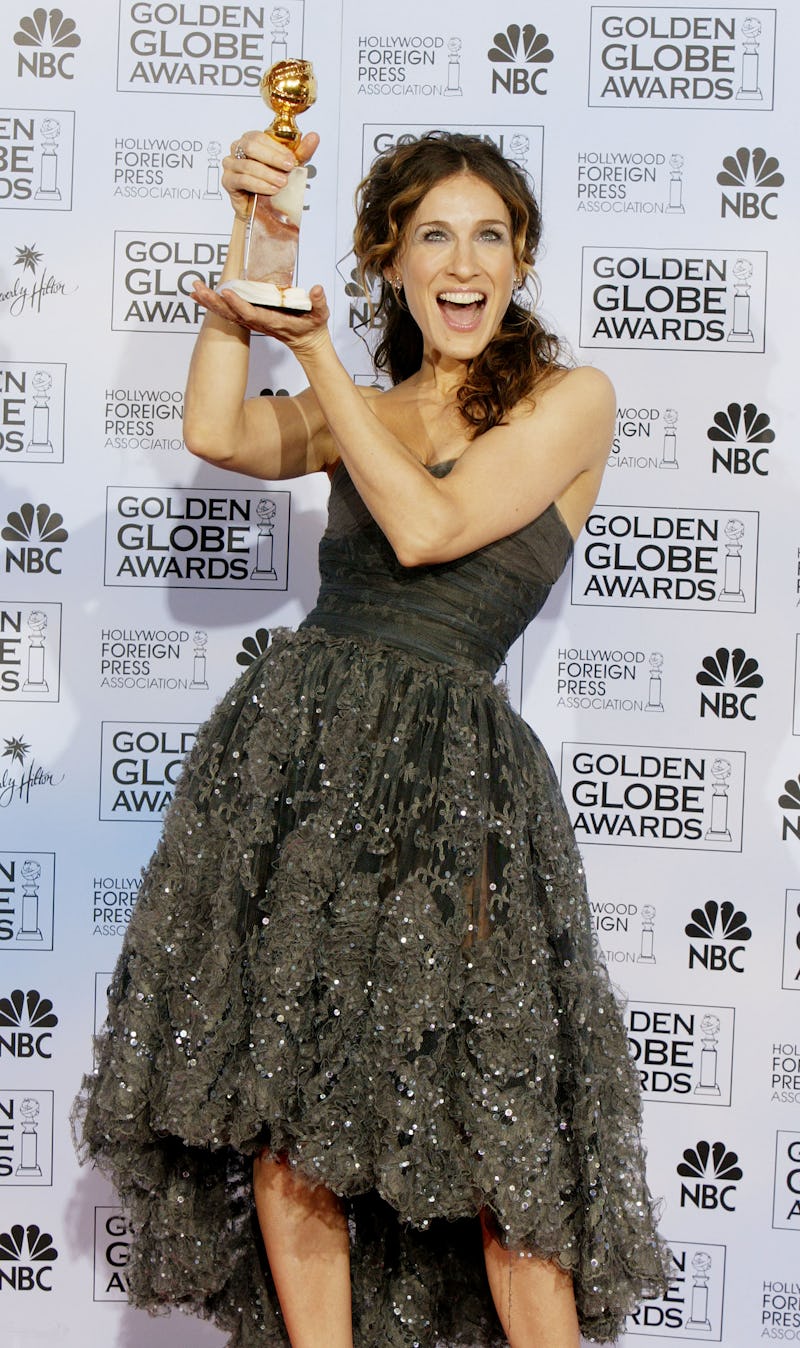 Kevin Winter/Getty Images Entertainment/Getty Images
From Hocus Pocus to The Family Stone (and, of course, a little show you might have heard of called Sex and the City) Sarah Jessica Parker has worn many a Golden Globes outfit over the years, each more fabulous than the last. She was, after all, quite a fixture on the Globes red carpet across the '90s and '00s, and her many wardrobe choices never disappointed — even her more dated ensembles (ahem, periwinkle taffeta) were worn with the same endearing sense of panache that's come to define her red carpet career.
Parker first attended the Golden Globes back in 1993, and her most recent appearance came in 2007. Thanks to her nomination for Best Actress in a Comedy this year for Divorce, she'll finally be back a full decade after her last Golden Globes red carpet appearance — which hopefully means she'll go all-out, fashion-wise.
At any rate, SJP has quite the track record of wearing showstopping outfits at the Golden Globes, whether it was something frothy and frilly, or something sleekly pitch black (not to mention everything in between). So, with all that in mind, let's take a quick look at all of her best ensembles from over the years, ranked from worst to best.
9. At the 1999 Golden Globes
Back in '99, SJP lived out your late '90s periwinkle ball gown dreams to the extreme in this extremely shiny and voluminous confection of a dress.
8. At the 2002 Golden Globes
So, this look may be a little more Goth Blair Waldorf than Red Carpet Carrie Bradshaw, but it's still fabulous in its own way.
7. At the 1993 Golden Globes
Parker didn't disappoint at her first-ever Golden Globes Awards: She kept things simple with a frill-free black dress, accessorized with ultra-bold '90s style lips and brows.
6. At the 2003 Golden Globes
Ah, leave it to SJP to go full on Madonna on the Golden Globes red carpet. She slayed everything from the dramatic high ponytail to the floral diamond brooch on the hip of her corset.
5. At the 2001 Golden Globes
Bubblegum pink with floral appliques? SJP sure knew how to deploy the wacky trends of the 2000s to best possible effect.
4. At the 2007 Golden Globes
In 2007, Parker went for the full-on goddess look, complete with gold brocade everything, flawless beachy waves, and a Carrie Bradshaw-approved brooch.
3. At the 2004 Golden Globes
For the record, Parker looks every bit as good in a sparkly tutu-esque dress as her onscreen alter ego ever did.
2. At the 2006 Golden Globes
This black mermaid-cut gown was about as classy and classic as they come — except for the tiny ruffles, which added in the perfect amount of unique quirkiness.
1. At the 2000 Golden Globes
And last but not least, Parker celebrated her first big Sex and the City win with an absolutely gorgeous sparkly beaded gown that Carrie Bradshaw would have heartily approved of.
SJP sure makes decades worth of red carpet appearances look like a piece of cake, doesn't she? From her early Square Pegs days to her recent Met Gala triumphs, Parker's keen eye for adventurous fashion has only improved over the years.