All Of The VMAs After-Show Outfits That You Need To Gawk At ASAP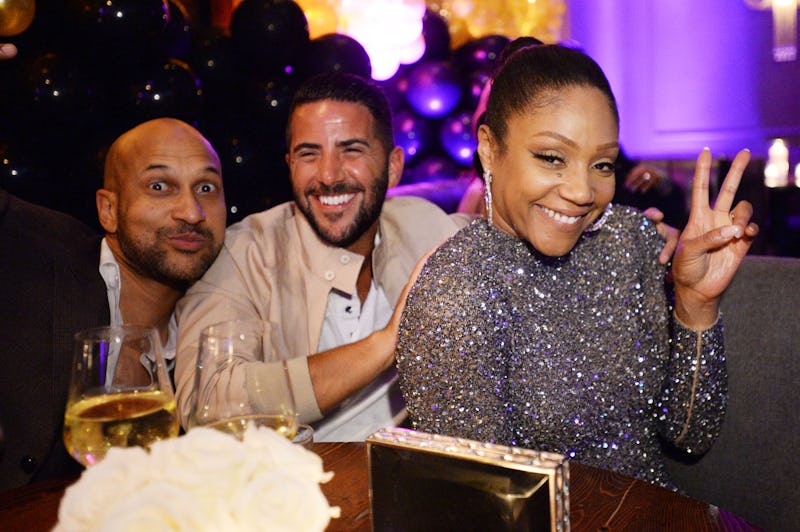 Andrew Toth/Getty Images Entertainment/Getty Images
The last stars might have walked the red carpet and the performances are over, but there is still a whole lot of VMAs fashion to look at. Pretty much every single look from the VMAs after party was just as great as the red carpet. From bodysuits to ballgowns, these outfits will make you wish that there was an after-after party too.
It's the law of A-listers that if there are a handful of celebrities in a room, they are going to bring it with their fashion. Honestly, the after-party is sometimes even more glamorous than the awards show, and this is one of those times. Celebrities like Cardi B, Jennifer Lopez, and Ariana Grande traded out there big ballgowns for something a bit more casual, but still just as stunning.
The after party might not have been televised, but there are plenty of chances to take it all in. From professional photographers to the stars and their social media accounts, there are tons of options to get a closer look at these outfits.
Be warned: there is a whole lot to look at, and you will likely be very jealous that you did not get invited. Either way, these sneak peeks into their style will give you major outfit inspiration.
1. Jennifer Lopez
When you're the biggest winner of the night, you can wear whatever the heck you want to. Lopez opted for head-to-toe print and a chunky belt. Sh shined like the golden moon man that she received — that's for sure.
2. Hayley Kiyoko
If you didn't know that this was the night of Kiyoko's first VMAs win, then you can by her outfit. Her Fyodor Golan top had the MTV logo in it, but the bottom was all about the print.
3. Olivia Munn
Sheer was a major trend on the red carpet, and it looks like it continued to the award show too. Munn's mini paired with thigh-high boots was absolutely stunning.
4. Winnie Harlow
As if she didn't already serve two major looks at the VMAs, Harlow brought it with feathers and a bodysuit at the after party. It doesn't get chicer than this.
5. Ariana Grande
Grande had an entire concert at the after party, wearing an oversized sweatshirt and thigh-high boots. She did skip out on the high pony though.
6. Tiffany Haddish
You ready for all these jewels? Because she's ready. Head to toe sparkles with matching hoops is a fantastic way to end the night.
7. Kylie Jenner
Jenner snuck out of her all-white outfit for a skin-tight black strapless dress.
8. Cardi B
Cardi B changed three times in one night at the VMAs. She wore her last look — this gorgeous all-black and ruffled mini dress — to the after party too.
9. Iggy Azalea
Although this star went under-the-radar on the red carpet, she showed up at the after-show in a pinstriped suit that was the right amount of casual and chic.
10. Ally Brooke
Fifth Harmony didn't hit the after party together, but this one fifth of the original band was looking pretty darn gorgeous.
11. Camila Cabello
The singer didn't go to the traditional after party, but she did visit with her fans in a private session after the event. She opted for a fancy skirt and comfy top.