All The Christmas Pajamas You'll See On Instagram This Year & Where To Buy Them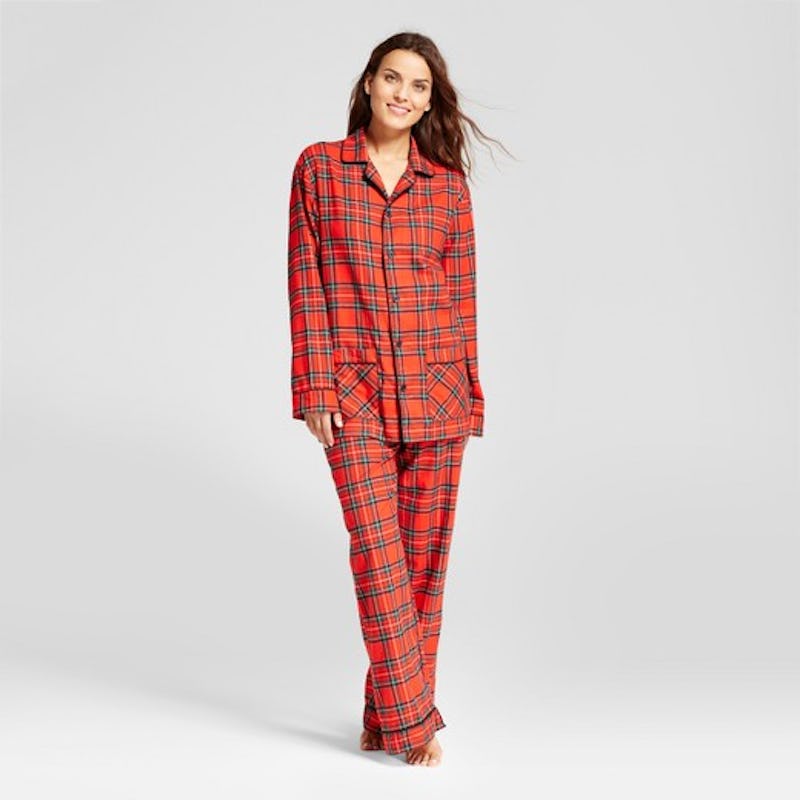 Courtesy Target
Bustle and Coveteur are working together to bring you the best mix of the season's hottest releases, shopping tips, and gifting ideas in ways that are both inspirational, and attainable. Check The Holiday Edit channel weekly to see what we're up to.
Pretty much everyone has that one giant T-shirt that we use for pajamas, despite the fact that it's 15 years old and not exactly easy on the eyes. It's just so soft, right? But fancy, Instagrammable pajamas are also everywhere these days. All those silky sets and trendy co-ords have me thinking that maybe investing in some Insta-worthy PJs is actually more worth it that I previously thought, though. Of course, there's also the fact that a plaid, monogrammed set of nightwear looks a little better on Instagram than, I don't know, the T-shirt I got at a high school basketball tournament. But aesthetics aside, slightly fancier PJs feel luxurious and pretty darn comforting. This level of coziness only goes up around the holidays, when Christmas pajamas are being sold at every store you enter.
And when it comes to PJs, what started as a Christmas tradition has turned into an Instagram trend. Holiday sleepwear? Check. Cup of hot cocoa with a candy cane sticking out of the mug? Check. Hallmark movie on TV, heavy knitted blanket somewhere in the foreground of the photo? Done and done. Fancy, holiday-themed pajamas are part of an Instagram-approved lifestyle, but they're also a good investment. Not only can they be worn far beyond the holiday season, they also offer you the opportunity to have a little moment of indulgence each night. And, even if it feels impossible, the fancier pajamas are most likely even more comfortable than that old T-shirt we might be having trouble letting go of.
"Somebody At The North Pole Loves Me" Sleep Shirt
Wildfox North Pole Sleep Shirt, $146, ASOS
I love a good sleep shirt, and Wildfang makes pretty much the softest clothes ever. If you're looking for something in between that old high school shirt of yours and a trendy, Instagram-friendly top, this is your best option.
Red Plaid Pajama Set
Women's Pajama Set, $15, Target
Ah, the classic holiday pajama set. This set is cozy, timeless and also comes in a matching dog pajamas set which is, of course, very necessary.
Flannel Pajamas
Women's Flannel Sleep Top, $44.95, Lands' End
What are the holidays if not a time to bust out flannel at every available opportunity? Exactly.
'Merry Kissmas" Short Pajamas
PJ Salvage Thermal Short Pajamas, $76, Nordstrom
If you're not about that pajama pants life, this set is a great option to stay cozy while still cool.
Short Sleeved Pajamas
Tipped Pajama Shirt, $45, J.Crew
Now, these pajamas aren't as festive as some of the others on this list, but are a great option for those looking for something slightly more subtle. Plus, you can style this top for a daytime outfit, which is always a plus.
Santa Cat Pajamas
Santa Cat Printer PJ Set, $22.90, Forever 21
On the opposite end of the spectrum in terms of subtlety, cat people need something to celebrate both Christmas and cats... and that's where these Forever 21 items come in.
Star Print Pajamas
Esprit Star Print Pajamas, $35, ASOS
Want some holiday-themed PJs, but not so into Santa and reindeer and all that jazz? This set is fun and festive while still being low key.
Striped Ribbed Pajama Set
Stripe Ribbed PJ Set With Eye Mask, $50, Gap
Talk about cozy! And it comes with an eye mask.
Thermal Onesie
Thermal Onesie, $26, Old Navy
Ah, the onesie. It's one of the more ridiculous pajama styles that still seems to be all over Instagram, and if you look at just how cute this one is, that'll make perfect sense.
Flannel Nightshirt
Women's Petite Flannel Night Shirt, $49.95, Lands' End
Looking for the perfect plaid night shirt? Lands' End has you covered.
Leggings Pajama Set
Legging Pajama Set, $35, ASOS
If you're tall and looking for a pair of holiday pajamas that emphasizes that, then yes, there's an option at ASOS for that, too.