All The Clues From 'KUWTK' That Suggest Kylie Could Be Kim's Surrogate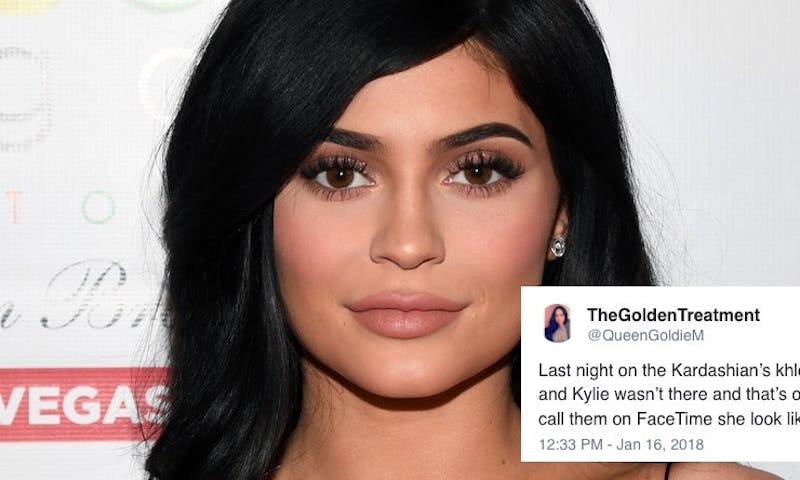 Ethan Miller/Getty Images Entertainment/Getty Images; QueenGoldieM/Twitter
The news fans have been waiting for is finally here: Kim Kardashian and Kanye West's third baby has arrived via surrogate. Kim shared the announcement on Tuesday, Jan. 16 with a sweet post thanking everyone involved, sharing the family's excitement, and giving a special thank you to her mystery surrogate. "We are incredibly grateful to our surrogate who made our dreams come true with the greatest gift one could give," she wrote. Given the ongoing rumors, fans are still looking for clues that Kylie is Kim's surrogate, and they're pretty convinced.
In the most recent Keeping Up With The Kardashians episode, Khloé Kardashian announced her own pregnancy and shared the news with Kylie on FaceTime. Kylie, who was only shown from the chest up, got super emotional and tearful after guessing the special news before Khloe told her. Thus, fans are more determined than ever to figure out if Kylie was also pregnant and carrying Kim's child all along. (Bustle reached out to Kylie's rep for comment on the rumors, but did not receive an immediate response.)
Of course, any clues should be taken with a grain of salt, since neither sister has confirmed the rumors about Kylie carrying Kim's baby. Plus, TMZ has previously reported that Kim's surrogate was a 20-something African-American woman, and Kim even told The Real she wasn't invited to her shower (which Kylie was at). But for some reason, fans just can't get enough and keep speculating on the subject.
If considering the most recent KUWTK episode, here is any possible evidence fans are clinging to that may support that idea.
Kylie FaceTiming In
As this fan points out, if the family is so close, why was Kylie only joining the conversation via video chat? Wouldn't it make more sense for her to be there in person? Her absence is suspicious, unless she could've been home resting, given her own rumored pregnancy.
There May Have Been More To Those Tears
Khloé's big news was certainly exciting, especially after enduring infertility issues of her own. But was there more for Kylie to be excited about? And how did she so quickly guess Khloé was pregnant — with tears in her eyes? But the few brief seconds with Kylie on the show is even more suspect.
Keeping It In The Family
On KUWTK, Kim and Khloe did discuss surrogacy. Kim told Khloé, "I have a proposition for you. I'll give you the embryo; you carry the baby, then you give it back to me." But since Khloé is pregnant with her own child, Kourtney is most definitely not pregnant (this time) nor is Kendall. Would Kylie be next in line to do the job?
In addition to the revelations on last night's episode, the timing of recent events has been rather odd.
Kim's Baby
For one, there's the birth of Kim's third child through a mystery surrogate that fans know basically nothing about. Meanwhile, Kylie has been totally MIA both on social media and in public and didn't even partake in the annual Kardashian-Jenner Christmas photos.
The Labor Rumors
Over the weekend, the internet lost its cool when rumors spread that Kylie was in labor at an LA hospital (with screenshots from hospital staff that may or may not be legit). And just a few days later, Kim's baby arrives? Hmm...
A Kylie Lookalike Was Spotted
Just before Kim's baby girl arrived, photos of a pregnant Kylie lookalike making a CVS run flooded the internet. But at this point, would Kylie really be caught out in public at a CVS?
Still, fans will be fans.
And these detectives/fans are convinced.