Kim K's Third Baby Has Been Born & The Internet Is LOSING It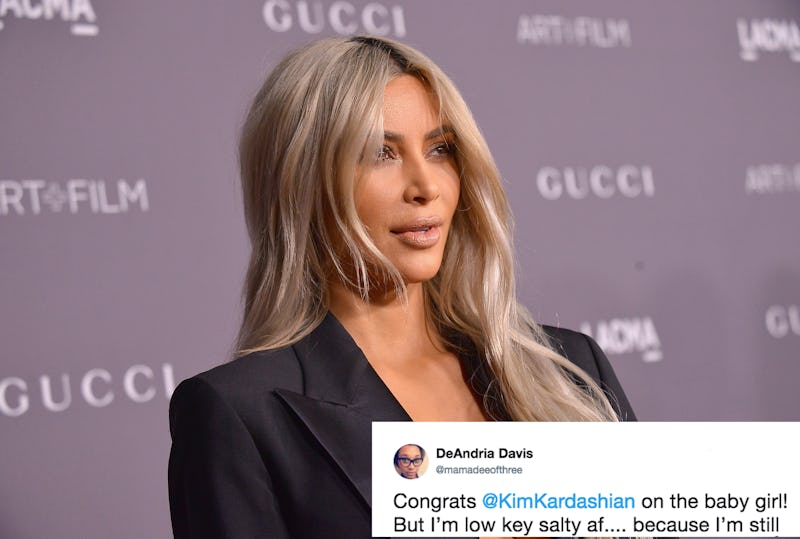 Getty Images/Bustle
The moment fans have been waiting for has arrived: Kim Kardashian's third child was born on Monday, Jan. 15, according to a statement from her that she posted to her website. And, naturally, the reality star has already broken the internet — again. In the wake of the report, memes and tweets about Kardashian's third baby popped up all across Twitter. Comments ranged from congratulatory to hilarious to everything in between. Because, come on, this is the internet and people have plenty of opinions about the famous family.
This baby makes three for Kardashian and husband Kanye West. The pair opted to use a surrogate, given Kim K's previous pregnancy complications, including suffering from preeclampsia and placenta accreta. These made her pregnancies with her first two children, North and Saint West, considered high risk. Luckily, both of those babies wound up healthy and happy, and they've now got a new sibling to gush over.
Unfortunately, this baby didn't arrive in time to make it in the Kardashian family's annual Christmas card (which included the rest of the family's offspring), but knowing Kim K, she'll be sharing photos of the newborn on Instagram, Snapchat, her website, or Keeping Up With The Kardashians (executive producer: Kris Jenner) in no time. Fans just have to be a little patient.
So instead of dwelling on the photos we don't have, let's shift to the best reactions on social media. Here are Twitter's funniest memes about the latest member of reality TV royalty.
1. Some Are Jealous For Legit Reasons
Being salty because Kim K's surrogate finally gave birth and you still haven't is a very legit reason to be salty.
2. This Classic Moment
Is there ever a bad time to use that Kanye West GIF? Extremely happy is an understatement for the couple.
3. Real Talk, Though
We've got North West and Saint West. How are they planning to beat those?
4. The Baby Is Here
And she's already doing amazing, sweetie.
5. Who Can't Relate?
Who among us isn't scream-celebrating next to a rack of designer clothes right now?
6. It's A News Item That's Worth Shouting From The Rooftops
Or, you know, from your prime seat at an awards show.
7. Keeping Up With The Kardashian-Jenners Can Be A Demanding Endeavor
It's a tough job, but someone's gotta be the pal who pulls up the group text the second a Kardashian-Jenner baby news story breaks.
8. And Just When You Think You're Caught Up?
Last Friday, practically all of Twitter believed Kylie Jenner supposedly went into labor. TMZ shut this rumor down, stating that multiple sources say Kylie isn't due this month. But before anyone could catch their breath, another Kardashian-Jenner baby story arrived on Tuesday. Cue the frenzy.
9. Speaking Of Kylie...
The "Kylie is Kim's surrogate" theory lives on. And oh, what a theory it is.
10. Quantum Physics, Kardashian-Jenner Style
It's a real thinker.
11. Go Ahead & Let This One Sink In
It is what it is.
12. Now, Let's Circle Back To The Name Question
Stay on pins on needles until Kim and Kanye reveal their third baby's name? Thought you'd never ask.
13. Here Is A Lovely Suggestion
Oh, this is great stuff. For one thing, the nickname "Babyfoodgod" sure has a nice ring to it. And come on, who wouldn't follow a baby food blog by one of Kim K and Kanye's kids? Who wouldn't crave that fantastic content?
Jokes aside, this is such a happy occasion for the Kardashian-West family. All of the congratulations to Kim, Kanye, North, and Saint. Welcome to the world, New Baby Kardashian-West.