Khloe Kardashian Finally Told Her Family She's Pregnant, And One Person Was Really Shocked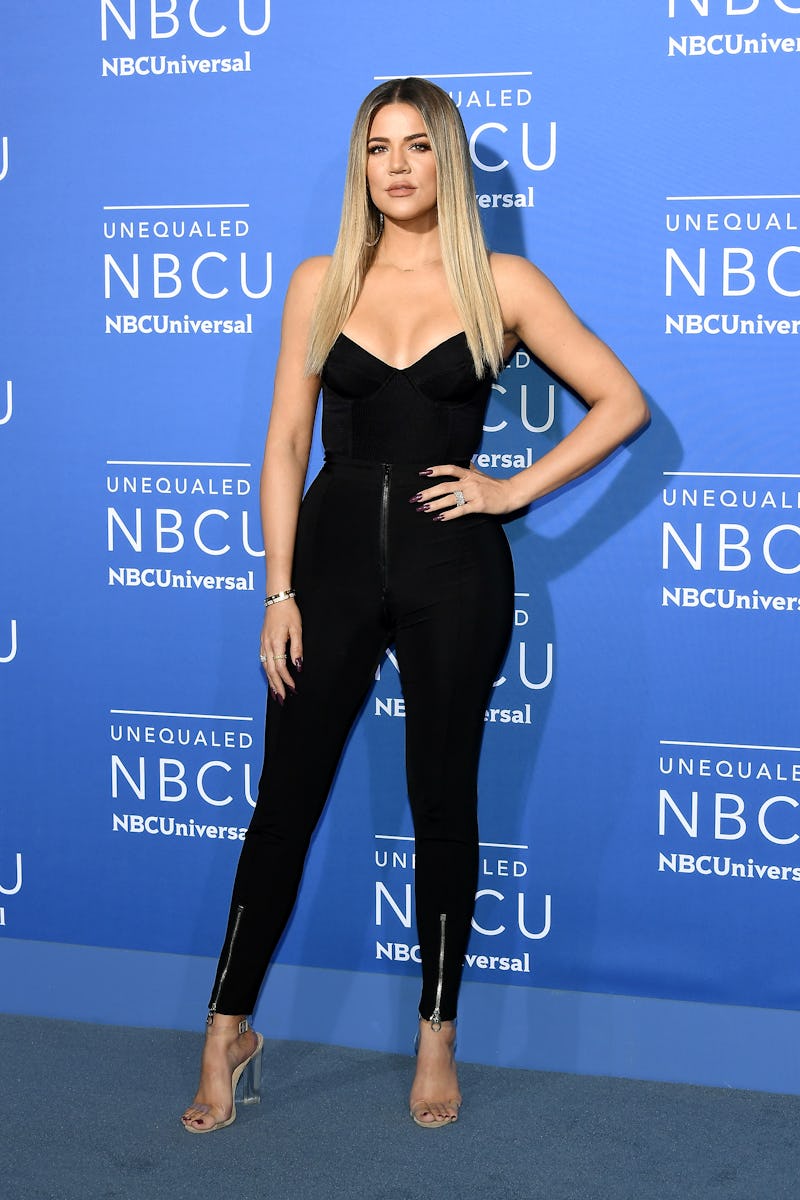 Dia Dipasupil/Getty Images Entertainment/Getty Images
This pregnancy is realer than real. Well, one of them at least. After revealing her pregnancy in an emotional Instagram post on Dec. 20, audiences finally got to watch Khloe Kardashian tell her family she's pregnant on Keeping Up With the Kardashians. Even though fans have known for a few weeks now, watching her break the news was still nerve-wracking. "I want to tell them with Tristan," Khloe shared with her friend after hinting at her fatigue and changes in her body. But how did the Kardashians react to Khloe's pregnancy announcement? It has been a long time coming, but one family member was pretty shocked.
Khloe and her beau Tristan Thompson decided to break the news during a barbecue at momager Kris Jenner's house, with the whole gang including Tristan's mom Andrea and Scott Disick there. The two were so anxious and excited as they gathered the family around the table before telling them. When Khloe finally got the words out, Kris Jenner threw her hands up in the air and starting crying. "I'm ecstatically surprised," she said. "I always thought Khloe would be one of those women who wouldn't have kids, and I struggled with that." Because of Khloe's infertility issues in the past, Kris couldn't have been more thrilled, explaining why motherhood is the perfect role for her daughter.
Her sisters Kim and Kourtney were there for the excitement and Khloe later told Kylie (who eagerly guessed the news) and Kendall on FaceTime. "We always discussed that in August we would start trying," Khloe said. Khloe and her NBA hubby have been planning this for a while and their excitement showed during the episode. They couldn't keep their hands off each other when reuniting after two weeks before breaking the news to the family. Plus, they do make a pretty good team. "I'll lead and you finish," Tristan told an anxious Khloe as they were coming up with a game plan to tell the family.
The whole family was so excited, hugging Khloe and Tristan and showing them with love. And leave it to Kourtney to crack some jokes. "No wonder you gained a few pounds," Khloe's older sis joked.
Fans had watched Khloe struggle to get pregnant in the past when she was with Lamar Odom. When she announced her pregnancy in December, Khloe had to defend the validity of the fertility issues previously shown on KUWTK. "I def wasn't lying I did all my treatments but then when we did further testing we realized I was NOT the one with the issue at the time," she tweeted.
In a June episode of KUWTK, Khloe elaborated on what happened, saying she "fake tried" to get pregnant with Lamar. "I was married, but I knew the circumstances weren't the healthiest. So I just kept pretending I was doing it," she said. Fans saw her go to an OG/BYN and attempt to figure out the issues on the show. She, and her family, seemed pretty upset that she couldn't get pregnant, which explain's Kris' reaction on Monday's KUWTK.
"When I was doing fertility treatments, like they were more so for Lamar. I had to stop cause there was much deeper stuff that was happening in our marriage," Khloe explained in an episode over the summer. "I knew it wasn't the right situation to bring a child into."
But it seems timing is truly working in the reality TV star's favor, because she and Tristan look like they're over the moon. In a casual tweet, Khloe hinted at her due date. She said she was six months pregnant in the end of December, which means the baby is probably due sometime in March.
In the meantime, will Kylie Jenner take a cue from her big sister and make a KUWTK pregnancy announcement to address those rumors once and for all? Only time will tell.