All The 'Riverdale' Easter Eggs You Missed In 'Chilling Adventures Of Sabrina' Part 3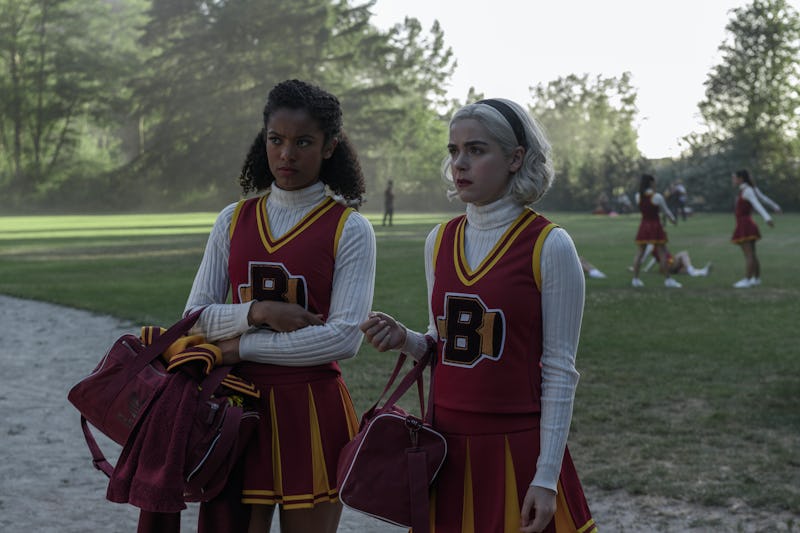 Diyah Pera/Netflix
Spoilers ahead for Chilling Adventures of Sabrina Part 3. With Roberto Aguirre-Sacasa running both Chilling Adventures of Sabrina and Riverdale (not to mention the upcoming Katy Keene), there's bound to be some cross-pollination between his shows. Fans have been waiting since late 2018, when CAOS premiered, to see Sabrina team up with Archie and his pals, and considering how many Riverdale Easter eggs are in CAOS Part 3, it seems like a crossover is getting closer.
Joss Whedon's shows Buffy the Vampire Slayer and Angel arguably set the precedent for contemporary series with shared universes. Since then, NBC's Chicago franchise, Netflix's Marvel shows, and the CW's DC superheroes have followed suit.
There have also been several one-off crossover episodes, like in 2016, when New Girl protagonist Jess ran into Jake Peralta from Brooklyn Nine-Nine. Other examples include the Friends-Mad About You crossover from 1994 ("The One with the Blackout"), and The X-Files/Cops episode. Ironically, the '90s sitcom Sabrina the Teenage Witch once did a crossover with Boy Meets World, but this Archieverse is much less after-school-special than those programs.
Fortunately for impatient viewers, Part 3 makes a Riverdale and CAOS crossover seem imminent. Here's all the evidence that Archie's and Sabrina's worlds are about to collide.