All The Secret Health Boosts Of That Sweet Potato Dish You Make Every Thanksgiving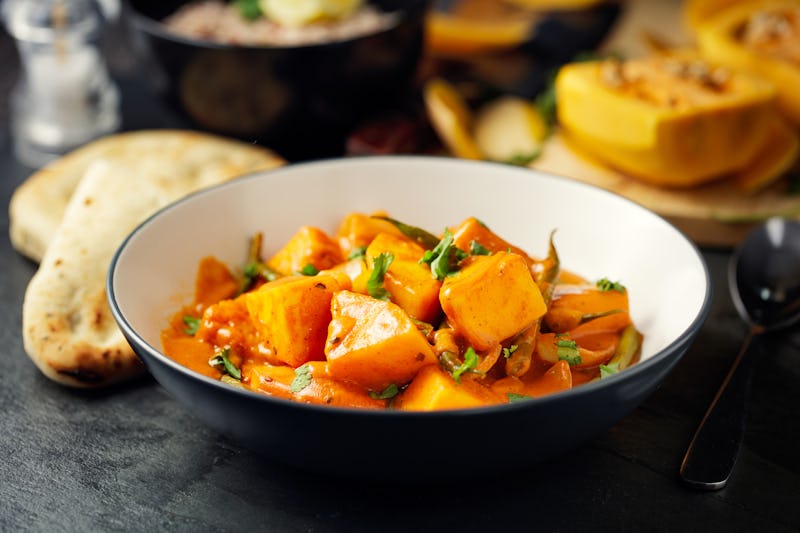 haoliang/E+/Getty Images
The holidays are right around the corner, and that means just one thing — fabulous food. While some holiday foods don't provide much nutritional value, other fall favorites like sweet potatoes are not only delicious, they're packed with nutrients. If you're not in the know about all the secret health benefits of sweet potatoes, they're a vitamin-rich food choice that can be enjoyed in a variety of ways.
"You can bring out sweet potatoes' natural sweetness by adding spices like cinnamon and cloves," Monica Auslander Moreno, MS, RD, LD/N, founder of the Essence Nutrition group practice in Miami and an RSP Nutrition consultant, tells Bustle. "We recommend roasting them with avocado oil or ghee to provide enough fat for fat-soluble vitamin absorption and optimal palatability."
Despite their name, sweet potatoes actually aren't potatoes at all. According to the Harvard T.H. Chan School of Public Health, while potatoes are part of the nightshade family, sweet "potatoes" are edible roots that are part of the morning glory family. What's more, different types of sweet potatoes provide different health benefits. The school explained the distinctions on its website:
Sweet potatoes with orange flesh are richest in beta-carotene. Sweet potatoes with purple flesh are richer in anthocyanins. Beta-carotene and anthocyanins are naturally occurring plant 'phyto' chemicals that give vegetables their bright colors. These phytochemicals are researched for their potential role in human health and disease prevention.
If you can't wait to get your sweet potato on this holiday season, here are all of the health benefits you'll enjoy: