All The Songs In Alicia Keys' Grammys Medley, Because There Were So Many New & Old Faves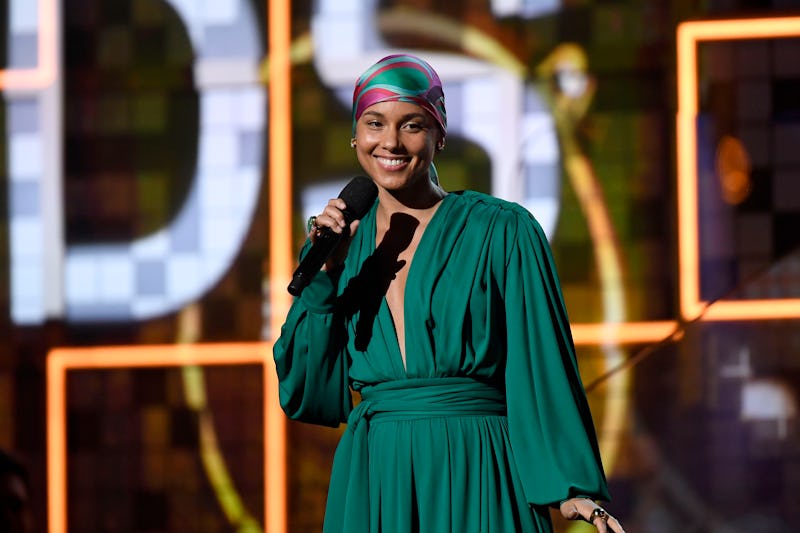 Kevork Djansezian/Getty Images Entertainment/Getty Images
Amid her hosting duties at Sunday night's 2019 Grammy Awards, Alicia Keys took a moment to perform a rapid-fire medley of songs. She rotated through an eclectic array of new and old favorites, from mid-century classics like Nat King Cole's "Unforgettable" to recent breakouts like Ella Mai's newly Grammy-winning "Boo'd Up." And of course, she had to throw in one of her own most enduring singles: her Jay-Z collaboration, "Empire State of Mind."
Keys also paid homage to Hazel Scott, a renowned jazz pianist who famously played two grand pianos, by doing the same at the start of her performance. "I really got chills when Alicia said she always wanted to play two pianos. That's a black history moment. Shoutout Hazel Scott, for real. #GRAMMMYs" wrote one Twitter user.
In short, it was a legendary performance that also shouted out a lot of legends. But because it was such a whirlwind performance, you may have missed some of the songs in the process. Now's the perfect moment to get all caught up. First, watch the impressive performance below, and then read on for a breakdown of all the tracks Keys blazed through during her medley on Grammy night.
Nat King Cole's "Unforgettable"
This jazzy, string-accented classic was released in 1951 as the title track of Cole's 1954 album of the same name.
Sting's "Shape of My Heart"
A slow-burning acoustic number from Sting's fourth studio album, Ten Summoner's Tales, "Shape of My Heart" is about "a gambler who gambles not to win," but to "to figure out some kind of mystical logic in luck, or chance; some kind of scientific, almost religious law," the musician said in a 1993 promotional interview, according to his official website.
The Fugees' "Killing Me Softly"
Though originally written in the '70s by Roberta Flack and covered by numerous artists over the years, the Fugees popularized this soulful ballad in 1996. Their interpretation won them a Grammy the following year in the Best R&B Performance by a Duo or Group with Vocal.
Kings of Leon's "Use Somebody"
This raspy, rock-driven number from Kings of Leon's 2004 LP Only By the Night was one of the first to propel them into the national spotlight.
Drake's "In My Feelings"
Drake's "In My Feelings" — containing the incessantly catchy "Kiki, do you love me?" — was released on his now Grammy-nominated 2018 album Scorpion and famously inspired the "In My Feelings" challenge over the summer. Keys changed up the lyrics for her husband, singing "Swizzy, do you love me?" instead.
Ella Mai's "Boo'd Up"
Ella Mai's 2018 debut blazed up the charts last year and earned her two Grammy nods: one for Song of the Year and the other for Best R&B Song, which she won.
Lauryn Hill's "Doo Wop (That Thing)"
An iconic R&B bop from Hill's debut album, The Miseducation of Lauryn Hill, "Doo Wop (That Thing)" won her two Grammys: Best Female R&B Vocal Performance and Best R&B Song.
"Empire State of Mind," Jay-Z featuring Alicia Keys
Because what would an Alicia Keys performance be without an Alicia Keys song?
The 2019 Grammys were packed with scene-stealing performances, but Keys was undoubtedly one to remember.