Here's Yet Another Reason To Be Jealous Of Both Amal Clooney & Meghan Markle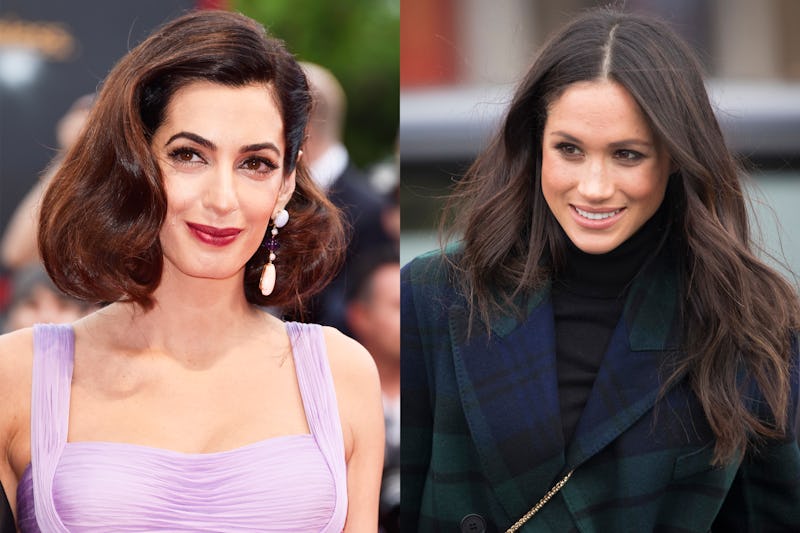 Pascal Le Segretain/Getty Images Entertainment/Getty Images; WPA Pool/Getty Images Entertainment/Getty Images
Beginning another chapter of your life in a different country is a big adjustment, which is probably why Amal Clooney is reportedly helping Meghan Markle acclimate to her new life in London. According to a source who spoke with People, "Amal has been helping Meghan settle into London life." If anyone knows what it's like to be an already powerful woman marrying a very famous man, it's Amal, who married George Clooney in September 2014. Plus, Amal, who is of Lebanese and British descent, knows Britain.
The 40-year-old grew up in England and even attended Oxford University, where she began her law career. Now, Amal is an international human rights lawyer and is considered one of the top lawyers in the U.K. Furthermore, she and George also have a home in England, so, yeah, she knows the ins and outs of the country. Markle is lucky to have her as a friend.
According to People's source, Markle and Amal's friendship was a "very natural" one from the beginning. "Meghan and Amal have known each other for a while [and share] many interests," the insider said.
One of the things they have in common is having the same hairstylist, Miguel Perez. While speaking with The Mail on Sunday in April, Perez said, "Yes, I do Meghan's hair ... I do Amal's, and Meghan is friends with her." He continued, "I also do George's, I do the whole family. Amal put Meghan and me together when she moved here [to London]. I do her color, her cut and her styling."
The fact that Amal hooked the Duchess of Sussex up with a hairdresser speaks to the type of relationship they have. They are close enough to at least to share recommendations. According to the Daily Mail, the Clooneys and Markle became friends after the former Suits star moved to London. They were reportedly introduced by a mutual friend.
Their friendship apparently blossomed into something special, since George and Amal were invited to Markle and Prince Harry's wedding — and they both attended. Before the actual royal wedding, the Duke and Duchess of Sussex made it clear their big day was going to be about the people they cared about the most. They even invited members of the public inside the walls of Windsor Castle to ensure they could enjoy their wedding.
"Prince Harry and Ms. Meghan Markle have said they want their Wedding Day to be shaped so as to allow members of the public to feel part of the celebrations too," a March statement from the British royal family read. "This wedding, like all weddings, will be a moment of fun and joy that will reflect the characters and values of the Bride and Groom."
Clearly, Amal and George receiving invitations show how much they mean to Markle and Harry. They even had really good seats near the alter at the wedding, which shows exactly where they stand with the couple.
After Markle and Harry got engaged, they started living together in Nottingham Cottage at Kensington Palace. In May, Hello! magazine reported they're planning to move into a bigger house on palace grounds. The publication reported eventually they will move into Apartment 1 at Kensington Palace, which has 21 rooms.
Cosmopolitan U.K. also reported in early May Queen Elizabeth II would probably give her grandson and Markle a new home as a wedding gift, like she did for Prince William and Kate Middleton. Per former royal editor and Harry biographer Duncan Larcombe, he told Cosmo U.K. it seemed "most likely" the Queen would give them York Cottage at Sandringham Estate. Us Weekly also reported Wednesday, Markle and Harry got a weekend home on the Great Tew Estatein the Cotswalds. They reportedly signed a two-year lease and it's only a 90-minute drive from London.
Wherever they end up living, it's nice to know Markle has Amal in her life, not only as a friend, but as someone to help her decorate. Have you seen Amal's home in Sonning, England? Yeah, she has good taste.