Amal Clooney Wore Head-To-Toe Yellow For The Royal Wedding & Her Dress Even Had A TRAIN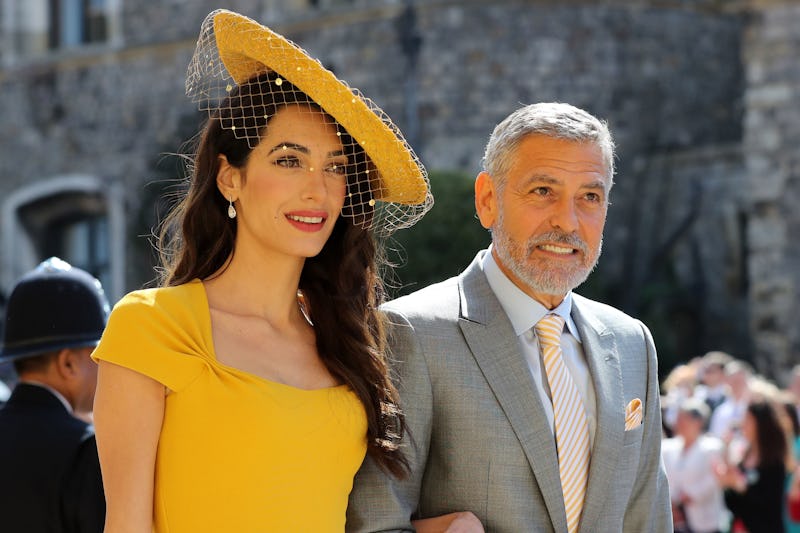 WPA Pool/Getty Images Entertainment/Getty Images
The guest list for the royal wedding was a mile long, and included the likes of Oprah Winfrey, who was spotted in a gorgeous pink outfit and matching hat, as well as other major celebrities like Amal and George Clooney, who were equally fashionable in their royalty-approved wedding attire. Amal Clooney's royal wedding dress was the most gorgeous yellow Stella McCartney number, and featured a cap sleeve.
The shade of yellow was lovely against her long, dark hair, which she wore loose and wavy. In keeping with royal wedding tradition, she paired the look with a matching yellow hat, which had a sprig of netting on top.
The dress also featured a small train. Clooney is known for her great red carpet style, so it made perfect sense that she'd wear something equally fabulous, and slightly over-the-top, to the royal wedding. She paired the striking dress with more subdued accessories, however, like nude heels and a small clutch.
And then there was George, who looked handsome as ever in a light gray suit, crisp white shirt, and striped tie with matching pocket square. His tie and pocket square was a similar shade of yellow to his wife's dress — he and Amal didn't match as a couple at all, but instead complemented each other's own personal style. And, as always, they looked great walking side by side.
The Clooneys squeezed into St George's Chapel, Windsor Castle with the other 600 wedding guests, and sat amongst a sea of fascinators, suits, and other equally gorgeous outfits. The thing is, while it looked like a ton of people were in attendance, the guest list had actually been whittled down from 800, thanks to the seating arrangement Meghan and Harry chose for their big day.
St George's Chapel holds 800 chairs, according to E!, but the royal couple weren't keen on packing that many guests in just for the sake of filling the chapel. Instead, they kept the list to a cool 600 — for most of us, that's unimaginable to conceive of, but for a royal affair, the high volume of guests totally make sense.
According to E!, 'This 600-person headcount is much smaller than the guest total for Prince William and Kate Middleton's wedding. The Duke and Duchess of Cambridge tied the knot in front of 1,900 guests at Westminster Abbey back in 2011. In fact, there were 650 people at their lunchtime reception at Buckingham Palace alone. Although, the evening reception was a more intimate affair with 300 guests."
So, you might be wondering how the Clooneys made the cut? A source told People, "Meghan and Amal have known each other for a while," and the source revealed the two women were introduced by a mutual friend and have formed a friendship since Meghan moved to the U.K., adding that they share "many interests." And that makes sense, seeing as both women are invested in humanitarian efforts.
The Clooneys attended the royal wedding, and were also part of the guest list for the private evening reception at Frogmore house after the wedding, which, according to People, only included 200 guests. Talk about a close friendship!
The Clooneys live in England, and apparently are only a 30 minute drive away from Windsor. When Meghan and Harry finally settle down into their new home after the wedding, I imagine they won't be far from the Clooneys then, either.
According to the official announcement of Markle and Prince Harry's engagement, "the couple will live in Nottingham Cottage at Kensington Palace." I'm imaging many backyard barbecues for the two couples, hopefully whilst wearing equally fab outfits.