Amandla Stenberg Talked About Colorism In Hollywood & Her Words Are So Profound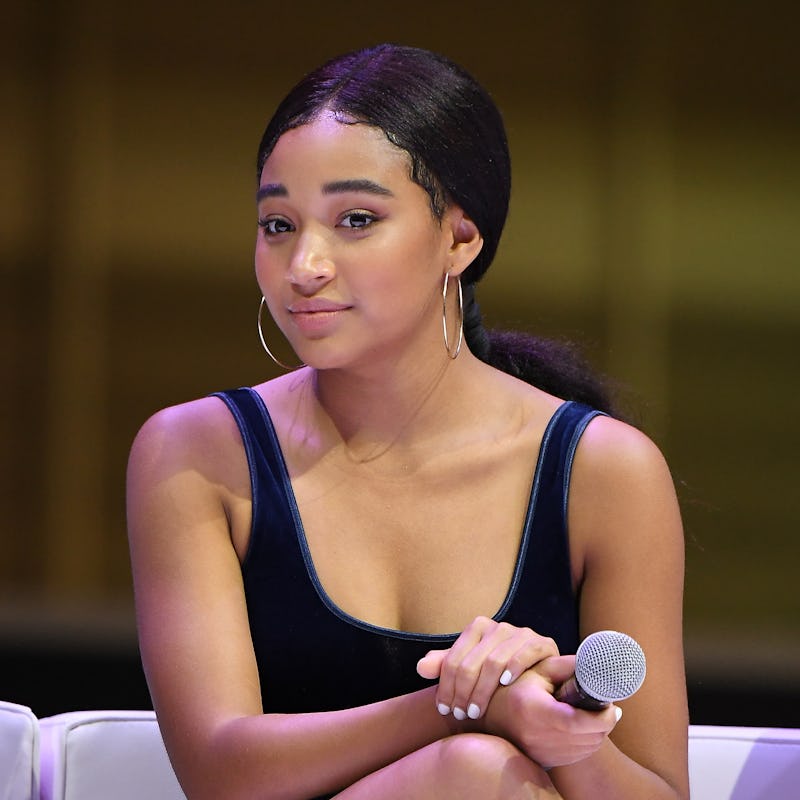 Paras Griffin/Getty Images Entertainment/Getty Images
She may have started her career playing Katniss Everdeen's young friend Rue in The Hunger Games, but years later actor Amandla Stenberg has transformed into an advocate of inclusivity. As a biracial actor, Stenberg is well aware that Hollywood faces a diversity problem — something that she herself is adamant about changing. In fact, the 19 year old recently sat down for an interview with Variety and Stenberg's comments about turning down Black Panther and colorism in Hollywood prove to be both profound and empowering.
In the interview, Stenberg recalled turning down the role of Shuri in Black Panther because she believed that the part should go to someone with a darker skin color. "That was not a space that I should have taken up," she told the outlet. "And it was so exhilarating to see it fulfilled by people who should have been a part of it and who deserved it and who were right for it. I just wasn't." The role was later given to Letitia Wright, who became a breakout star of the movie.
Stenberg also noted that more doors appear to be open to her since she's biracial and has lighter skin. She even drew parallels between her career and those of Yara Shahidi (of Black-ish) and Zendaya, an actor who has also spoken out about colorism in the industry. "Something interesting has happened with me and Yara and Zendaya — there is a level of accessibility of being biracial that has afforded us attention in a way that I don't think would have been afforded to us otherwise," Stenberg stated.
She added:
"Me and Yara and Zendaya are perceived in the same way, I guess, because we are lighter-skinned black girls and we fill this interesting place of being accessible to Hollywood and accessible to white people in a way that darker-skinned girls are not afforded the same privilege."
This privilege is something Stenberg is clearly hoping to use to her advantage in order to forge new opportunities for all women of color, like, for example, turning down a chance to star in a massive blockbuster movie in order to give other black actors a shot.
In fact, it's this search for diversity and fair representation that has driven much of Stenberg's career. It's the main reason she signed up to star in the teen thriller film The Darkest Minds, because she wanted to introduce a new type of young-adult dystopian hero to the world. "The character was written white," she said of her character, Ruby. "It was exciting for me to have a black girl at the helm, because we've seen these with Jennifer Lawrence [in Hunger Games] and Shailene Woodley [in Divergent], and they've done a fantastic job. But we've never gotten diverse representation."
Thankfully, the entertainment industry is currently experiencing a wave of diversity at the box office in a way it never has before. The success of Black Panther and Crazy Rich Asians proves that these are the stories people want to see, which is hopefully something that only continues to get explored more and more in the years to come. Sadly, that has not always been the case.
"As a kid, it was nearly impossible for me to find roles that felt empowered, that were not victim roles, that were fully dimensional, that didn't serve any white male plot line," Stenberg shared in the same Variety interview. "So I worked less because I had no interest in doing something that would force me to compromise my own power or just make myself subservient to something I didn't necessarily mesh with."
That's why her latest project The Hate U Give, which will premiere at this year's Toronto International Film Festival, means so much to her. Based on the 2017 best-seller inspired by Black Lives Matter, the drama tackles the subject of police brutality. "It's portraying a really rich and deep black contemporary experience," Stenberg said of the film.
Hopefully, this latest role is just one of many because the industry definitely needs more enlightened voices like Stenberg out there to help make the world a better place.