Amandla Stenberg's Reason For Turning Down 'Black Panther' Highlights A Big Issue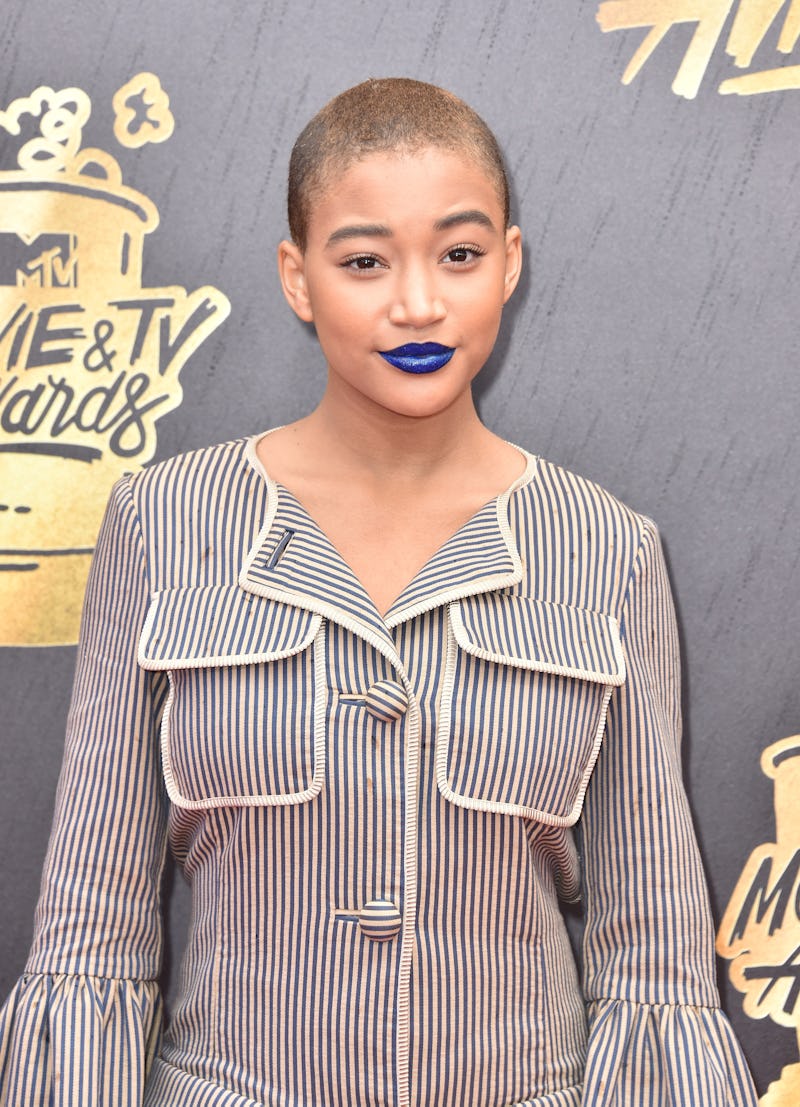 Alberto E. Rodriguez/Getty Images Entertainment/Getty Images
Considering that she's an outspoken advocate of feminism and inclusivity, the revelation that Amandla Stenberg turned down a role in Black Panther to make way for an actor with darker skin, according to CBC News, isn't very surprising. It's also no secret that diversity in Hollywood has recently become a huge topic, with issues of gender and racial equality often becoming the highlight of the conversation. As a young advocate of intersectional feminism and inclusion, Stenberg's comments put the spotlight on the issue of colorism, which continues to plague the entertainment industry.
During an interview at the TIFF New Wave Festival in Toronto, the actor explained that she pulled out of the audition process for Black Panther after feeling that the role should go to someone who would be a better fit for the film's overall aesthetic. Speaking with CBC's Amanda Parris, Stenberg, who is biracial, explained,
"One of the most challenging things for me to do was to walk away from Black Panther. I got really, really close and they were like, 'do you want to continue fighting for this?' And I was like, this isn't right."
Her choice not to participate in the film may have helped to make way for a woman with darker skin to join the cast. "These are all dark skin actors playing Africans," she said. "And I feel like it would have just been off to see me as a biracial American with a Nigerian accent just pretending that I'm the same color as everyone else in the movie."
Though Stenberg shared that the moment was difficult, she felt that removing herself from the process was the right thing to do. She continued,
"That was really challenging, to make that decision, but I have no regrets. I recognize 100 percent that there are spaces that I should not take up and when I do take up a space it's because I've thought really, really critically about it and I've consulted people I really trust and it feels right."
Although she did not reveal exactly which Black Panther role she was being considered for, Essence reports that Stenberg was in running for the part of Shuri, King T'Challa's tech savvy younger sister — a role which was ultimately played by one of the blockbuster film's breakout stars, Letitia Wright.
"Black Panther is one of the only films that we have that has darker-skinned representation," Stenberg finished. That's what was so beautiful about it." The fact that she was so cognizant of this issue is in line with the actor's beliefs and actions to this point, because she has always been tightly focused on activism.
Though only 19-years-old, Stenberg has long been a public champion of intersectional feminism and cultural appropriation, often using her celebrity platform for the betterment of the disadvantaged. She once criticized Kylie Jenner for wearing cornrows and treating black culture as if it was optional costume of sorts. Her YouTube video "Don't Cash Crop My Cornrows," which calls out other celebs for their inappropriate use of black culture, has received over 2 million views since it was posted in 2015.
The Hunger Games star also been a long time advocate of social justice, often speaking out on matters that affect the African-American community such as police brutality and racism. For her contribution to social cause, the Ms. Foundation coined her Feminist Celebrity of 2015, while Time magazine named her a Most Influential Teen in 2015 and 2016, according to Vogue.
Basically, Amandla Stenberg's reputation as an activist precedes her. And, with her thoughtful approach to life, there's no way that her career won't continue to flourish.