Amazon Just Launched A Device That Is Basically Cher's Epic Closet System From 'Clueless'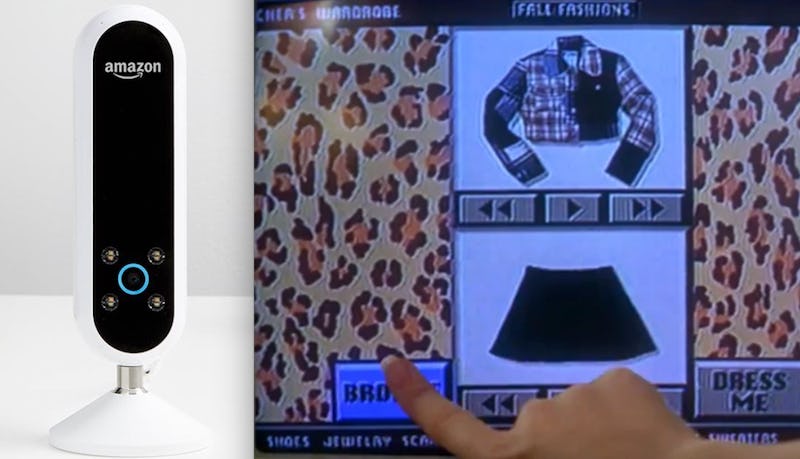 Amazon Echo Look/ Paramount Pictures
From the iconic utterance of "as if" to the oral report that concluded with "It does not say R.S.V.P on the Statue of Liberty," every scene from the '90s cult classic Clueless was memorable AF. But nothing takes the cake quite like lead character Cher Horowitz's virtual closet, an outfit-choosing tool that any fan of the film likely dreamed of owning. That dream can finally become a reality, because Amazon's Echo Look is basically Cher's closet system IRL.
It's nearly impossible to have a flashback of watching Clueless without Cher's closet coming to mind. After all, her trendsetting plaid coord, that white Calvin Klein number that nearly gave daddy a heart attack, and the bombshell red Alaïa dress were the gems hiding in her wardrobe that practically made the film. Beverly Hills' "it girl" was always dressed impeccably from head to toe, and her pieces were all housed inside of a rotating closet that featured the virtual organizer of your dreams.
One can only hope to be as well-dressed as Cher, but you can at least feel like fashion royalty like the '90s icon, thanks to Amazon's Echo Look. It's a camera and app combo that analyzes your wardrobe and makes style recommendations, coming as close to Cher's epic system as it gets.
Gone are the days of perusing your closet for hours to find the perfect ensemble or video phoning a friend for a second opinion. Amazon's Alexa can now help you choose your #ootd by snapping photos or videos of your wardrobe using the Echo Look. Using a hands-free depth sensing camera, built-in LED lighting and computer vision-based background blur to focus on your 'fits, the device captures your personal lookbook to be stored on the Echo Look app.
Previously put through a trial period, the Echo Look is now officially available to all Amazon customers. So, anyone can have Alexa act as an in-home style assistant, just as easily as you ask her to set alarms, get the weather forecast, or play music.
As your virtual stylist, the Echo Look app keeps track of what you've worn and suggests new pieces to pair with what you already own. Plus, it provides fashion content and inspo from Amazon, Vogue and GQ, so you're guaranteed to look runway-ready with this technology at your fingertips.
Echo Look even uses a "Style Check" feature to offer second opinions about which outfits look best on you, giving recommendations based on fit, color and current trends, while offering an explanation of why one choice is better than the other. It works by using advanced machine-learning algorithms and advice from fashion experts to keep you styled to perfection — fancy schmancy, right?
When you're feeling skeptical of Echo Look's recommendations, feel free to get an outside, non-biased opinion from someone who isn't your mother raving that everything looks great on you. A "Community Voting" feature allows you to submit outfit polls to Amazon Spark members to offer additional feedback on your fashion choices.
Just as Cher's dreamy closet was organized to a T by color, season and type, Echo Look can do the same with your wardrobe. You can filter looks by color to easily find your favorite pieces. The Collections feature is always available, so that you may browse your closet by personalized categories, such as your vacation staples, business attire or even pieces to donate. And if all else fails, the Echo Look app will automatically organize your Daily Looks into groupings like "Favorites", "Seasons" and Weather, making it easier than ever to nail the perfect look no matter the occasion.
Everything you already know and love about Alexa, combined with Cher Horowitz-approved fashion technology, the Echo Look is the styler you needed as of yesterday. It's practically your best friend, ensuring you never leave the house without looking Clueless-level trendy.