Amber Heard Stood By Her Promise To Donate Her Divorce Settlement In A Big Way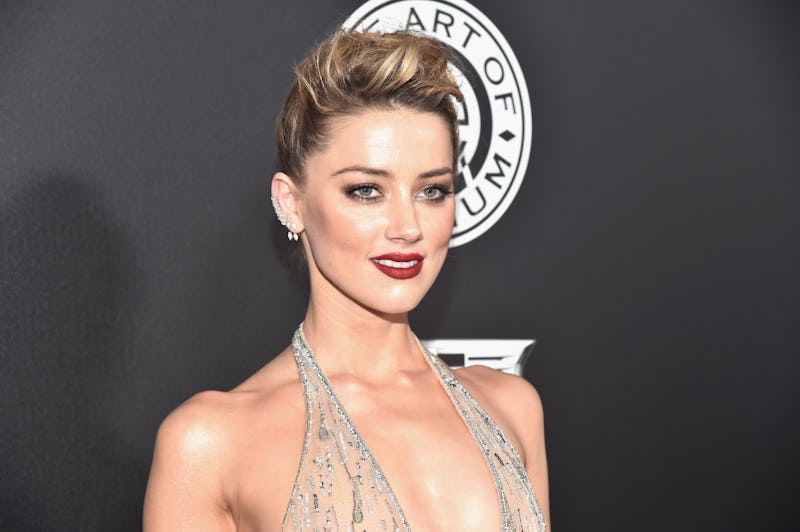 Alberto E. Rodriguez/Getty Images Entertainment/Getty Images
After publicly vowing to do so in 2016, Amber Heard donated over $1 million of her divorce settlement money to the Children's Hospital Los Angeles (CHLA), the New York Daily News confirmed. Heard was awarded $7 million from her now ex-husband Johnny Depp, and while the exact amount of her donation is unknown, the charity reported that it was at a minimum of seven figures.
According to CHLA's 2017 Fiscal Report, Heard achieved "Honor Roll" donor status "for contributions of $1,000 or more, as well as the full value of any active pledge commitments made in prior fiscal years." The report provides a full list of companies and individuals that met the minimum Honor Roll donation amount, and "Ms. Amber Heard" appears in the "$1,000,000 – $4,999,999" range column.
In 2016 a statement from Heard after the conclusion of her divorce settlement proceedings with Depp, the actor revealed that she had a personal connection to the CHLA. "I have worked as a volunteer [at the CHLA] for the past 10 years alongside organizations like the Art of Elysium," her statement read.
Shortly after Heard's statement was released in August 2016, Paul S. Viviano, the CHLA's president and chief executive officer, thanked Heard for her intended contribution in a statement of his own, according to Variety.
"On behalf of Children's Hospital Los Angeles' leadership, staff and the thousands of brave patients and their families who will benefit from this donation, I would like to thank Amber Heard for this tremendous gift," Viviano said. "Her generosity will support the lifesaving treatments and cures that Children's Hospital Los Angeles provides for critically ill children each year."
Heard also vowed to donate half of her settlement to the ACLU, as well, "with a particular focus to stop violence against women," according to her 2016 statement. In November 2016, TMZ received an email from the organization, confirming that Heard made a $350,000 donation on August 19, 2016 — a mere three days after the settlement agreement with Depp was reached.
"We are incredibly grateful that Ms. Heard has so very generously shown her support for the important and necessary advocacy for victims of domestic violence," ACLU's executive director, Anthony D. Romero, said in a statement on the non-profit's website.
"For years, we have worked through the courts and legislatures around the country to make sure that domestic violence victims are fully protected by the law and receive the government assistance they deserve," Romero continued. "We could not be more thankful for Ms. Heard's support — she can be confident that this gift will help other women live safely and freely."
Heard filed for divorce from Depp in May 2016, and petitioned for — and received — a restraining order against Depp shortly thereafter. TMZ reported that Heard alleged Depp had abused her throughout their marriage, a claim that Depp denied through his lawyer.
After the divorce, Heard spoke out against domestic abuse on several occasions. In November 2016, she filmed an emotional PSA for the #GirlGaze project, which honored International Day for the Elimination of Violence Towards Women.
One month later, ET reported that Heard composed an open letter about abuse for Porter magazine, ensuring female victims of violence that they were not suffering alone. "You may not see us, but we are there," Heard wrote. "Your sisters are everywhere, and we are with you."
Heard's donations — both to the CHLA and the ACLU — were a generous way for the actor to show her support of two organizations close to her heart. While it's unknown whether or not the ACLU has received more than Heard's original $350,000 donation, there's no doubt that every amount, large or small, can help make a difference.
If you or someone you know is experiencing domestic abuse, call 911 or the National Domestic Violence Hotline at 1(800) 799-SAFE (7233) or visit thehotline.org.