Amber Rose Wore A Red Leather Dominatrix Outfit To The VMAs — Complete With A Cat-Ear Mask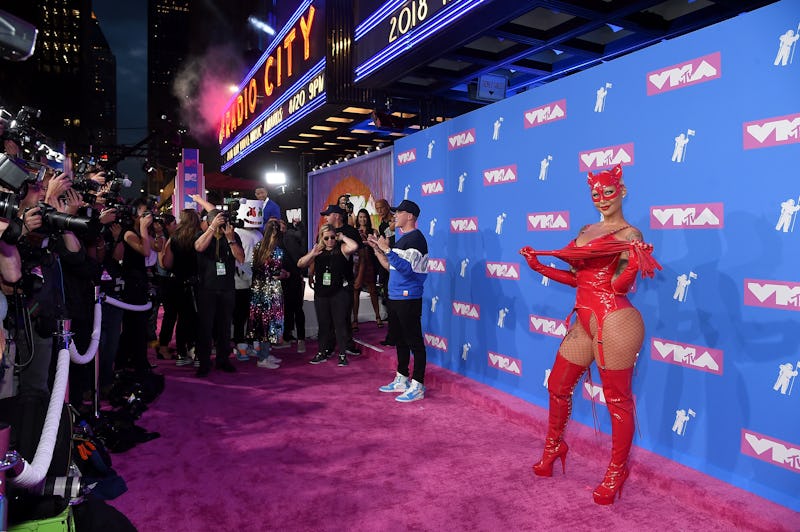 Jamie McCarthy/Getty Images Entertainment/Getty Images
Some red carpets bring high-fashion couture gowns, and others apparently bring the floggers. Amber Rose wore a red leather dominatrix outfit to the Video Music Awards, complete with a flogger, fishnet stockings, and a cat mask. (Read: a whole lotta look.) It was nothing like fans were expecting, while being exactly what fans were expecting at the same exact time.
You never know what Rose will show up in next. While that statement is true for tons of different celebrities, Rose is not like the rest. She's constantly surprising her fans with her looks, and this is possibly the most shocking one yet. While others rocked ball gowns and see-through lace mini dresses, Rose showed up in red leather. As one does.
The bodysuit is bright red, as are the matching fish nets and thigh-high boots. As if all of that wasn't already enough, she completed the look with a red leather flogger and a matching cat ear mask. Because apparently carrying a clutch is completely overrated.
Rose's all-red look is one of the most unexpected looks to walk the red, er, pink carpet. The VMAs are a time to take some risk, but this was something completely different than what anyone else wore. It was definitely a way to stand out.
The top was giving off some serious Madonna vibes, although the model did not share why she chose the outfit. She also opted to switch up her eye color for the look. Rose cooled down all of the spice of the look with icy blue contacts, which pierced through the eyes of her mask.
Rose is not nominated for any awards at the VMAs this year. That means that this is likely the last time that you will see the red hot outfit for the night. The look seems like it would be a bit awkward to dance in, so it will be interesting to see how she gets her moves on in the audience. Or maybe she's leaving the VMAs to go someplace more fun. Who knows.
No matter the year, Rose always brings it with her outfits. She always shows up in something different than she previously wore, and it's always just as stunning. IN 2017, Rose showed up with ultra-long locks, which was completely different than her typical look. She's also worn a dress covered in pearls and one with a completely exposed back in the past.
Honestly, you can count on Rose to give not hold back every single year. Compared to everyone else at the event, Rose was here to make sure that she got noticed. Major kudos to her for constantly sticking to her personal style and not giving an eff about what everyone else is showing up in.
Out of all the looks of this night, this is the one that you're sure to remember years from now. It will surely land on all of those "remember when" lists in the future. But for now, let's all live in the now and embrace this moment.