Amber Rose Is Launching A Super Sexy Clothing Collab — And It Goes Up To Size 32 — EXCLUSIVE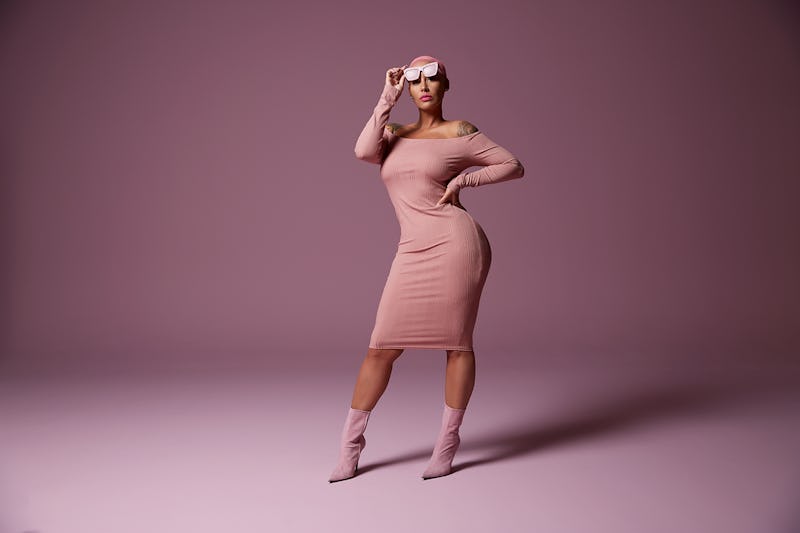 Courtesy of SimplyBe
When I call Amber Rose for our phone interview to discuss her collab with Simply Be, the model, mom, and SlutWalk founder was enjoying a dip in the pool. She's clearly living her best life — and she wants women of all sizes to do the same. The Amber Rose x SimplyBe collection arrives on June 20, and its 25 pieces strong. It starts at size 6 and goes up to size 32, so it's inclusive of curvy and plus size women. There is something for everyone in this range, which features body-con dresses and skirts, leggings, crop tops, and bodysuits that were specifically designed to accentuate and celebrate curves.
In addition to her own collection, Rose crafted an edit of her fave SimplyBe products offered on the retailer's site.
With so many fashion brands stopping at size 24 when it comes to plus size offerings, Rose is working to eradicate that limitation. She wants all women to have access to sexy, fun, and fashionable clothes that make them feel and look good, and that they want to wear.
"It's definitely meant for women of all sizes," Rose tells me when asked about the top fashion challenge she hopes this collection solves. She wants to give women who aren't considered by the fashion industry variety and options.
She nodded to her own recent breast reduction as a source of inspo.
"I had natural 36H breasts," Rose, who is known for her sleeves of tattoo and her close-cropped coif, says. "I always had problems finding shirts, especially after giving birth to my son. I was plus size after my son was born. I had never been plus size before. So, I was trying to find clothes that were flattering, that had stretch, and would fit my body. And it was hard for me to find those pieces."
Rather than remain flummoxed by that fashion conundrum, she set out to fix it with her Simply Be collection.
"I kept everything in mind for every shape," she explains regarding her approach. "I wanted there to be stretch in all the clothing. Whether you are top heavy or bottom heavy, I wanted the line to have stretch [so it could] fit all sorts of curves and any shape."
Stretch wasn't the sole quality that Rose considered. "I made [the collection] all solid colors," she says. "No stripes, no crazy prints, nothing like that."
But just because it's solid colors only, that doesn't mean Amber Rose for Simply Be is boring. As if. Rose, whose SlutWalk was created to fight for gender equality, to stop shaming women, and to end rape culture, encourages her customers to "add your own flair, with a belt or a different color shoe to make it pop. Or sunglasses and earrings."
The collection was created to be versatile, with most of the pieces availing themselves of being dressed up or down. Her main goal for this collection is to give women tools — in this case, clothes — to feel great about themselves.
"I just want women to put their own spin on the pieces and feel confident and beautiful no matter what size they are," Rose, who admits she doesn't have a favorite brand but instead shops based on seeing and liking an item, says emphatically. "The pieces are solid colors so you can mix and match the whole collection. Make it your own. I cannot wait to see the pictures you send me about how you dress it up or down."
As for her own fabulous closet, Rose admits that sunglasses remain her "thing.""
"That has been my signature since the beginning," she tells me. "I have had thousands [of pairs] collected from all over the world. From ones that just came out to vintage Gianni Versace. It's endless. I have sunglasses in storage that I am waiting to bring out in 10 to 15 years."
Future shade resurrections aside, Amber Rose and Simple Be are championing inclusivity in the here and now.