Amber Tamblyn's Women's March Posse Is Cool AF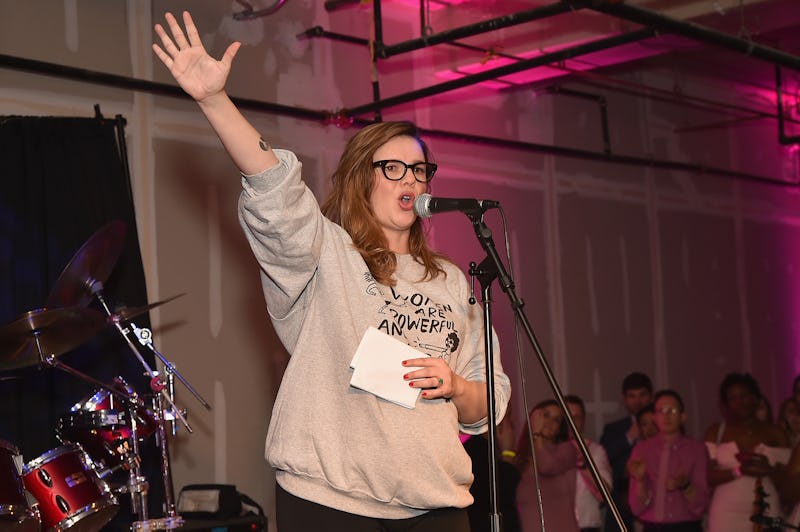 Theo Wargo/Getty Images Entertainment/Getty Images
Imagine you rub an old lamp and a genie comes out, but because it's 2017, the genie offers to grant your deepest desire on one condition: only if it's an innately feminist one. My go-to wish? That Amber Tamblyn will let me fight for women's rights alongside her posse, because it looks pretty much as great and intimidating as you'd expect. A photo of longtime feminist, activist, and actor Tamblyn and her Women's March on Washington crowd, including Planned Parenthood president Cecile Richards, Callie Khouri, and Katie Jacobs, was published on Saturday on Instagram. Tamblyn wrote,
About to march with Hess badasses, Callie Khouri, Katie Jacobs and Cecile Richards. #womensmarch
If there's room for an additional member, I'd very much like Tamblyn to review my application. Richards has been acting president of Planned Parenthood since February 2006, but she's been engaged in politics for her whole life. She once told Texas Monthly, "I grew up in a very political family. Other families did bowling. We did politics." She wasn't kidding: At age 16, Richards helped her mother campaign for the Roe v. Wade lawyer Sarah Weddington for the Texas state legislature. According to Planned Parenthood, Richards' leadership of the nonprofit organization has been a huge success. Their site says, "Under her leadership, the number of Planned Parenthood supporters has more than doubled, reaching 9 million."
Also shown in Tamblyn's picture is Khouri, who is of course, one of the most important women in film, having written Thelma & Louise (which also just happened to be the very first screenplay the ever-impressive Khouri wrote) and winning an Academy Award for Best Screenplay Written Directly for the Screen in 1992. But Khouri isn't just important because of her past contribution to the entertainment industry, but because of her current offering — she's also behind the compelling depiction of the country music scene that is Nashville, and she's thoughtful about the need for feminism in the film industry and in the wider world in her interviews.
And then of course, there's Jacobs. She is perhaps less well-known than the other two women pictured with Tamblyn, but she's also a name to keep in mind. Jacobs runs the production company Heel & Toe Films and has worked as an executive producer on House. And this is important, too — given the lack of women working behind the camera, Jacobs is doing vital work. WomenAndHollywood.com reported in the 2015-2016 TV season:
Women accounted for only 27% of all individuals working as creators, directors, writers, producers, executive producers, editors, and directors of photography on broadcast network programs. In 2006–2007, that number was 26%.
Numbers have been proven to matter when it comes to the content produced. The statistics tell a clear story: The more women you have working in production, the more female representation you get on screen (which isn't exactly a surprising discovery, but bears repeating, because somehow, progress isn't happening at the speed of light in the entertainment industry). The same study stated,
On programs with at least one woman creator, females accounted for 45% of all speaking characters. On programs with exclusively men creators, females comprised 36% of all characters.
So here's hoping Jacobs continues to campaign for women's rights both on the street and on the screen.
Tamblyn has collected a uniquely impressive group of women to march with — fingers crossed that for the next march, my invitation to join will be in the mail.