Amber Tamblyn Perfectly Challenges The Idea Of Redemption For Men Accused Of Sexual Assault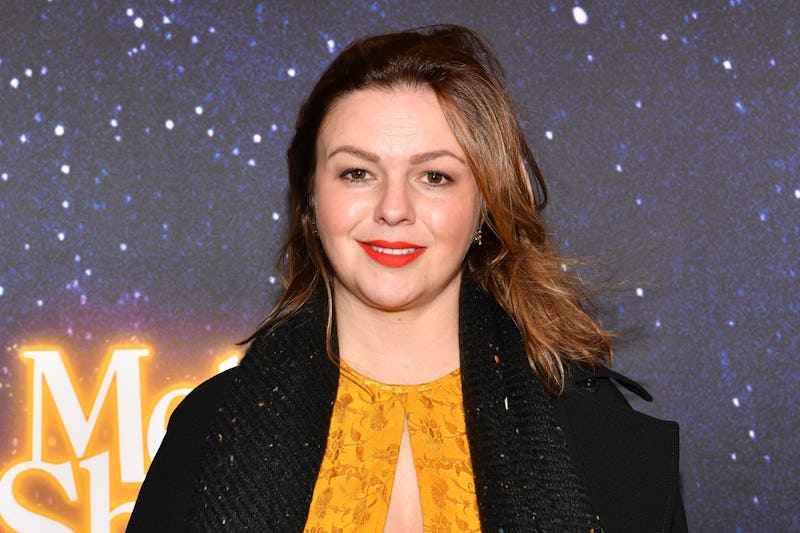 Dia Dipasupil/Getty Images Entertainment/Getty Images
Considering the number of stories about sexual misconduct in Hollywood, which started to come out more and more after the allegations against Harvey Weinstein, many people are asking what will happen to the men who have been accused. Some are even wondering if men like Louis CK, who admitted to sexual misconduct, will be forgiven and allowed to work again. In a new essay for The New York Times, Amber Tamblyn explains that the redemption of men is something that she's not ready for. And it's not because she doesn't believe in forgiveness. It's because, right now, the focus needs to be on atonement, not redemption.
The reason this was on Tamblyn's mind, she writes, is because of a conversation she had with "two influential, Emmy-winning writers, one a man and one a woman." They were all talking about the consequences of the recent sexual misconduct allegations, and, while the female writer thought that the men accused of sexual harassment or assault should be punished, the male writer thought that there were varying degrees of allegations. Specifically, the unnamed writer noted that allegations of Louis CK masturbating in front of women was different than the accusations raised against Weinstein by over 80 women, which include sexual assault and rape (Weinstein's rep previously denied all allegations of nonconsensual sex in a statement to the New York Times). "Tell me something," Tamblyn says the writer eventually asked. "Do you believe in redemption?"
The actor admits the question is a valid one, but was "deeply suspicious of its timing," since it comes at the beginning of a movement of women feeling comfortable speaking up against the harassment that they've faced in the workplace. She asked:
"Why do we need to talk about the redemption of men when we are right in the middle of the salvation of women? Not even the middle, but the very beginning? Why are we obligated to care about salvaging male careers when we have just begun to tell the stories that have plagued us for lifetimes? It seems some men like a revolution only when it's their kind of war."
For Tamblyn, it's too soon to be thinking about salvaging the careers of men accused of sexual misconduct because the focus needs to be on the women coming forward. Historically, women haven't shared these kinds of allegations because they feared they would not be taken seriously. Now, in this moment, which Tamblyn refers to as "more than a watershed moment — it's a flash-flood point," things appear to be changing.
By flipping the conversation to be about the men accused, it takes the focus off the women. Tamblyn's not ready to see that happen. But she does understand why many men want to talk about redemption. "The idea appeals to the men I've been talking with, I believe, because they want a sense of normalcy restored," she wrote. "They want measured discussion of consequences, not swift punishment."
But, Tamblyn makes the case that letting this all play out will help take down toxic masculinity and will be better for all women and men. As she explains:
"People should allow the consequences to unfold, regardless of how it affects those they consider to be friends. The only way to enforce seismic, cultural change in the way men relate to women is to draw a line deep in the sand and say: This is what we will no longer tolerate."
There can be no half-measures. The men who have committed sexual harassment or assault have to be held accountable to show that women's safety and well-being will be taken seriously now and forever. "The power of celebrity and cultural approval must disappear for the time being so that all women see and believe that consequences do exist," Tamblyn wrote. She knows this is a hard line to take, and many men and women may disagree, "but what they don't seem to understand" she wrote, "is, no one is saying a disappearance from the public eye has to be forever. (Well, Harvey Weinstein is forever.)"
It may be too soon to talk about redemption right now, but it's not a conversation that is completely off the table. In fact, Tamblyn thinks that more men should be talking about how they can be better allies to women. Men need to show that they understand that in order to earn redemption they must understand what they have one.
"Redemption must be preceded by atonement. It is earned, not offered," Tamblyn wrote to end her op-ed. "If you want amends, you have to make them. You have to acknowledge the line in the sand. Once you do this, the next step is simple: Pick a side. Choose us."
For Tamblyn, redemption will come to those who choose to change their previous behavior. That will take time, but for those who put in the days, weeks, months, years it takes to become a better man they will be rewarded. Not now, but eventually.
If you or someone you know has been sexually assaulted, call the National Sexual Assault Telephone Hotline at 800-656-HOPE (4673) or visit online.rainn.org.