Amena Khan Is The First Model To Wear A Hijab In A Major Hair Campaign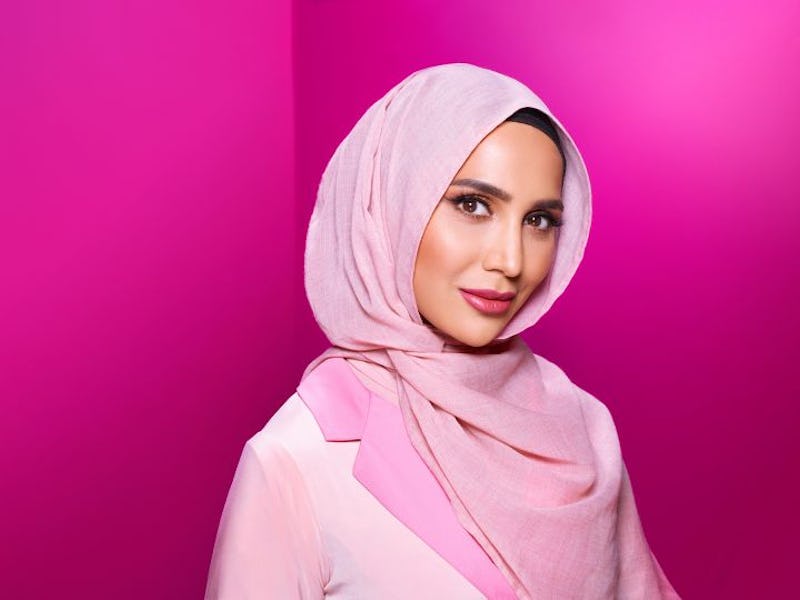 Oréal Paris Elvive
Beauty brands have been making strides towards inclusivity and diversity these past couple of years, listening to fans' and customers' demands to cast models and ambassadors in all different kinds of shapes, ethnicities, and genders, creating a more realistic representation in their ads and campaigns. After all, not only size-four white women shop these brands, and people outside of that very niche aesthetic want to feel like they are just as valued and seen, and not an after-thought. That's why the news that L'Oréal Paris UK cast Amena Khan for Elvive, its newest hair product, is making such waves. It's a huge win for inclusivity.
UPDATE: On Jan. 22, Amena Khan stepped down from this L'Oreal Paris campaign after a series of anti-Israel tweets from the model became public. Khan wrote on Instagram, "I deeply regret the content of the tweets I made in 2014, and sincerely apologise for the upset and hurt they have caused. Championing diversity is one of my passions, I don't discriminate against anyone. I have chosen to delete them as they do not represent the message of harmony that I stand for. I recently took part in a campaign, which excited me because it celebrated inclusivity. With deep regret, I've decided to step down from this campaign because the current conversations surrounding it detract from the positive and inclusive that it sent out to deliver."
Khan is a model, co-founder of Ardere Cosmetics, a British beauty blogger who wears a hijab, and is the first woman who wears a hijab to be featured in a mainstream label's hair ad. Khan shared the news on her personal Instagram account, posting the video for Elvive that she appeared in. In the ad, a range of different women and men share their hair problems, as well as insecurities that come with those issues. In it, Khan says, "Whether or not your hair is on display, it doesn't affect how much you care about it."
And that is the beauty of casting Khan. Not only is it a "game-changing" leap towards representation, as Khan wrote in her caption, but it also helps correct a common misconception. That women who hide their hair have no interest in taking care of it, and therefore don't need to be represented.
"How many brands are doing things like this? Not many. They're literally putting a girl in a headscarf — whose hair you can't see — in a hair campaign. Because what they're really valuing through the campaign is the voices that we have," Khan told Vogue UK. "You have to wonder — why is it presumed that women who don't show their hair don't look after it? The opposite of that would be that everyone that does show their hair only looks after it for the sake of showing it to others. And that mindset strips us of our autonomy and our sense of independence. Hair is a big part of self-care."
Khan pointed out that even if she doesn't leave her hair uncovered in public, she spends most of her day at home or around family and friends with her hair outside of a scarf. So of course she feels that she and other Muslim women need to be included in the hair conversation, and should have been from the get-go. But even if her hair was never viewed by others, it doesn't mean she doesn't have the right to take care of it and make it beautiful just for herself.
"I love styling my hair, I love putting products in it, and I love it to smell nice. It's an expression of who I am," she tells Vogue UK. "And even if that expression is for my home life and my loved ones and for me when I look in the mirror, it's who I am. If I know my hair is greasy but I have a scarf on it, I still feel rubbish all day - even if it's covered." It's not a radical concept, which makes the fact that she is the first woman to appear in a headscarf in a hair campaign disappointing. Not only has a huge group of women been ignored, but it also pushes the beauty stereotype that people indulge in beauty products solely for the public and their approval, rather than just for their own enjoyment and care.
Casting Khan is a step in the right direction, and one can only hope that more hair care brands will take note and follow.