The 'Ugly Betty' Cast Was At The Women's March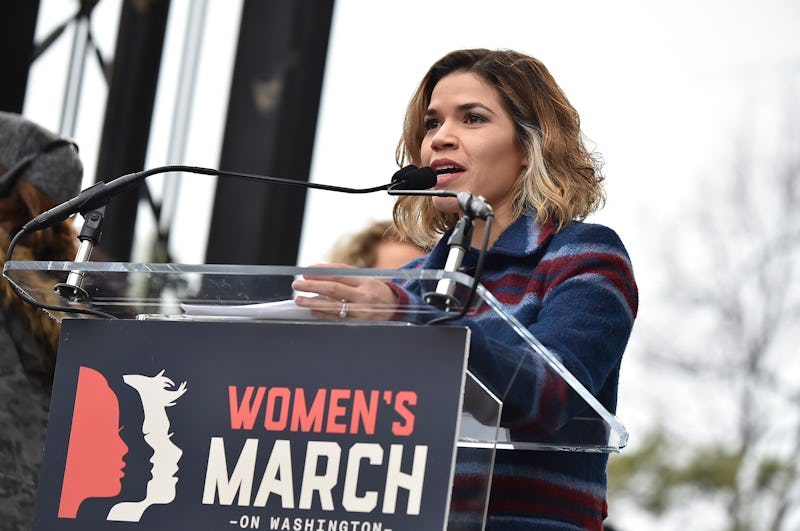 Theo Wargo/Getty Images Entertainment/Getty Images
The sheer amount of positivity, strength, and power on display at the Women's March on Washington was awe-inspiring. Thousands of people turned out to support the preservation and advancement of human rights, including many of your favorite celebrities. The day was full of fierce photos featuring celeb BFFs, but I am here to report one magical reunion topped them all — America Ferrera posted on her Instagram account that there was an Ugly Betty reunion at the Women's March on Washington, you guys, and yes, it was everything you ever dreamed it would be.
I'm not talking a little, two person reunion either. Ferrera, her on-screen sister Ana Ortiz, her on-screen nephew Mark Indelicato, and Betty's best frenemy Michael Urie all met up during the march and at the Planned Parenthood party afterwards — and Ferrera posted the photos to prove it. I know, Ugly Betty fans, I can barely deal with the awesomeness of it all either.
Ugly Betty's final episode aired way back in 2010, but it doesn't feel like a day has passed when you see the extended Suarez family together again in the amazing Instagram photos Ferrera and Ortiz shared. When it was on the air, Ugly Betty always put issues of immigration, feminism, and LGBTQ rights at the forefront of the show's storytelling. Seeing how dedicated the show's cast is toward furthering those causes off-screen as well only makes me adore them all the more.
"I march for family," Ferrera captioned the photo of her hanging with Ortiz and Indelicato. Go ahead and "aww," because you know you wanna. This photo was taken after Ferrera's courageous speech on immigration, and I suspect her Ugly Betty pals were super proud of her for getting up in front of such a massive crowd to speak about a cause that means so much to families across America.
In case that wasn't enough Ugly Betty goodness for you, Urie came along and joined his former cast mates too. If only Becki Newton had been there, the squad would have been complete. That's OK though because I have one more piece of Ugly Betty joy to offer up:
Ortiz and Indelicato marched together. That's right, Hilda is still being a supermom to Justin after all these years. No matter how long Ugly Betty is off the air, the show will forever have the most adorable (and compassionate) cast on the planet.