'America's Got Talent' Is Coming Back Soon With A Brand New Spinoff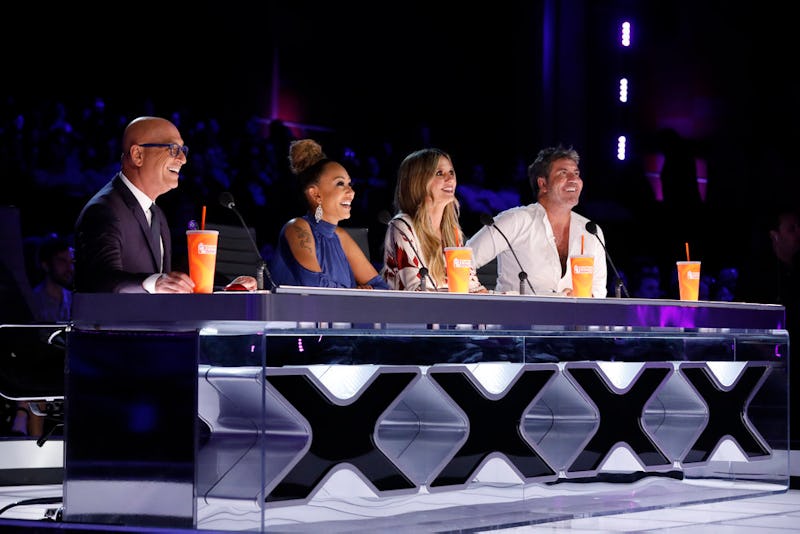 Trae Patton/NBC
America is never going to not have talent right? Which means that when Season 13 ends, fans are only right to wonder when America's Got Talent returns for Season 14. And the good news is, even though it hasn't been officially renewed by NBC, Season 14 is looking like an absolute guarantee thanks to a contract extension for judge Simon Cowell.
Although Season 13's TV ratings have been slightly lower than Season 12's, according to TV Series Finale, NBC seems to have faith in the reality competition show. According to Deadline, as of August 2018, Cowell's contract has been extended for years. NBC Entertainment's Paul Telegdy, said, per Deadline, that the network was excited to keep working with Cowell on the AGT show. "We are thrilled that he will continue as a judge on America's Got Talent and that his stewardship of the franchise will go forward for many years to come," Telegdy said. Cowell also mentioned "years" in his statement, per Deadline. "I want to thank NBC for their continued passion and belief for America's Got Talent," Cowell said. "I'm very excited for the next few years."
So while Season 14 hasn't been confirmed yet, it seems that NBC is not only planning for a 2019 season but many years beyond that. For now, though, it's easy enough to determine when Season 14 will premiere. Every AGT season has debuted in either May or June and the last five seasons have all started on the last Tuesday of May. By that estimation, Season 14 will pick up on May 28, 2019. That's eight months from now by design, because the show still has to find its next season's talent.
In fact, if you've always been dying to audition for AGT, now's your chance. According to the show's audition website, seven cities have already been added to the show's open audition tour, and more are on the way. Auditions begin in November and go through February. You can either audition in person in a city near you (so far Charlotte, North Carolina; Detroit, Michigan; Knoxville, Tennessee; Los Angeles; New York; San Antonio, Texas; and Tampa, Florida are on deck) or you can submit a video audition online.
If you can't wait until May to see more talented kids, adults, and pets hit the AGT stage, you're in luck. In a few months, NBC is premiering America's Got Talent: The Champions. There's no official air date, but the NBC site says "winter," so it can't be too far off. The show is a sort of "all-stars" version of regular AGT, bringing back popular acts from the previous 13 seasons.
The show will also feature contestants from Got Talent versions in other countries, with NBC boasting that the show has spinoffs in 184 nations. With so many seasons and countries of contestants to choose from, it's sure to be a show jam-packed with even more talent than usual. And after the season is over, fans will have their very first AGT Champion.So May might be a long way off for Season 14, but at least this winter more talent and judges shenanigans will be coming your way.