The Final Clue To The 'Sharp Objects' Murders Was In Plain Sight The Whole Time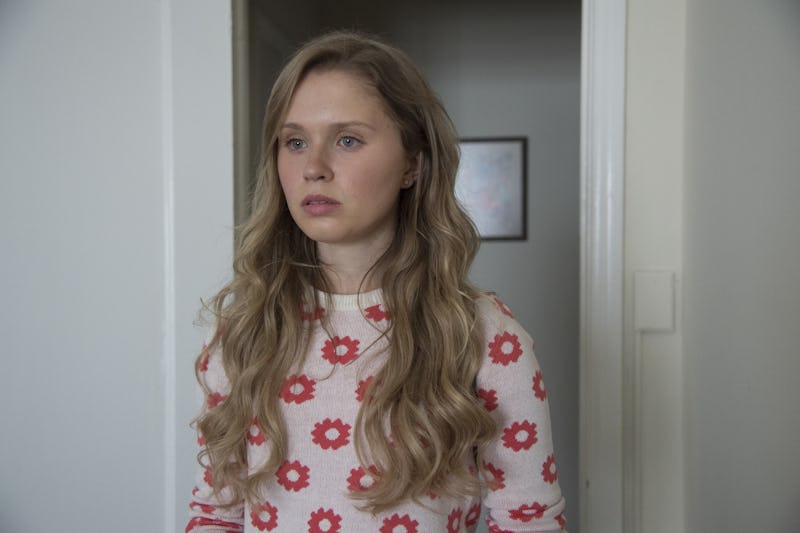 Anne Marie Fox/HBO
Major spoilers ahead for the Sharp Objects finale "Milk." Viewers have seen Amma (Eliza Scanlen) play with her dollhouse throughout the HBO series Sharp Objects, and up until Episode 8, it held no real significance to the storyline except to underline the girl's dual nature. (Unless you read the Gillian Flynn novel, of course.) But towards the end of the finale, Camille (Amy Adams) finds a miniature canopy bed that Amma had thrown in the trash. She lifts the roof off the dollhouse to return the bed to its rightful place when she finds something disturbing. Amma's dollhouse on Sharp Objects is the key to the whole show, and it's sitting in Camille's St. Louis apartment.
It's evident right-of-the-bat that Amma's house is a straight replica of the Crellin's antebellum mansion. She spends hours painstakingly copying the decorations that Adora (Patricia Clarkson) has outfitted their house with. "Come look at my dollhouse," Amma told Camille back in Episode 1. "Needs reupholstering now. Mama changed her color scheme from gold to gray.... Isn't it beautiful? This dollhouse is my fancy." In doing this, it's clear that Amma loves and admires her mother, even after all she's subjected her to. While Amma tells Camille all of this, Adora looks proudly at her from the foyer.
The bed that Amma throws away in Episode 8 was made by her new friend in St. Louis. Mae (Iyana Halley) is Amma and Camille's neighbor, and the girls become fast friends after Camille takes her younger sister in. However, there are hints during dinner at Curry's (Miguel Sandoval) house that Amma is becoming jealous of the attention Mae is getting. When her friend says that she wants to become either a politician or a journalist, Amma says, "You just say that to impress Camille." "I do not," her friend responds. "Kiss*ss," Amma says under her breath.
What's more, audiences already learned from an earlier episode that the killer's motivation was likely to garner attention. Or at least that's what Ashley (Madison Davenport) thought, which is why she didn't think her boyfriend, John Keene, did it. And who wants attention more than Amma? Why else would she allow her mother to baby her, although the coddling was quite literally killing her?
So when Camille lifts the lid off Amma's dollhouse to return Mae's canopy bed, she finds a stray tooth on the replica of Adora's bedroom floor. Remember that each victim had had their teeth pulled from their mouths, and while the police found the pliers in the Crellin house, the teeth themselves were never discovered.
So how did Amma pull those teeth by herself? In a short scene during the credits, audiences discover that both Jodes and Kelsey helped Amma kill Ann and Natalie, and that Amma recently killed Mae as well. And it's explained in the book that baby teeth are much easier to pull than adult ones. This is why Detective Willis (Chris Messina) had so much trouble removing the teeth from that pig's head.
So what did Amma do with the teeth? To answer that, fans will have to think back to Calhoun Day in Episode 5, when Adora gives Willis a tour of their house. "This ivory floor — all ivory — was a wedding present for my great-great-grandmother," she told him. "Before anybody knew what 'endangered' was. It was supposed to last forever. And it has, just." Amma's mother always has people take off their shoes before entering the room (remember that young Camille flashback when a magazine shoot was held there) so as not to tarnish the ivory, which is laid out in beautiful, pristine tiles.
So on the floor of Adora's dollhouse room are little girl's teeth — perfectly polished, perfectly placed, and perfectly creepy.