Amy Poehler's New Comments About A 'Parks & Rec' Reunion Will Make You Want Celebratory Waffles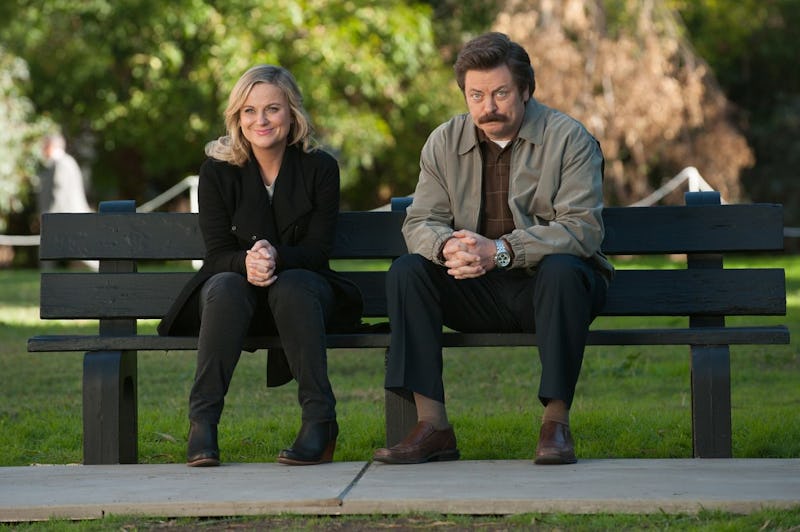 Colleen Hayes/NBC
With so many TV revivals being announced on an almost daily basis, it can be a little hard to keep track of it all. However, there is one beloved hit series that has yet to be brought to life — though according to Leslie Knope herself, it may only just be a matter of time. While promoting her latest project, I Feel Bad, at the Television Critics Association press tour on Wednesday, Amy Poehler was asked about whether or not a possible Parks and Recreation reunion could be in the works in the foreseeable future and based on her response, it's definitely something she could fit into her schedule.
"Yeah, any time!" Poehler told reporters when asked about her interest in a potential revival, according to TheWrap. "I'm avail. I'm tech avail." For those unfamiliar with the lingo, the term "tech avail" means that an actor is "technically available" for any project that comes their way. So Poehler is basically saying that she has the time to make it happen if the opportunity presents itself.
But before we break out the celebratory waffles over this exciting prospect, it's important to note that Poehler also admitted that she has no idea what a realistic timeframe would be to get the Pawnee gang back together. "Everybody has my number," she added. "We all have a text chain and we talk to each other almost every day, so you know I think everybody would be excited to do some version of it."
Of course, this isn't the only time Poehler has given fans hope of a Parks and Rec reunion. Back in May, both Poehler and Nick Offerman appeared on The Ellen Show to promote their latest collaboration, Making It, and naturally the topic of a Parks and Rec revival came up. "I'll speak for everybody and say we would all do it," Poehler told host Ellen DeGeneres. "I think we'd all do it someday. It'd be amazing."
For his part, Offerman was quick to chime in, saying, "Amy's the boss of the show," implying that he'd be more than happy to do it if she asked (or rather demanded) him to. He did add, though, that they do have one stipulation when it comes to bringing the show back, and it's a pretty big one. "We said that if Beyoncé will play the mayor we'll bring the show back," Offerman revealed. So, you know, no big deal, right?
Look, the bad new is that no plans of a revival are currently set it stone, but the good news is that everyone involves seems pretty game on making it happen at some point down the line. So while it may not be happening right now, it's definitely something that feels inevitable. Half the battle is getting the cast to agree to do it, and since Poehler is totally game, it shouldn't take much for everyone else to fall in line.
So come on, NBC — give the people what they want!